'Don't be an idiot' says mayor, as dry continues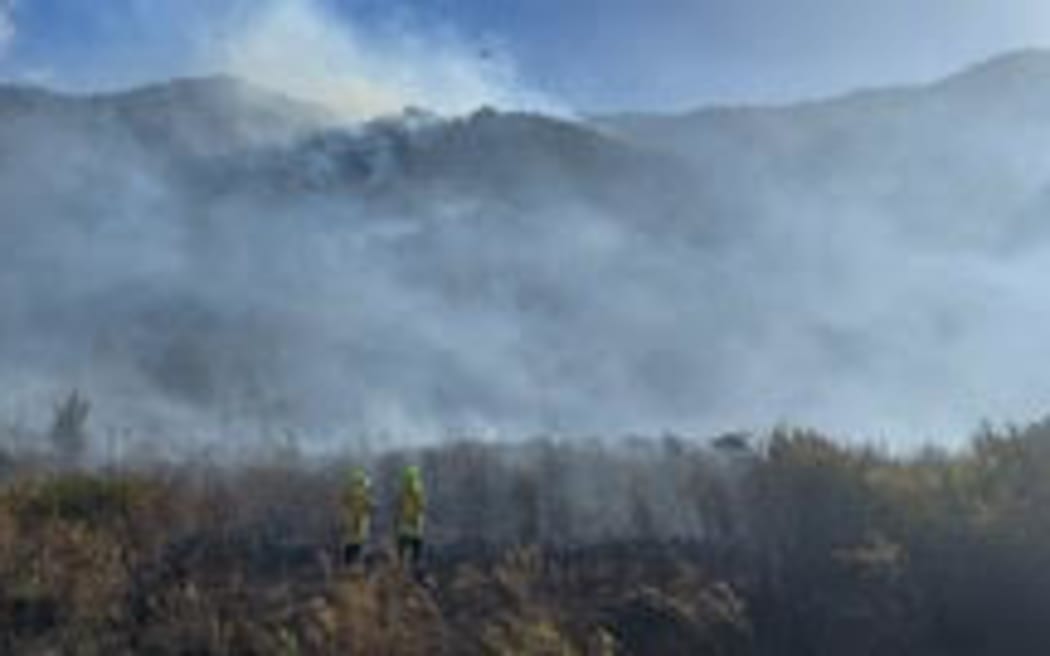 Smoke rises from an inland bush fire bordering the West Coast, with the fire risk continuing to be high. Photo: Supplied / FENZ
More deliberately lit beach fires kept Greymouth firefighters busy again yesterday and last night.
With the tinder dry continuing - despite some rain today - Greymouth Mayor Tania Gibson has appealed for fire starters to stop.
"If they're doing it intentionally: don't be an idiot," she said.
The Greymouth Volunteer Fire Brigade has now fielded 29 calls over 27 days this month, with many of the fires deliberately lit on or near the Greymouth foreshore.
Greymouth Volunteer Fire Brigade chief Lee Swinburn said their first call yesterday was to a false alarm at the IPL plywood factory at Gladstone at 2.30pm.

Then at 8.30pm they were called to a beach fire off Domain Terrace near the Marist Rugby grounds.
That fire was "out on arrival", however two hours later they were called back to "a large bush fire" in the same area but further south, off the Domain Terrace extension near Allied Concrete, Swinburn said.
Two Greymouth crews and a supporting water tanker from Cobden battled for an hour, from 10.30pm, to bring the bushfire under control.
The fire was certainly suspicious and while Greymouth had some "short and sharp" rain overnight a lot more was needed, Swinburn said.
Senior sergeant Brent Cook of Greymouth said those responsible for the fires along the beach and backing onto the West Coast Wilderness Trail were proving hard to track.
Police had stepped up patrols but they were reliant on fire starters being reported.
It was also possible some were "skiting" about their activities in the community.
"Our best luck is if somebody sees them doing it - it's a hard one to solve," Cook said.
"The only way we're going to catch them is if some member of the public keeps their eyes open and gives us a tip off," he said.
Living close to the Greymouth fire station, Gibson said she was very aware of the demand on volunteers at present -- with many of the fires obviously wasting everyone's time.
However, she was aware some fires were also lit innocently.
"I actually had a message last night about one of them -- I know that last night it was a tourist who had innocently lit a fire and not seen information...sometimes people don't know."
The mayor is seeking to liaise with the authorities and council to come up with some co-ordinated local communication about the fire ban.
This could include giving hospitality and accommodation providers information to inform visitors about the fire risk, and the local water restrictions, at check in.
Local Democracy Reporting is Public Interest Journalism funded through NZ On Air
source: https://www.rnz.co.nz/news/national/483166/don-t-be-an-idiot-says-greymouth-mayor-as-dry-continues