Turkey agrees to Sweden's NATO bid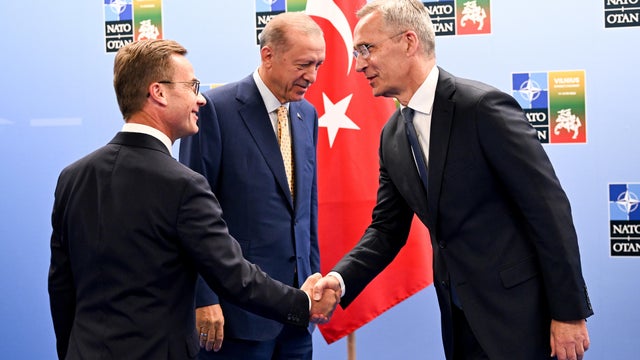 Turkish President Recep Tayyip Erdogan has agreed to support Sweden's bid to join NATO, the alliance's president Jens Stoltenberg said Monday.
Stoltenberg tweeted that Erdogan met with Swedish Prime Minister Ulf Kristersson and came to an agreement about Sweden's membership in NATO, hours after Erdogan said the European Union should first consider his country's admission to the EU. 
In a news conference Monday, Stoltenberg said that Erdogan intends to submit the ratification documents to the Turkish parliament "as soon as possible." He added, "And then of course it is for the parliament then to ... have the process and then do the final ratification."
Hungary, too, has opposed Sweden's bid to join NATO, but Stoltenberg said that Hungary would not be "the last to ratify." So, now that Turkey has agreed to Sweden's accession, "I think that the problem will be solved," he added.
President Biden, who has strongly supported Sweden's induction into NATO amid the Russian invasion of Ukriane, hailed the agreement. 
NATO member countries are meeting this week in Vilnius, Lithuania. 
Olivia Gazis contributed to this report.
This is a breaking story. It will be updated.
source: https://www.cbsnews.com/news/turkey-sweden-nato-bid/