Minnesota governor signs bill protecting "fundamental right" to abortion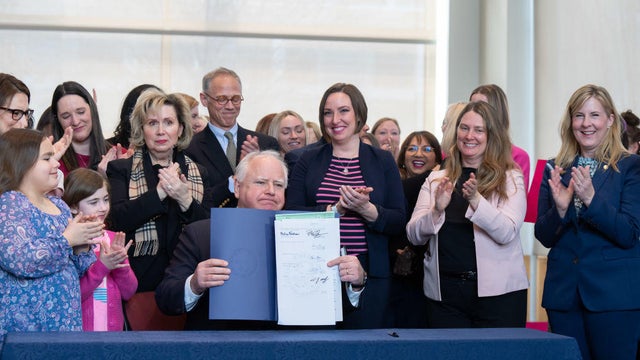 Minnesota Democratic Gov. Tim Walz signed legislation on Tuesday that codifies a "fundamental right" to abortion access and reproductive care in the state, solidifying abortion protections into law over the objections of Republican lawmakers.
The Protect Reproductive Options Act, or PRO Act, narrowly passed the Minnesota Senate on Saturday. Lawmakers debated the act for more than 14 hours, as Republicans attempted to add in amendments that were ultimately all rejected. The House passed the bill earlier this month. 
Walz and other Democrats had said the legislation was one of the top priorities for this legislative session. While abortion rights are already protected in Minnesota because of a 1995 Supreme Court decision, Democrats framed the PRO Act as a second line of defense.
"The message we are sending to Minnesota today is very clear: your rights are protected in this state," Walz said at Tuesday's signing. "Today we are delivering on our promise to put up a firewall against efforts to reverse reproductive freedom. No matter who sits on the Minnesota Supreme Court, this legislation will ensure Minnesotans have access to reproductive health care for generations to come."
The bill codifies protections to reproductive health care, including contraception, sterilization, preconception care, maternity care, abortion care, family planning and fertility services, and counseling regarding reproductive health care. 
There are other related bills moving through the legislature, which could repeal restrictions and protect patients and providers from out-of-state legal action. House Speaker Melissa Hortman says the bills will be on the floor by the second week of February.
Republicans have called the bill "dangerous" and "extreme."
"Make no mistake, this extreme bill provides for taxpayer-funded abortion, on-demand, up until and even after birth," said Republican Party of Minnesota Chairman David Hann.
source: https://www.cbsnews.com/news/minnesota-abortion-law-tim-walz-governor-pro-act/