3 benefits of filing your taxes early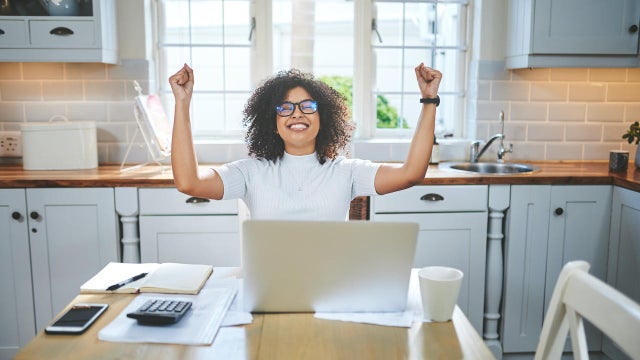 Tax season is underway, so get your paperwork in place to get a jumpstart on the filing process. Just be prepared to potentially see some major changes with your 2022 tax returns — since many COVID-19 pandemic-related benefits have expired.
"Refunds may be smaller in 2023," the Internal Revenue Service (IRS) warned in November. "Taxpayers will not receive an additional stimulus payment with a 2023 tax refund because there were no Economic Impact Payments for 2022."
But don't fret. There are still several ways you can get a bigger tax refund. 
The best way to prepare for tax season is to have a full understanding of your financial records and how to file your taxes. If you admittedly aren't a tax expert, then you may want to consider outsourcing. Utilize tax preparation software to get started. Create an account and upload your documents ahead of time so you don't have to stress later.
There are several reasons why you may want to file early. Plus, it will give you peace of mind so you're not scrambling to complete the process in the spring.
The IRS cites three benefits to filing your taxes early:
For the majority of Americans, tax returns are due on Tuesday, April 18. The IRS notes that some taxpayers living abroad and disaster victims may have different deadlines. Alabama, California and Georgia storm victims are also being offered an extension until May 15 for various tax return filings.
If you're unable to pay or file on time, then you should request an extension. It's not unusual for U.S. taxpayers to file their tax returns at the last minute. Last year, CBS News reported that on any given year, between 15 to 20 million people file their returns a week before the deadline.
While Tax Day may seem far away, the date can quickly sneak up on you. Don't let filing your taxes slip down on your to-do list. With a site like TurboTax, you can get easy step-by-step instructions to file online.
 If you fail to meet the IRS deadline then you could face penalties.
"The penalty you must pay is a percentage of the taxes you didn't pay on time," the IRS explains online, noting that the penalty for failing to file on time is 5% of the unpaid taxes for "each month or part of a month that a tax return is late." However, the penalty won't surpass 25% of your unpaid taxes, the IRS said. You can learn more about how the IRS calculates penalties, particularly for failure to pay or failure to file, online.
There's a possibility that you won't have to pay a fee for filing your taxes or paying late if you can prove that you had a valid reason for the delay. Check the IRS website for details.
Don't miss out on utilizing your tax refunds in the future. "Part or all of any refund is first used to pay any back taxes owed," the IRS explains.
It's especially important to file your taxes if you're owed money. Utilize a tax prep site to get started.
"Many people may lose out on their tax refund simply because they did not file a federal income tax return. By law, they only have a three-year window from the original due date, normally the April deadline, to claim their refunds," the IRS says. After that three-year deadline passes, then the U.S. Treasury will get the money.
As you may know, there are many things that affect your credit score — from spending habits to loans to balance transfers and more. But did you know that failing to pay your taxes could also impact your credit?
"If the IRS files a tax lien against a taxpayer, it could affect credit scores and make it harder to get a loan," the IRS warns.
In a separate post online, the IRS explains that a lien is a legal claim against your property in order to ensure you'll repay your debt. "A federal tax lien comes into being when the IRS assesses a tax against you and sends you a bill that you neglect or refuse to pay it. The IRS files a public document, the Notice of Federal Tax Lien, to alert creditors that the government has a legal right to your property," the agency states.
If you're able to, try filing your taxes early so you don't run into issues in the future. It will save you time — and possibly money — if you file before the deadline.
The IRS agrees, "Taxpayers should file on time, even if they can't pay the full amount due. Then, they should pay the rest as soon as they can. Remember, the sooner paid, the less owed."
source: https://www.cbsnews.com/news/benefits-of-filing-taxes-early/