Electric ferries coming to Auckland Harbour
Two electric ferries will be introduced to Auckland Harbour for commuters and sightseers.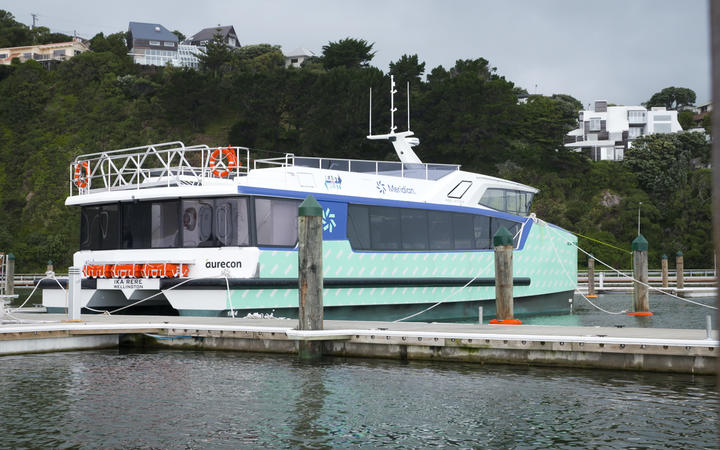 An electric ferry based in Wellington's harbour, the Ika Rere, was the first of its kind in the southern hemisphere. Photo: RNZ / Angus Dreaver
The government has announced plans for the the 200-person ferries to be built for Auckland Transport's inner and mid-harbour services, for launch in 2024.
But it is unclear whether they will mean cheaper trips for passengers.
The government is providing a $27 million funding grant to cover about 75 percent of the construction cost for the ferries, which will be owned by Auckland transport.
Minister of Energy and Resources Megan Woods said the current diesel ferries made up about 20 percent of the city's public transport emissions.
"These electric ferries promise to dramatically reduce greenhouse gas emissions, with each electric ferry displacing approximately 1000 tonnes of carbon emissions annually," she said.
"This project will be a major boost to the rapidly developing maritime clean technology sector in New Zealand, and will further upskill the maritime transport sector in New Zealand."
But the new vessels were no guarantee of competition on the water.
"Part of the project will be working through the operations model. And obviously Fullers are part of the picture in there," she told Checkpoint.
Ferry operator Fullers runs most harbour services in Auckland.
Recently, Minister of Transport Michael Wood said he was "hacked off" at the company for moving slowly to provide discounted fares in line with the government's half-price public transport scheme.
"Obviously Fullers has expertise in ferry operation. But like any of these things, we need to make sure that we're getting a good model being set up, because a big part of this project is also the research element. Not only how to build the boats and how they operate in New Zealand, but how to make them work from a business perspective as well," Woods said.
"As to how and who will operate it, it hasn't been decided.
"I'm not saying I want Fullers to run it. What I'm saying is I want us to, as part of what we're doing here, work through what is the best model for passengers. What is going to get more people out of their cars, onto public transport and using efficient public transport."
Woods could not guarantee fares would be cheaper on the new ferries.
"That's part of what the research will be, about how to make things work from a business perspective. You'd have to say that, yes, having a vessel that doesn't run on fossil fuels - that are only going to get more and more expensive - is going to be better for passengers over the long run.
"But working out those business models is a big part of what this project is about as well."
Woods said she would not expect fares would be more than on the existing diesel ferries.
"Diesel is an incredibly expensive fuel … compare that to electricity, a much cheaper way of operating. But as I said, a big part of what we're doing here is working through what the business model for the operation of the ferries looks like as well.
"Our aim is to not make more expensive public transport. So my assumption would be that they will be cheaper because we want more people to be using public transport and we know reliability and cost are important parts of getting people onto public transport."
The electric ferries have a range of 40km, so they will be able to travel the approximately 30km distance to Waiheke. Woods did not have a figure on how long it would take to recharge the vessel, but said the charging infrastructure is being worked through with Vector.
"In terms of the infrastructure … it will need to be in a way that can turn around the ferry quickly."
Woods said the two-year boat-building process is bringing together a lot of expertise from different local companies.
"This isn't simply going offshore and buying a ferry that's made elsewhere. This is using New Zealand maritime expertise to make boats that are ripe for our conditions."
The vessels will be constructed from carbon fibre and have a top speed of 25 knots - on par with the diesel ferries.
They will be made by Auckland boat builders McMullen and Wing with propulsion and control technology from the company Hamilton Jet.
source: https://www.rnz.co.nz/news/national/465934/electric-ferries-coming-to-auckland-harbour