Defense bill's passage threatened by abortion amendment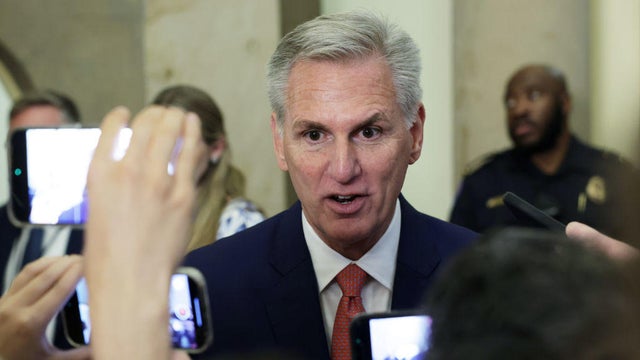 Washington — Dozens of controversial amendments could complicate the House's passage of the annual National Defense Authorization Act by alienating Democratic support. 
The most hot-button amendment would bar the Pentagon from paying for and reimbursing expenses related to abortion services. 
House Democratic Whip Katherine Clark told CBS News that Democrats would "oppose the bill" if it contains the amendment on the abortion policy, throwing its passage in doubt.
In the Senate, GOP Alabama Sen. Tommy Tuberville has been blocking military nominations and promotions over the military abortion policy, which covers certain abortion-related travel expenses for service members based in states with restrictive reproductive healthcare laws. Tuberville is exercising the hold until the Pentagon or new legislation changes the policy.
Clark said Democrats would also "fight" on the floor against other "culture war" amendments to the defense bill. They include cutting diversity, equity and inclusion offices; prohibiting the use of federal funding for diversity, equity and inclusion training.
There are also Republicans who want to add language prohibiting the sale or transfer of cluster munitions to Ukraine; and cutting Ukraine funding by $300 million. However, one senior House Armed Services Committee member told CBS News he projects approximately 30 Republican House members would support stripping the aid, far short of the number needed to do so.
The top Democrat on the House Armed Services committee, Washington Rep. Adam Smith, told CBS News on Tuesday that Republican leadership would likely need Democratic votes to pass the defense bill, because he expected a "chunk" of Republicans to oppose it over the changes to Ukraine funding. Republicans can only afford to lose four votes without Democratic help.
House Minority Leader Hakeem Jeffries accused Republicans of jeopardizing its passage. 
"It's outrageous that this is what Republicans are doing," Jeffries said. "With the defense bill, it should be about our national security."
House Speaker Kevin McCarthy said he is hopeful the defense bill will pass by Friday with bipartisan support. McCarthy said he supported the abortion amendment introduced by Republican Rep. Ronny Jackson, even as some moderate members of his party have voiced concern.  
Republican Rep. Nick LaLota, a member of the Armed Services Committee, said the amendments should be separate from the defense bill. 
"Congress must pass the NDAA," LaLota tweeted Thursday. "The amendments which would cause the NDAA to fail put our military's lethality at risk and should be debated outside of the NDAA. We cannot play games with our soldiers' lives, pay, or military readiness." 
Scott MacFarlane and Nikole Killion contributed reporting. 
Caitlin Yilek is a politics reporter for CBS News Digital. Reach her at
[email protected]
. Follow her on Twitter: https://twitter.com/hausofcait
source: https://www.cbsnews.com/news/ndaa-defense-authorization-bill-house-amendments/