Reward increased after family of 6 killed in "cartel-style execution"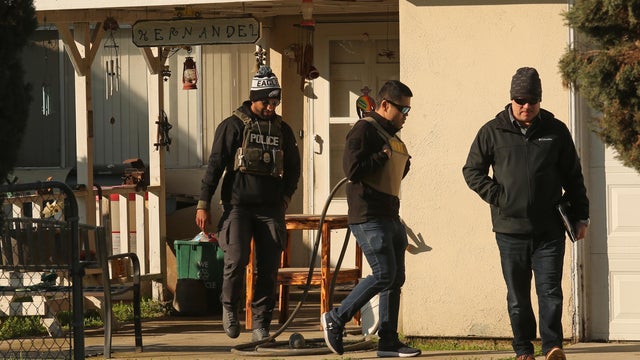 Two weeks after shooters brazenly killed a teen mother, her 10-month-old baby and four other members of her household, the suspects remain at large.
Authorities on Monday provided no motive for the attack in the central California farming community. Tulare County Sheriff Mike Boudreaux reaffirmed in a Monday news conference that the deaths of the six people were a "cartel-style execution."
On Monday, authorities raised a reward offer of more than $20,000 for information leading to the arrests of those responsible. The previous amount had been $15,000. Authorities have said they were searching for two suspects in the Goshen killings. 
Boudreaux noted that although officials are not sure if a cartel was behind the killings, the Jalisco New Generation Cartel and Sinaloa Cartel are both "heavily involved" in California and work very closely with gangs. Both cartels are behind the influx of fentanyl in the U.S. that's killing tens of thousands of Americans, according to the DEA.
Boudreaux has yet to describe the shooters publicly or provide any information about the killings, other than to say investigators believe they are gang-related.
Boudreaux did not take questions from reporters during a news conference Monday, his first public remarks since the day after the Jan. 16 shooting in rural Goshen. He also did not address whether anyone at the house was targeted specifically, but he previously said police believed "this was a targeted family."
"Our investigators have been working day and night, literally 24 hours a day on this case," he said. "Arrests will be made in this investigation."
Boudreaux also made a direct appeal to Gov. Gavin Newsom, asking him to lift the ban on the death penalty in cases when small children are killed. In 2019, the governor announced the moratorium on the death penalty in California.
The violence in the community of about 3,000 residents in the agricultural San Joaquin Valley was the first of three mass killings in California this month.
It was followed by a Jan. 21 massacre at a dance hall in a Los Angeles suburb that left 11 dead and nine wounded. Police say that gunman later was found dead in a van with a self-inflicted gunshot wound to the head. Less than 48 hours after that massacre, shootings at two Half Moon Bay farms on Jan. 23 near San Francisco left seven dead and one wounded. That gunman has been taken into custody and charged with murder and attempted murder.
Boudreaux said the 16-year-old mom who was killed in Goshen was fleeing the violence in the pre-dawn hours when the killers caught up to her outside the home and shot the young mother and her son. The other four victims ranged from 19 to 72 years old, including a grandmother who was shot as she slept.
The victims have been identified as: Rosa Parraz, 72; Eladio Parraz, Jr., 52; Jennifer Analla, 49; Marcos Parraz, 19; Alissa Parraz, 16; and Nycholas Parraz, 10 months.
The sheriff on Monday said the teen mother had just been awarded full custody of her son after he spent months in the foster care system. The two were reunited on Jan. 13 - three days before they were both killed.
source: https://www.cbsnews.com/news/goshen-mass-shooting-reward-suspects-at-large-6-killed-cartel-style-execution/