Should you buy gold and silver? Here's what experts suggest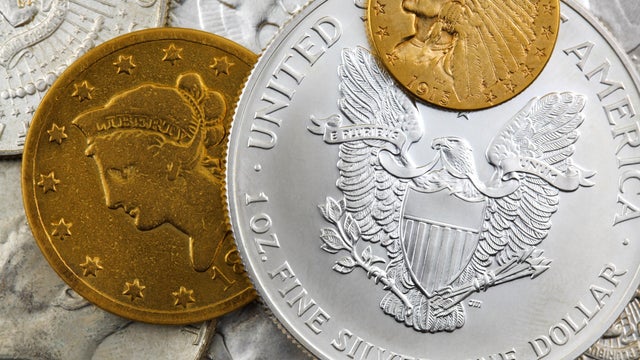 Gold and other precious metals have remained a solid option this year as many investors are exploring alternative investments amid persistent inflation, economic uncertainty and recent jobs reports that fell below expectations.
Precious metals are one option to diversify your portfolio and reduce risk, since their value doesn't generally correlate directly with traditional assets like stocks and bonds. Additionally, precious metals may offer a hedge against inflation, as they can increase when price when the dollar is devalued during economic instability.
Of course, investing in gold and silver isn't for everyone, and you should certainly do your due diligence before investing. If you're considering a gold investment, the following advice from experts can help you determine when you should (and shouldn't) buy gold and silver.
Find out more about how to start investing in gold today with a free information kit.
Gold has long been valued by investors who want to diversify or maintain a store of value when the economy is uncertain — which makes it useful to have in your portfolio during periods of downturn. 
"Right now, there is a lot of volatility in the market which can drive investors to safe-haven assets," says Joe Cavatoni, chief market strategist, Americas, at the World Gold Council. "If you look at gold's performance historically, it's the kind of asset that should perform well through uncertainty, as it has done in five out of the last seven recessions."
Additionally, some experts believe certain times of the year are better for buying gold. "Seasonally, gold generally offers the best buying opportunities in the late summer or early fall," says Carley Garner, futures and options broker and strategist at DeCarley Trading.
Thinking about buying gold? Explore your options with a free investors kit now!
Manufacturing demand for silver factors heavily into its price. As such, it's wise to invest in silver when you anticipate silver demand will remain strong or increase. According to Howard Crosby, a founder and executive director of Gold Express Mines, a commodity mining company, suggests that the market demand for silver is likely to remain robust — a positive for investors.
"Silver has undergone a remarkable transformation over the last 25 years, and if the current trends continue unabated, demand for silver in the industrial sector is likely to grow dramatically," says Crosby. "Because of the unique properties of silver, it is being consumed in ever larger quantities in solar panels, electronic devices, cell phones, water purification systems and many other applications. It is the most conductive of all metals, so the move toward ever-increasing electrification across society is certain to demand more silver."
While gold has some great benefits, there are times when it may not be the best fit. For one, though it's possible to profit from buying gold, long-term gains are not the primary objective. Most investors are more likely to get value from the gold they purchase as a hedge against inflation or to diversify their holdings than to seek profits.
That's because, from an investment perspective, gold underperforms when compared to equities, according to Robert R. Johnson, Ph.D. and professor of finance at Creighton University. "Simply put, one should never consider investing in gold, particularly if you have a long time horizon, as the long-term returns are far below those of equities," says Johnson.
Other experts say that you should only invest a small amount of your portfolio — no more than 5% to 10% — into commodities like gold, so you can reap the benefits of it as a store of value while also leaving space for your money to grow in traditional assets.
Analysts at Morgan Stanley suggest that silver prices can be two to three times more volatile than gold, so you might steer clear of silver if your risk tolerance is very low. And while buying the dip may make sense if the industrial demand for silver is increasing, it may not be best when production demand is low.
Also, you might not want to buy physical silver if you anticipate needing your money quickly. That's because physical silver might not be immediately liquid the same way that gold can be. It takes time to sell, and the large volume of the metal can lead to extra costs like storage and insurance fees.
Thinking about investing in gold or silver? Learn more with a free investment guide today.
Adding a slice of precious metals to your portfolio may help you diversify your holdings and hedge against inflation. But because precious metals can be volatile at times and underperform over the long term compared to equities, many experts suggest limiting your precious metals allocation to no more than 10%.
Like all investments, precious metals like gold and silver come with their own set of risks. However, given the economy's uncertain state, investing in alternative assets like precious metals may be worth your consideration. Consult your financial advisor or accountant to ensure any investments you're contemplating align with your long-term goals.
source: https://www.cbsnews.com/news/should-you-buy-gold-and-silver-heres-what-experts-suggest/