Inflation is down. Here's what that means for mortgage rates.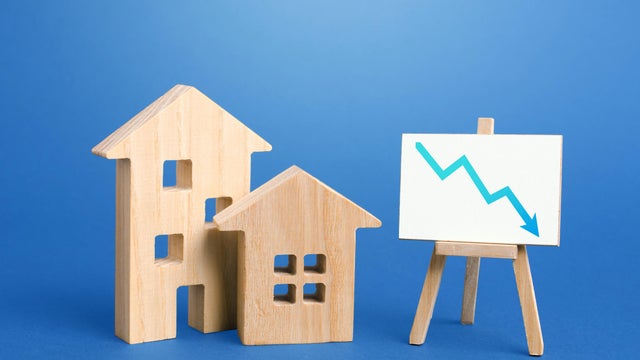 According to the latest Consumer Price Index (CPI) report, inflation cooled in June, growing at the slowest pace in over two years. That's welcome news after inflation reached its highest levels in 40 years last year.
One group who may be particularly relieved by this news is homebuyers. With mortgage rates rising higher over the past several months, the cost of purchasing a home may have led some to wonder if it's worth it in the current rate environment — or if they can even afford it at all.
Slowing inflation could signal better days ahead. That said, it's not the only thing potential homebuyers should keep in mind when weighing their mortgage options.
See today's top mortgage rates here to start comparing your options.
At a basic level, inflation is a measure of how much the prices of goods and services are increasing over time. When inflation is high, the dollar's purchasing power decreases — in other words, it becomes more expensive to buy the things you need. It also becomes more expensive for lenders to lend out money, which directly impacts mortgage rates.
When inflation is high, lenders often raise their interest rates to compensate for the increased costs they're experiencing. As a result, borrowers end up paying more over the life of their loans. On the flip side, when inflation is low, lenders can afford to lower rates to entice borrowers to take out loans. That means buyers save money over the course of repaying their loans.
Mortgage rates are currently approaching 7%, the highest they've been since October 2022. However, experts predict they're due to start going down in the next several months, and the latest inflation numbers are a sign relief may finally be in sight.
"Considering there have been some stubborn numbers still holding back lower inflation, hopefully, a good reading will be a catalyst to improved rates as the year goes on," Darren Tooley, senior loan officer at Cornerstone Financial Services, recently told CBS News.
Start your mortgage search online today.
While the latest CPI report is encouraging, it's important to note inflation is only one factor that affects mortgage rates. Other factors include the market forces of supply and demand, the Fed's monetary policy and your own personal financial situation.
For example, if mortgage rates begin to fall significantly, it could make home buying more affordable for more people, leading to greater demand for existing housing inventory. If demand outstrips supply by too much, lenders may raise rates again to capitalize on it.
In addition, mortgage rates are closely tied to the federal funds rate, which is likely to remain high for some time still. While the Fed paused rate hikes in June, two more hikes are expected for 2023, starting over the upcoming July 25-26 meeting. So, while inflation may be beginning to cool, that doesn't mean we're out of the woods just yet with rates.
Thankfully, while larger economic forces are outside your control, there are some things you can do to get the best rate currently available.
Lenders evaluate your financial health when approving you for a mortgage, and if you're in a strong financial position, they're more likely to offer you a lower rate. For instance, if you have a high credit score or can put down a sizeable down payment, you're more attractive to lenders and stand a better chance of getting a rate on the lower end of the current spectrum. 
Check out top mortgage offerings here to see what rate you might qualify for.
Ultimately, the news that inflation rates are trending downward is likely to be positive for buyers. Lower inflation rates could be one step toward buyers being able to secure lower interest rates on their mortgages, which can help them save money in the long run.
However, it's important to keep in mind inflation is just one part of the equation when it comes to mortgage rates — and the overall cost of buying a home. Homebuyers also need to consider other factors, such as property taxes, insurance and closing costs when evaluating the affordability of a home purchase.
If your goal is to purchase a home in the near future, there are things you can do to put yourself in the best position possible. Take the time to shop around and carefully compare lender offers to find the lowest ones on the market today. Consider getting a mortgage now and refinancing later on when rates are lower. When in doubt, speak with a financial advisor to determine the best route for your individual situation.
source: https://www.cbsnews.com/news/inflation-is-down-what-that-means-for-mortgage-rates/