'I just want him back': Niece desperate to bring missing fisherman home
Whānau of a missing fisherman will continue looking for him when the police search ends.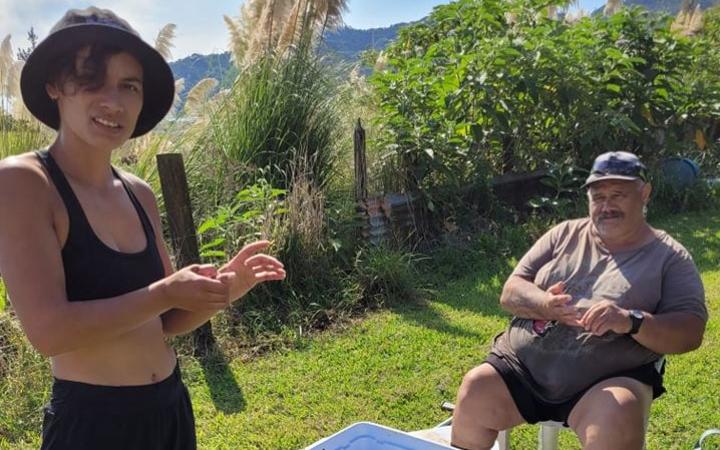 Jason Kauta seen here with his niece, Mia van den Broek (Ngāitai) who has been searching for him since he disappeared. Photo: Supplied/ Mia van den Broek
Jason Kauta did not return from a trip in his boat at Tōrere, in the eastern Bay of Plenty, on Sunday morning.
None of his possessions or his boat have been found.
Police "are today reassessing the search" and were forced to stop overnight in bad weather and large swells.
Kauta's niece Mia van den Broek (Ngāitai) has spent days checking the coast with her sister, and she told RNZ she would keep driving and walking up and down, with binoculars, looking for her uncle and his belongings, when she was not working.
"It's about bringing him home. And just having that closure that, 'he's home now'. Even though the ocean is his home in his eyes, I just want him back."
She went went out fishing with Kauta two weeks ago.
"It honestly had to be one of the best days of my life with him. I hadn't been out fishing with him in a while and it was good to get back out."
His boat is a 12-foot mustard orange and white dinghy, and he had a white chilly bin, wooden oars, a yellow lifejacket and a red gas tank.
Jason Kauta towing his boat before he went missing. Photo: Supplied / Mia van den Broek
Police have asked boaties and beach users to check the shore and sea as far west as Maketū.
The Ōpōtiki and Whakatāne coastguards and Surf Life Saving New Zealand volunteers in inflatable rescue boats have been combing the water, as has an Air Force Orion and helicopter from above.
Van den Broek said her uncle "only goes to one fishing spot" between Tōrere and Hāwai, and routinely leaves at 7am and returns about 1pm.
"He's been going to that fishing spot since I was a kid, when we used to go out as children. He never goes too far from the beach. So he was out about 7km from the shoreline."
He normally gives a lot of his catch away, especially to elderly people in Tōrere.
She said he was a careful seaman who was "always respectful" of Tangaroa (the god of the sea) and was very experienced - having first learned to collect kaimoana with his father as a child.
Anyone with information is asked to contact police on the 105 phone line quoting file number 220418/0391.
source: https://www.rnz.co.nz/news/national/465578/family-vow-to-keep-searching-for-missing-fisherman