Congressmen detail their experience working through cancer treatment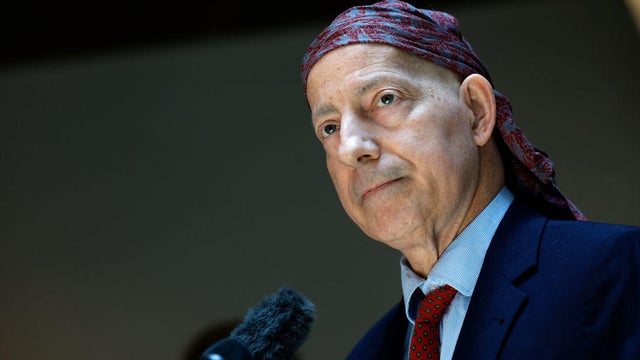 "I remember coming out of surgery and yelling 'Help me!," Democratic Rep. Dan Kildee, of Michigan, said of the excruciating pain that was coursing through his body.
His colleague Rep. Joaquin Castro's voice quivered slightly when he recounted the late-night call home to his wife.  He'd shared his unexpected diagnosis. "She took it very hard," the Texas Democrat said.
Their fellow Democratic U.S. House member, Rep. Jamie Raskin, of Maryland, closed his eyes for a brief moment as he described the final days of his chemotherapy.   
"It's just debilitating over time," Raskin explained, leaning into and slowly emphasizing the word "debilitating" —  simultaneously gesturing by clenching a fist.
If the U.S. House of Representatives is intended to be a comprehensive and accurate representation of the American people, the 118th Congress parallels America in one particularly distinctive and significant way: Like so many people throughout the nation, there are members of Congress who are working full-time, exhausting jobs, while recovering from — and seeking treatment for — cancer.
In the span of approximately 12 weeks, three House members have undergone treatment for cancer this year. Each has withstood and worked through aggressive and painful treatment. Each has navigated reconciling the anguishing news, braving through the conversations with family, battling the physical limitations of treatment and juggling a uniquely grueling and densely-scheduled job.      
They did so at a time when even one absence on the House floor can make or break important legislation.  
The three men are in different stages of recovery. Experts and survivors warn: Each of the millions of cases of cancer detected each year can be different in its own way. For Raskin, Kildee and Castro, each case is, in fact, quite different. But each has embarked on a journey that is strikingly common among Americans. Working through cancer treatment.
They detailed their prognoses and challenges through a series of sit-down interviews with CBS News.
The final days of 2022 were an abrupt and staggering end to a monumental year for Rep. Jamie Raskin, who had risen to national prominence with his role on the high-profile House January 6 committee. He was a fixture of national cable television segments, enjoyed Democratic acclaim for his prior work as a lead impeachment manager during the second impeachment trial of former President Donald Trump and was in the process of successfully securing the top Democratic seat on the powerful House Oversight Committee.   
But on December 28, Raskin announced to the nation, "After several days of tests, I have been diagnosed with Diffuse Large B Cell Lymphoma, which is a serious but curable form of cancer. I am about to embark on a course of chemo-immunotherapy."
Raskin told CBS News his cancer is now in remission.
As the 118th Congress began with a historic, 15-round vote for U.S. House Speaker and launched into a series of contentious fights over policy, Raskin was juggling the responsibility of being a leader of the minority opposition while undergoing several rounds of chemotherapy.
The chemotherapy cost Raskin his hair and some of his strength.
As he underwent treatment, Raskin appeared on the House floor and at committee hearings wearing a bandana, inspired by guitarist Steven Van Zandt. When the longtime E Street Band member heard about it, he sent the congressman a head covering as a gift.
That gift is from all of us who want to thank you every day for giving us hope that there is a politician that cares about justice! Here's to a rapid complete recovery. https://t.co/11WfFWAmrG
At first, Raskin and his staff maneuvered his schedule to avoid absences from the job. 
"(Treatment) was organized around weekends and recesses," Raskin told CBS News. "The real pain and difficulty of the chemo hit one week after the sessions ended. So, oftentimes, we were in session when I really felt the brunt of it."
Four weeks after his diagnosis, Raskin faced a seminal moment on the job. For the first time, he would serve as the ranking member of the U.S. House Committee on Oversight. The new Republican majority had pledged to use the panel for a series of high-stakes, high-profile investigations and legislative efforts focused on the Biden administration, the president's son, Hunter Biden, federal agencies for whom thousands of Raskin's constituents work, and aggressive oversight of the District of Columbia, which is adjacent to Raskin's congressional district.
In February, the panel staged its first major hearing, looking into allegations of waste and fraud in the federal government's programs to combat COVID-19. 
Wearing a navy-colored ballcap, Raskin spoke emphatically from the dais that February morning. At a hearing in which Republicans sought to blister the Biden administration's management of federal agencies, Raskin counterargued and spoke of the "Trump administration's mismanagement."
The physical toll on Raskin's body would grow as the year and the new Congress continued.  
"When my chemo started, I could go for a week or 10 days feeling pretty good. But as we moved into the later sessions, the difficulty of it becomes cumulative," he said.
At the most painful and exhausting period of his chemotherapy, he would need brief naps and car transportation for treks he would otherwise make on foot, Raskin said.
He noticed subtle changes in his vocal performance during speeches.
"Sometimes my voice began to slip away because it creates what they call 'general exhaustion,'" he explained.
Speculation surrounded Raskin's future through most of the year, especially after Maryland Democratic Sen. Ben Cardin announced his retirement, opening a rare opportunity for Maryland Democrats to vie for a Senate seat.
In Raskin's July 7 announcement that he would forgo a run for the seat, he did not reference his health or his treatments. He instead spoke of his prowess as a fundraiser and his emerging prominence in the House, both of which he fortified while underdoing his cancer treatment.  
"I believe the best way for me to make the greatest difference in American politics in 2024 and beyond is this: to run for reelection to the House of Representatives in Maryland's extraordinary 8th District; and to mobilize thousands of Democracy Summer Fellows and raise millions of dollars and everyone's spirit to fortify and build up Democratic majorities in the House and Senate," Raskin said in the statement.
Raskin told CBS News he preferred to work, and work exhaustively, during his chemo treatments.   
"I found work was a way to take my mind off of the symptoms," he said. "I mean, work forces you to concentrate your mind elsewhere. If you're at home, just if you're at home alone, dealing with the effects of chemo, it can become a demoralizing experience, psychologically."
In a March 31 open letter to his constituents in the Flint, Michigan, region, Rep. Dan Kildee said he had been diagnosed with a "serious, but curable" form of cancer in his tonsil. Kildee told CBS News his cancer was detected after he underwent a CAT scan for shoulder pain.  
When he was given two options — radiation treatment or surgery to remove his tonsil, lymph nodes and a part of his tongue — he said the choice was simple: Be aggressive, take out the cancer. 
No matter the horrific pain he would experience.
"It really was not much of a decision," Kildee recounted. "It was so obvious what I needed to do."
Kildee underwent surgery in April. The cancer was successfully removed, but he was subjected to an excruciating amount of pain. Wincing occasionally as he described it, Kildee told CBS News, "The surgery is done robotically. It's done in the throat. They take out the tonsil and take out a big portion of my tongue. You know, thin slices. But a big part of my tongue."
"I've never experienced pain like this," he said. 
He recalled screaming "Help me!" as he was wheeled outside of the operating area. He remembered the response from his doctor: "Just give him some morphine… like right away."
Kildee said his regimen of painkillers, to be taken every four hours, was also rough on his body. He leaned in as he described to CBS News the granularity of the pain. When he reached the four-hour mark, he said he'd walk briskly through the House, hoping it would help his body more quickly metabolize and process the painkilling effects of the drugs.
Serving in a narrowly divided House of Representatives, where the margin of victory for some legislation can be as little as a single vote, Kildee said he opted to undergo much of his treatment at George Washington University Hospital system in Washington, D.C. 
"Mainly because I didn't want to lose any time in transit," Kildee said.
Largely unable to speak louder than a whisper for days after his surgery, Kildee said he also received extra assistance from Democratic House leadership so he could quickly enter his votes on the House floor.   
"There was ten days or so," Kildee said, "They set me up in a little room. I walked down to the floor and voted, walked up, then went back home." 
Three months after his surgery, during which 22 lymph nodes were removed, his voice has largely returned. Having skipped some public speaking opportunities during the initial days and weeks of recovery, Kildee said he has returned to a robust schedule in Michigan and in Washington.   
At a June 13 meeting of the House Ways and Means Committee, on which Kildee holds a seat, the congressman was in full voice as he asked questions about tax policies and the impact on the auto industry.  A physical comeback for a man who said he was suffocated by pain two months earlier.  
Kildee remarked amid his fiercest pain in April, "I had trouble speaking and eating.  My two superpowers!"
It was late at night in Texas. But in Spain, it was early morning on the July 2022 day when Rep. Joaquin Castro was the passenger in a car that suffered a high-speed crash. The car was going nearly 70 mph when the driver struck a large animal. Castro remembers being disoriented. He remembers a throbbing pain and a throbbing, red look to one of his hands. When the Spanish medics arrived, Castro said they had to convince him to get checked out at the hospital. 
The worst was yet to come.
Castro underwent an MRI. The neurologist spotted a set of neuroendocrine tumors. They were in his gastrointestinal tract. He was far from home. And he was far from his wife and three children.
He reached his wife by phone.  
"She took it very hard," Castro said.
Castro underwent surgery in Texas to remove some of the cancer in February. He told CBS News the medical team removed 44 lymph nodes, nearly half of which were cancerous. They also took out part of his colon and small intestine. 
But they opted not to remove the tumors that are on both sides of his liver. 
"Because it's on both sides, they don't want to burden one side of the liver," Castro explained.
Castro is not cancer-free. He receives monthly injections to slow the growth of the tumors and help relieve the symptoms that dog him. 
"These tumors that I have, these neuroendocrine tumors, they can release hormones," said Castro. "They can affect your blood pressure or your blood sugar levels. Cause you diarrhea."
Castro said he feels his symptoms flare up around 23 or 24 days after each injection. But he can't speed up the cycle of his regimen, because health insurance only covers the shots taken at least 28 days part.   
"The list price on that shot was like $24,000," he said.
Castro's voice dipped when he described the challenges of explaining his cancer to his three children, all of whom are under 10 years old. His daughter, the oldest, is 9 years old.    
He told CBS News, "When you get diagnosed, your mind rushes to what the future is. How long you're going to be around for your kids. And how long they're going to have you around."
Castro said he'd "love to be cancer-free," but told CBS News, "as long as the other tumors are held at bay and I'm getting my monthly treatments…. You know, I can live with that."  
Castro said these personal experiences shared by him, Raskin, Kildee and an untold number of other members of Congress help inform the debates over spending. Castro ardently supports funding the Biden administration's cancer moonshot program. And as the House spends July debating how much to spend on federal programs, Castro said his experience underscores the importance of helping provide expanded health care.
The three congressmen each acknowledged their work weeks often exceed 80 to 90 hours. They are double-booked at some moments of some days. Congress has a stubborn habit of last-minute, late-night votes and dramatic pivots in schedule and plans. 
All 435 members of the House have staffs of more than a dozen aides to help with a ceaseless workload. Raskin, Kildee and Castro said their staffs have helped them keep up with the relentlessness. 
Kildee told CBS News, "I take the position, and I tell them, that my staff and I all serve in Congress. I serve in Congress, they serve in Congress. I wear the pin. I have a voting card. But we all serve the people."  
source: https://www.cbsnews.com/news/cancer-jamie-raskin-dan-kildee-joaquin-castro-treatment-prognosis-congress/