Super Rugby: Blues batter Chiefs while Ardie Savea sounds off on refereeing
Opinion - For all its faults, you can't accuse Super Rugby Pacific of not throwing up some highly watchable footy this weekend.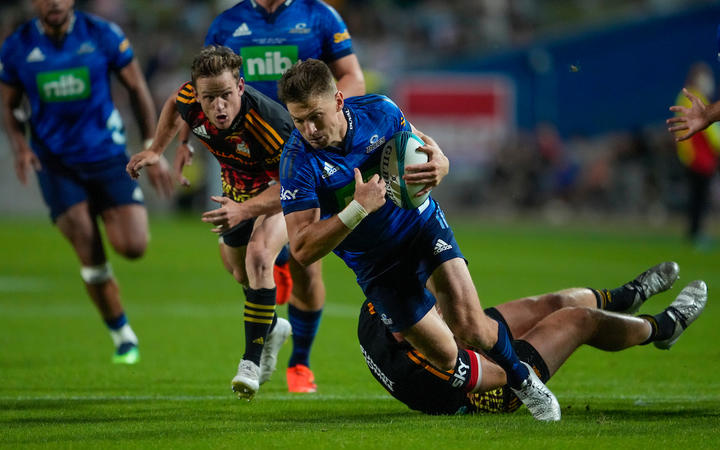 The Blues beat the Chiefs 25-0 in Hamilton last night. Photo: Photosport Ltd 2022 / John Cowpland
Not only that, but there is plenty to chew on in the aftermath. As well as the usual refereeing complaints there is now ample evidence that the momentum in the competition has swung back to Eden Park after one of the best Blues performances ever.
But first, the broken record award once again goes to Moana Pasifika, whose indiscipline cost them any chance of what was a very winnable game against the Highlanders on Friday night.
For a while there, it was 10-7 and a Moana Pasifika victory looked entirely possible - then they gave away 10 straight penalties and two yellow cards, handed the Highlanders six lineouts in their 22 and conceded tries off all of them. This is a remarkably familiar summation to their two losses to the Blues last week, indeed all of them so far and really makes their sole victory, over the Hurricanes, just that much crazier given the penalty count in that one was even worse.
Since that loss the Canes have been admittedly a lot better, even though they have also lost both subsequent matches. Yesterday's 24-21 result against the Crusaders was one of their better all-round performances of the season, but no one is really talking about that due to the way the game ended. With time up and an opportunity to send the game to golden point extra time in the offering, Ardie Savea chose to go for a lineout close to the Crusaders' line and try and take the game out then and there.
Somehow, the ball was lost and referee Brendan Pickerill called full time. Just exactly how? Well, most people aren't sure because the broadcaster chose to cut to ads instead of showing a replay. The coverage finished, but not before Savea launched a very carefully worded statement around how he was feeling about Pickerill's performance.
Savea stopped short of outright saying Pickerill was wrong, but it will be interesting to see what comes out of it given that critiquing referees is a fineable offence. Then again, Savea was an All Black captain last year. NZ Rugby probably don't have the guts to actually do anything because of that fact, short of an inevitable press conference on Tuesday morning with referee's boss Bryce Lawrence.
Then came the big one when the Blues drove down State Highway 1 to literally smash into the Chiefs as fast as they could at FMG Stadium Waikato. It ended up being one of the best Blues performances ever, Beauden Barrett's best shift since moving north and a very timely reminder to everyone else that when they want to, the Blues can tackle their way to victory in the most brutal of fashion.
The 25-0 win was a bullying, confident performance that showed no regard at all for the Chiefs' form or their All Blacks spread across the park. Barrett looked like he'd been in charge of the backline for his whole career, letting loose the likes of Mark Telea and Jacob Ratumaitavuki-Kneepkens.
The Chiefs didn't even play that badly either and probably had the most ball and were awarded the most penalties for any team that's ever failed to score a point in a professional game. The TMO certainly wasn't giving them any breaks either, not that he should have with two tries rubbed out for clear infringements and Etene Nanai-Seturo's dive into the corner seeing his elbow graze the line a millisecond before he grounded the ball.
The Blues had to make several goal line stands, lost three men to the bin and still didn't concede, a feat that was surely celebrated on the ride back home to Auckland. They travel to take on the Crusaders in Christchurch. It's a game which, after watching this round at least, could well be a preview of the final.
source: https://www.rnz.co.nz/news/sport/465005/super-rugby-blues-batter-chiefs-while-ardie-savea-sounds-off-on-refereeing