Horowhenua Kāpiti takes on Wellington in 'a Herculean challenge' for Ranfurly Shield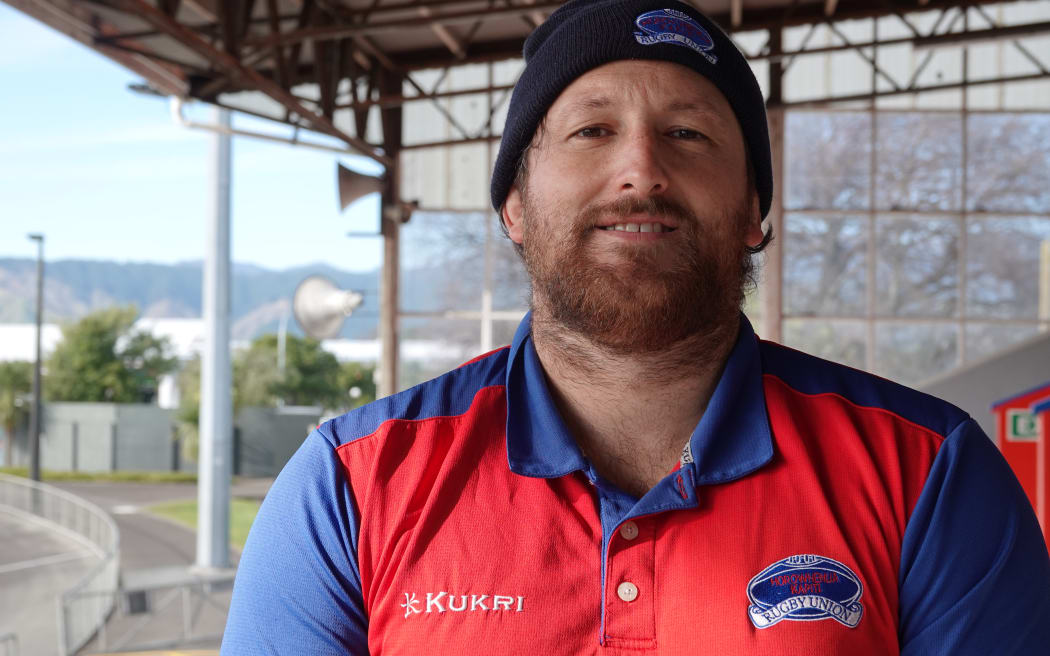 Horowhenua Kāpiti captain Ryan Shelford says the home support will be a massive boost for his team. Photo: RNZ / Jimmy Ellingham
On Wednesday afternoon the Horowhenua Kāpiti rugby team take on the might of Wellington in a David versus Goliath Ranfurly Shield clash in Levin.
It is an old-fashioned battle between an amateur Heartland side and the might of a professional outfit from the capital centre.
It is also the first time in 30 years the Horowhenua town has hosted a challenge for the log o' wood, a prize the local union has only won when they joined forces with neighbours Manawatū in the 1920s.
Already, the Levin Domain, which will host the challenge, looks a picture, as it did on a sunny autumn day in 1993 when Auckland took the shield on tour and stopped in for an 80-17 win.
But the home side were buoyed by the side-step and touch of magic provided by schoolboy back Carlos Spencer, who launched himself into the national consciousness ahead of his All Black career.
In the Horowhenua Kāpiti team that day was Corey Kennett, who remembers the 1993 side as a special group.
"Obviously Carlos was an amazing player and a key part of that.
"Crikey, there were some tough men around. Some of the guys we played with [were] legendary around club rugby and what they did for the 'Nua," Kennett said.
"But the day itself - the whole community came out. There was a real positive buzz. We gave it our best crack."
That year Horowhenua Kāpiti won the old NPC third division title. They have since had three unsuccessful Shield challenges, all away games.
In 1993, a star-studded Auckland was nearing the end of an eight-year run as holders at a time when the Shield was the most coveted provincial rugby prize.
These days it was one of many trophies on offer in the professional age.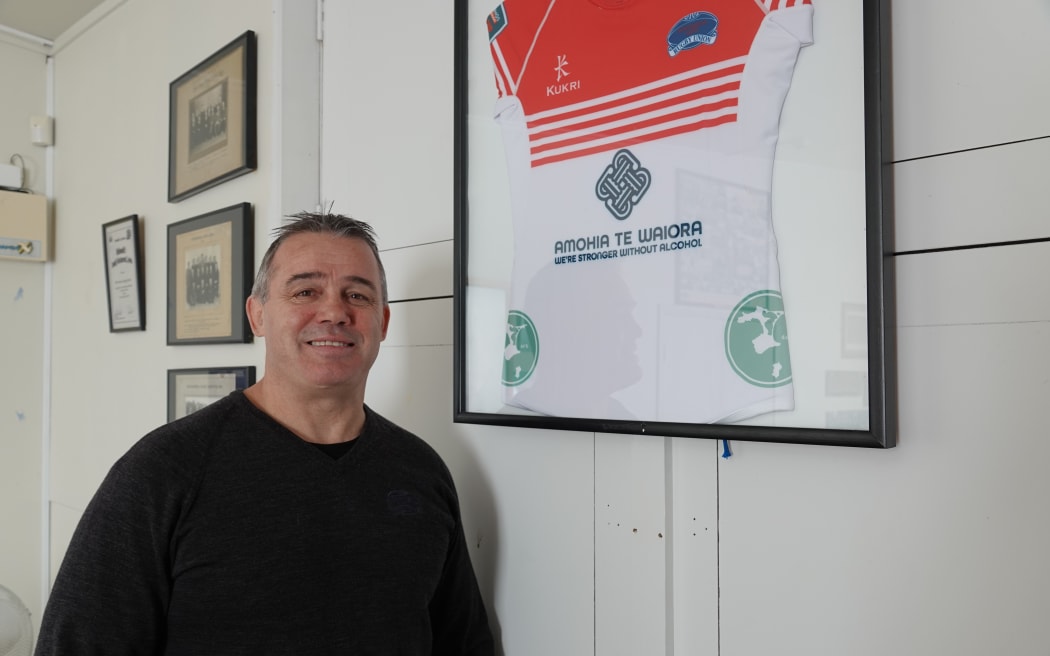 Horowhenua Kāpiti chief executive Corey Kennett has fond memories of the last Ranfurly Shield match in Levin 30 years ago. Photo: RNZ / Jimmy Ellingham
Kennett, now chief executive of the Horowhenua Kāpiti Rugby Union, was confident it still holds some lustre.
"Our crowd record is 6,500. That was a Hurricanes versus Crusaders [pre-season] game. We did have God playing that day - Richie McCaw.
"He was the current All Black captain and there were 14 current All Blacks. That was a very special day.
"We had 5,800 this year at the Hurricanes versus Crusaders. If we get a good day and the weather plays ball we'll click over 5,000 quite easily."
That will include free entry for children, in the hope they remember the day as fondly as those who crammed into the Levin Domain three decades ago, Kennett said.
"Be what you see, eh? They can see these amazing athletes - both their local athletes, highest-performing athletes, and the guys coming in from Wellington, and see how they perform and what they could be.
"There's a huge buzz. We're just crossing our fingers for the weather gods."
On the streets of Levin some people had not come down with Shield fever and did not know the game was on, or did not like rugby.
But for those who follow the oval ball game, there was an air of excitement.
"I would 100 percent [be keen to go]. Just to be a part of the experience," one woman said. "[If Horowhenua Kāpiti won] I think it would be a big, big night.
"There would be lots of celebrating. It would be a very wholesome night."
Another man said he would take his children to the game.
"It brings heaps of stuff for the local businesses and brings all the community together, and is a good day out for the kids in Horowhenua.
"It's bigger when you go to these little towns now, not so much at the Cake Tin [Sky Stadium in Wellington]. It just feels like when you've got grassroots rugby there's a stronger bond to it."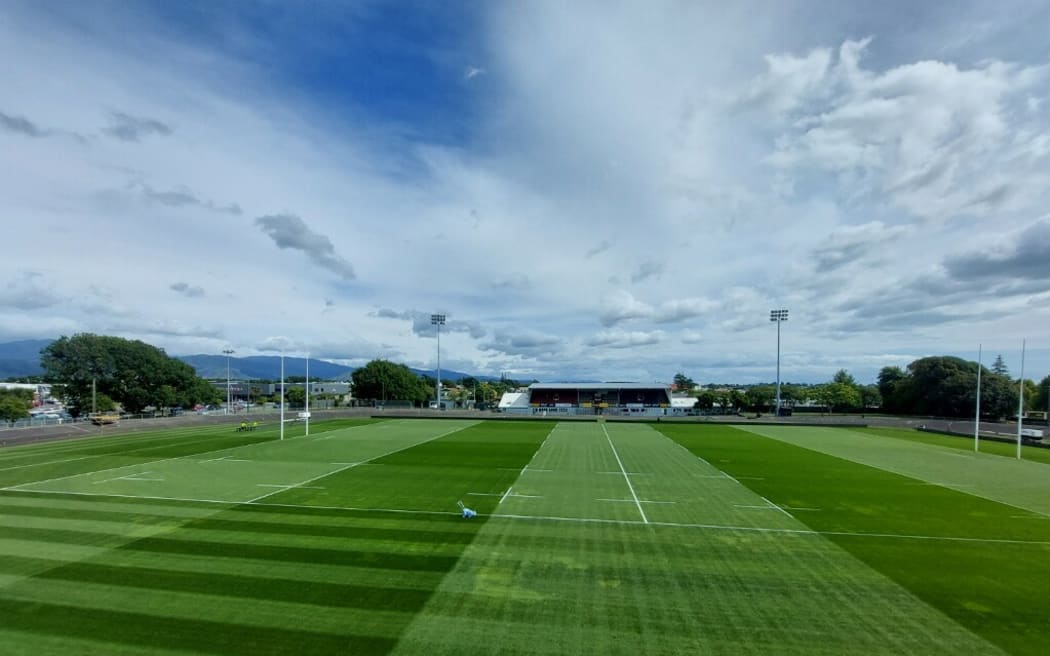 About 5000 people are expected to cram into the Levin Domain for Wednesday's match against Wellington. Photo: Supplied
Hoping that was the case was Horowhenua Kāpiti captain Ryan Shelford.
"A Shield challenge is always something the boys look forward to and want to get up for. Being the little brother to these other PUs [provincial unions], it's our chance to have a crack," he said.
"It's just massive to be able to have a challenge on home soil. We definitely won't take it for granted.
"To run out in front of a home crowd, our crowd, a Horowhenua Kāpiti crowd is just massive."
Horowhenua Kāpiti coach Aleni Feagaiga said the team came together last week.
"One big thing we're trying to put into the boys is to enjoy the occasion.
"It's a massive opportunity for us, as a Heartland PU, playing for the log o' wood."
Kennett said he was realistic about the home team's chances.
"We're not fantasists. We know that it is a Herculean challenge, but we also know that it's one of our better chances. And who knows on the day, right?
"A two-horse race - you've got a 50 percent chance if you're starting even, and we know we're starting a few steps behind."
If they do prevail, Kennett said the team wouldn't be at work for a while as they tour the region with the Shield.
The game kicks off at 2.05pm on Wednesday.
source: https://www.rnz.co.nz/news/national/493564/horowhenua-kapiti-takes-on-wellington-in-a-herculean-challenge-for-ranfurly-shield