NZ needs to consider what partnership with NATO really means

By Alexander Gillespie* of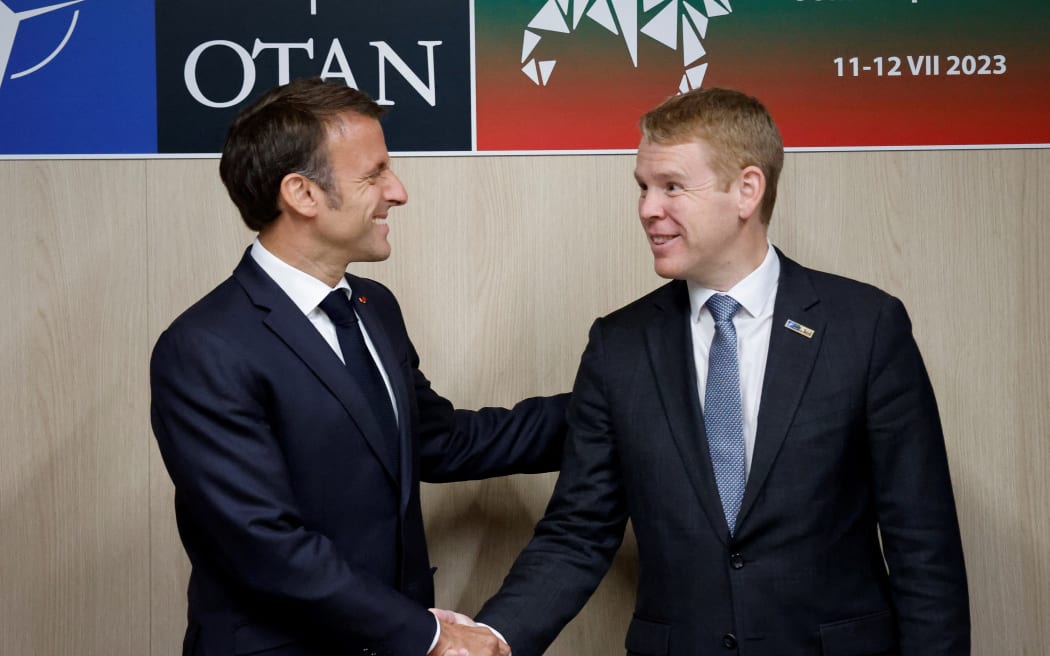 French President Emmanuel Macron, left, shakes hands with New Zealand Prime Minister Chris Hipkins on the sidelines of the NATO summit, in Vilnius on 11 July. Photo: AFP
As a "welcomed guest" at the latest NATO summit in Lithuania, New Zealand Prime Minister Chris Hipkins had a front-row seat for debates over Ukrainian membership, the role of countries outside NATO's traditional geographic boundaries, the ongoing threat of China, military spending and an accelerating nuclear arms race.
The NATO meeting reaffirmed the alliance's "iron-clad commitment to defend each other and every inch of allied territory at all times, protect our one billion citizens, and safeguard our freedom and democracy".
But the meeting also highlighted an evolving alliance that recently expanded to include Finland, with Sweden expected to join in the coming months.
It is worthwhile considering this direction, succinctly outlined by the official communiqué issued at the summit's conclusion, and what it will mean for New Zealand.
The war in Ukraine coloured everything at the NATO summit.
The unequivocal condemnation of Russia heard in Lithuania was not new. But the underlining argument, that Russia was clearly in the wrong, must fully withdraw from all of Ukraine's internationally recognised borders and those responsible for crimes must face justice, was important.
These points show what NATO's conditions for peace look like.
NATO's decision not to give Ukraine a pathway to membership was also key.
To invite Ukraine now would have created a direct route to global conflict. To be offered a pathway, where membership could be given when the war was over, would give Putin every justification to never end the conflict to prevent NATO expanding to Russia's border.
Despite this disappointment for Ukraine, NATO will increase the cooperation and assistance given to the country.
And this is where New Zealand will need to do more. Our support for Ukraine in financial, military, diplomatic and humanitarian terms has been good. But it will need to be better to fall in line with NATO expectations of its partners.
Geographically, New Zealand can not be a full member of NATO. But New Zealand has become a "partner", making up an Indo-Pacific cohort that includes Australia, Japan and the Republic of Korea - known as IP4.
The communiqué from the summit emphasised the region's impact on Euro-Atlantic security and our shared commitment to upholding international law and the rules-based international order.
It is important to note the IP4 shared security obligations stem from bilateral treaties and not any one collective agreement. Bilateral relations tie the United States to Japan, South Korea and Australia. For New Zealand, we are tied to to this alliance via our neighbours across the Tasman.
An additional thread being woven through the group is the AUKUS alliance, which could ultimately include partnerships with Japan and South Korea. While full membership of AUKUS is ruled out by our long-standing nuclear-free policy, New Zealand has expressed interest in joining the second tier of the alliance, which would give us access to a new generation of weaponry.
Since late 2020, the IP4 cohort has been galvanised around the shift in the global balance of power and the rise of the People's Republic of China (PRC).
While remaining "open to constructive engagement with the PRC", NATO's latest communiqué warned China against giving support to Russia and took aim at China's efforts to undermine global stability.
Broadly, NATO members said the PRC's ambitions challenged the alliance's interests, security and values. In particular, the communiqué focused on China's efforts to subvert the international order via its control of key technological and industrial sectors, critical infrastructure, and strategic materials and supply chains.
The other thread that ties NATO and the partner countries together is military spending. The original goal was that each NATO country spend 2% of its gross domestic product (GDP) on the military.
At Lithuania, NATO emphasised the need for partners to invest "at least 2 percent of GDP on defence" and "that in many cases, expenditure beyond 2 percent of GDP will be needed in order to remedy existing shortfalls and meet the requirements across all domains arising from a more contested security order".
This will be a challenge for New Zealand. Military spending makes up just 1.5 percent of our GDP. The other IP4 partners have all crossed this 2 percent threshold, or shall do soon.
For New Zealand, the hardening of the "nuclear umbrella" could also be a sticking point.
Via the communiqué, NATO said it was "ready and able to deter aggression and manage escalation risks in a crisis that has a nuclear dimension". NATO also announced intentions to strengthen "training and exercises that simulate conventional and a nuclear dimension of a crisis or conflict".
The alliance emphasised the importance of "the United States' nuclear weapons forward-deployed in Europe" and reaffirmed "the imperative to ensure the broadest possible participation by allies concerned in NATO's nuclear burden-sharing arrangements to demonstrate alliance unity and resolve".
Although NATO remained committed to allies supporting existing disarmament, arms control and non-proliferation agreements and commitments, the exit of Russia from many agreements, and non-participation of other countries, have forced a rethink.
"…the Treaty on the Prohibition of Nuclear Weapons … stands in opposition to and is inconsistent and incompatible with the alliance's nuclear deterrence policy, is at odds with the existing non-proliferation and disarmament architecture, risks undermining the NPT, and does not take into account the current security environment."
NATO called on its partners and all other countries to "…reflect realistically on the ban treaty's impact on international peace and security … and join us in working to improve collective security through tangible and verifiable measures that can reduce strategic risks and enable lasting progress on nuclear disarmament".
For a country like New Zealand, which made conclusion of the Treaty on the Prohibition of Nuclear Weapons a priority, this is a powerful rebuke.
* Alexander Gillespie is a professor of law at University of Waikato
This story was originally published by The Conversation.
source: https://www.rnz.co.nz/news/national/493631/after-being-a-welcome-guest-at-nato-nz-now-needs-to-consider-what-our-partnership-with-the-alliance-really-means