Rep. Ayanna Pressley on student loans, Supreme Court, Biden's reelection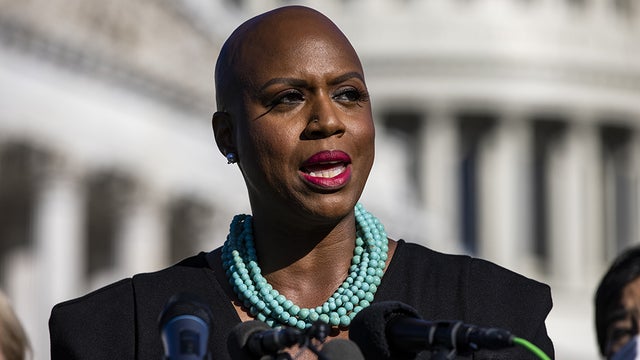 President Biden must find a way to deliver student loan debt forgiveness or suffer political consequences from Democratic coalitions that pressed the White House on this issue, says Massachusetts Democratic Rep. Ayanna Pressley, this week's guest on "The Takeout" podcast.
"President Biden still needs to deliver this transformative relief," said Pressley, a prominent congresswoman and member of the so-called "Squad" of progressives and far-left Democrats. "It is very consequential. There is a great panic financial panic for borrowers. Not only is this relief deeply needed and long overdue, it is very popular. It was a motivating issue in the midterms. I'm calling on President Biden to deliver the relief to the coalition that delivered them to the White House." 
Pressley called the Supreme Court's nullification of Mr. Biden's executive action providing loan forgiveness "tone deaf." 
"I think it is callous," Pressley said of the court decision ruling Mr. Biden overstepped his legal authority in granting forgiveness of up to $10,000 for qualified student loan holders and up to $20,000 for those with loans and Pell Grants. "I think it is not in keeping with the will of the majority of the people. They continue to make history for all the wrong reasons. They are legislating from the bench." 
Upwards of 43 million Americans could have qualified for the now-blocked loan forgiveness program. The Supreme Court noted the cost to implement Mr. Biden's executive action, $400 billion, would have made it the most expensive executive action in history. The court ruled the executive action exceeded authorities given the Department of Education to "waive" or "modify" debt repayment under the 2003 Higher Education Relief Opportunities for Students Act (HEROES Act). 
"This is very much a racial justice issue," Pressley said. "Black and Brown students borrow and default at higher rates. And if you look at Black Americans, we've been locked out of every major federal relief program in this country from the Homestead act to the GI bill to being targeted by redlining."  
Pressley said the White House must find other ways to use executive power to provide debt relief. 
"Democrats get credit when we deliver," Pressley said. "Not because they read a press release, but because they feel it." 
After the Supreme Court struck down his student loan forgiveness plan, Mr. Biden announced a new income-based repayment plan for federal loans that would cut monthly loan payments in half and shorten the duration of loans under $12,000. Borrowers will also not be charged interest on their loans as long as they make their monthly payments, ensuring that their loan balance will not increase if they're making their payments.
Pressley also endorsed ethics reforms for the Supreme Court, as well as adding justices and eliminating lifetime appointments.  
"The Supreme Court right now is far right, extreme and imbalanced," Pressley said. "There are a lot of ethical things in question. We need a binding code of ethics to restore the integrity of the courts. Right now they are legislating from the bench. They're operating like some super legislature that's not been accountable to the people because of these lifetime appointments. Everything needs to be on the table." 
As for Mr. Biden's reelection campaign, Pressley said the president has made a "compelling legislative case." 
"The Biden-Harris administration makes a compelling case, but we have more work to do," Pressley said. "We still need paid leave. We need to make the child tax credit permanent. We still need universal childcare. There is still work to be done." 
Echoing the president, Pressley said the alternative in 2024 would be worse. 
"I know what my chances are in a Biden-Harris administration," Pressley said. "Under this Republican majority in the House, chaos is not the symptom. It is the strategy. They are anti-woman they're anti-worker, they're anti-immigrant. My Republican colleagues make the affirmative case for Democrats every single day with a cruel, callous and ineffective way they have been governing." 
Pressley was much more guarded in characterizing other potential challenges to Mr. Biden from outside the GOP. 
On Robert F. Kennedy Jr.'s primary challenge against Mr. Biden, Pressley, once a Hill aide to Rep. Joseph Kennedy II, took a long pause before speaking. 
"Let me say this. This is a democracy. It takes a lot of courage to put yourself out there ... It's up to every candidate to put forward their vision." 
When asked if the RFK Jr. candidacy could be a chaos play by Republicans to complicate Mr. Biden's political life, Pressley replied, "I won't get into conspiracy theories and I won't speculate in that way. I'm no pundit. Joe Biden will be the Democratic nominee and I'm focused on making the affirmative case for Democrats." 
On the subject of academic Cornell West's third-party run, Pressley said, "I respect, Dr. West. We've shared many, many stages. Every candidate will have their opportunity to make the case to the electorate." 
Pressley was similarly vague about the No Labels effort to draft a candidate to challenge Mr. Biden and former President Trump if they become the major party nominees. Some Democrats fear a No Labels candidate, should one emerge and gain traction, might siphon votes from the president in swing states.  
"What I want is for people to feel seen," Pressley said. "I make it a point to door knock, to do the work of mobilization, not just in an election cycle. That's what the Democrats have to do as well. We can't just engage people from a dynamic of transaction."   
Executive producer: Arden Farhi
Producers: Jamie Benson, Jacob Rosen, Sara Cook and Eleanor Watson
CBSN Production: Eric Soussanin Show email: 
[email protected]
: @TakeoutPodcastInstagram: @TakeoutPodcastFacebook: Facebook.com/TakeoutPodcast
Major Garrett is CBS News' chief Washington correspondent. He's also the host of "The Takeout," a weekly multi-platform interview show on politics, policy and pop culture.
source: https://www.cbsnews.com/news/ayanna-pressley-student-loans-supreme-court-bidens-reelection-the-takeout/