Boy killed in sawmill accident will help save mom's life with organ donation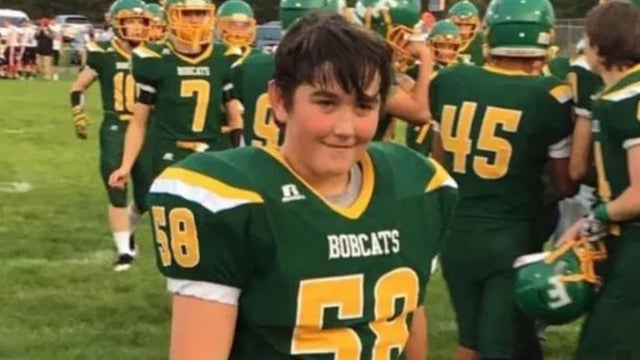 A 16-year-old boy killed in an accident at a Wisconsin sawmill is helping to save multiple people's lives — including his mother's — through organ donation, his family said.
Michael Schuls was attempting to unjam a wood-stacking machine at Florence Hardwoods on June 29 when the conveyor belt he was standing on moved and caused him to become pinned in the machine, according to Florence County Sheriff's Office reports obtained by The Associated Press. Schuls died in the hospital two days later, officials said.
The teen's father, Jim Schuls, who also worked at the sawmill, told WBAY this week that his son's organs are being donated to at least seven other people — including his mother.
"Lucky enough his mom was the perfect match for his liver," Jim Schuls told WBAY. "And seven or eight other families received life. He delivered the miracle we prayed for seven other families, including his mother. That's what's keeping me going."
It was not clear why the teen's mother needs a new liver.
A four-sport athlete in high school, the 16-year-old Schuls was "helpful, thoughtful, humorous, selfless, hardworking, loving, and the absolute best son, brother, uncle, and friend," according to his online obituary.
Schuls appears to have been doing work allowed by state child labor laws when he was injured, police records obtained Tuesday show.
His death comes as lawmakers in several states, including Wisconsin, are embracing legislation to loosen child labor laws. States have passed measures to let children work in more hazardous occupations, for more hours on school nights and in expanded roles. Wisconsin Republicans back a proposal to allow children as young as 14 to serve alcohol in bars and restaurants.
State and federal labor agencies are investigating the accident in northern Wisconsin to determine whether workplace safety or child labor laws were violated.
Most work in sawmills and logging is prohibited for minors, but in Wisconsin, children 16 and older are allowed to work in planing mills like the one Schuls was stacking lumber in when the accident occurred. A spokesperson for the Wisconsin Department of Workforce Development, which sets the state's labor standards, did not immediately return a voicemail left Tuesday.
Surveillance footage watched by sheriff's deputies showed Schuls stepping onto a conveyor belt to unjam a machine that stacks the small boards used to separate piles of lumber while they dry. Schuls did not press the machine's safety shut-off button before stepping onto the conveyor belt, according to police reports.
Roughly 17 minutes passed between when Schuls moved onto the conveyor belt and when a coworker discovered him stuck in the machine. Schuls had been working alone in the building while a supervisor operated a forklift outside, sheriff's deputies reported.
First responders used a defibrillator and administered CPR before transporting Schuls to a hospital. He was later brought to a pediatric hospital in Milwaukee where he died. Florence County Coroner Jeff Rickaby said Tuesday that an autopsy identified the cause of death as traumatic asphyxiation.
"That's caused by entanglement in a machine," Rickaby said.
The Town of Florence is located near the border with Michigan's Upper Peninsula and had a population of 641 people on the 2020 census. According to an obituary for Schuls, he attended Florence High School, where he played football, basketball, baseball and soccer.
"Our small community is in absolute shock," a GoFundMe page set up for the Schuls family said. The page had raised more than $23,000 as of Friday morning.
Schuls' funeral was scheduled for Saturday in Florence.
source: https://www.cbsnews.com/news/michael-schuls-teen-killed-sawmill-accident-organ-donation-family-says/