Uvalde-area Democrat jumps into Senate race to take on Ted Cruz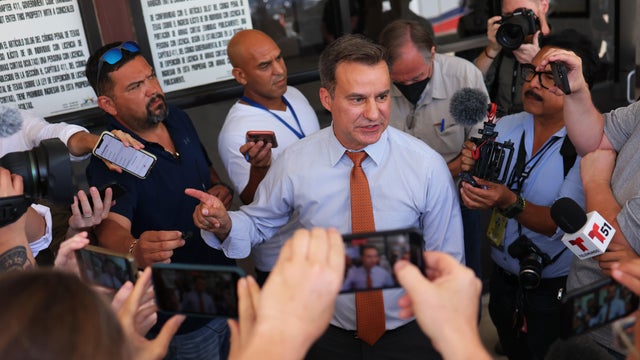 Roland Gutierrez, the Democratic state senator who represents the Uvalde area in central Texas, on Monday jumped into the race to take on Republican Sen. Ted Cruz in 2024.
Gutierrez, a lifelong San Antonio resident and the son of a Mexican immigrant, will be facing U.S. Rep. Colin Allred in the Democratic primary in March. Allred, who represents the Dallas area, has already amassed a $6.2 million war chest since he announced his candidacy two months ago, according to his campaign. 
In the wake of the deadly 2022 shooting in Uvalde, Gutierrez has pushed for tougher gun legislation, and he said in a video announcement that in the aftermath of the shooting, the people in his district "came together to demand change."
Gutierrez has led the calls for gun legislation since the Uvalde shooting, which left 19 children and two teachers dead. In this legislative session, he introduced several bills to the state Senate that did not ultimately receive a vote on the floor. A House bill that he supported to raise the age to purchase an AR-15, advanced out of committee but it failed to make it to the House floor before the legislative session ended. 
Gutierrez also recently slammed Cruz for leaving the state during the 2021 electric grid failure. Concerns have been growing in Texas about the grid's capacity during the current heat wave.
Nick Maddux, a spokesman for Cruz, released a statement Monday saying, "Texans will now get to watch Colin Allred and Roland Gutierrez slug it out for who can be the most radical leftist in the state." 
Cruz was first elected to the Senate in 2012 and ran for president in 2016. Democrats first saw he might be vulnerable in 2018, when Beto O'Rourke raised a then-record $80 million in the race and came within three points of defeating Cruz. Voter turnout surged in the race, and Democrats flipped several state House seats.
But it's been an uphill battle since then. Sen. John Cornyn won reelection in 2020 by 9 points and in 2022, O'Rourke, who arguably had been the Democrats' biggest star, lost the governor's race by 10 points and embattled Attorney General Ken Paxton, who has since been impeached, won by nine points. 
Texas hasn't elected a Democrat statewide since 1994. 
source: https://www.cbsnews.com/news/roland-gutierrez-texas-senate-race-uvalde-ted-cruz-colin-allred/