PM and world leaders support Ukraine but give no timeline for joining NATO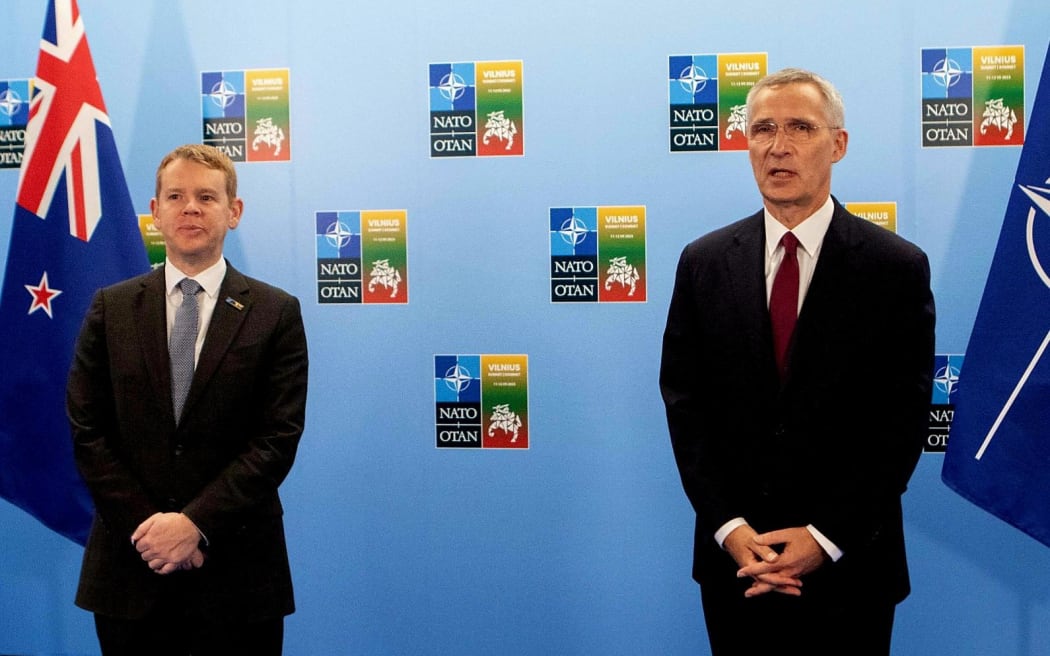 PM Chris Hipkins and Nato Secretary-General Jens Stoltenberg at NATO summit in Lithuania. Photo: RNZ / Jane Patterson
Prime Minister Chris Hipkins says he is heartened by the unwavering support shown by world leaders for Ukraine at the NATO summit.
The conference has kicked off in Lithuania with participants vowing to contain the threat posed by Russia, and continue their staunch support of Ukraine.
Lithuanian President Gitanas Nausda set the tone for the meeting when he said "Russia poses the most significant and direct threat to our alliance".
But it has not been smooth sailing.
Just hours before the official communique was released, Ukrainian President Volodymyr Zelensky angrily criticised NATO for not moving fast enough on whether his country can join the military alliance.
In a tweet he said it was "unprecedented and absurd" to have no invitation to NATO, or even a timeframe for one.
He also accused NATO of creating uncertainty, therefore giving Russia "motivation to continue its terror".
In the midst of all of this, New Zealand Prime Minister Chris Hipkins took his seat with world leaders - but on the sidelines as a non-member partner.
French President Emmanuel Macron, a key NATO member, gave his response to Zelensky's comments to RNZ.
"I think our first work is to finalise a communique but more than that I think that this [the communique] is a message of unity and support for President Zelensky and Ukrainian people".
NATO Secretary-General Jens Stoltenberg revealed the plan ahead agreed by members, as laid out in the communique later that afternoon.
A package of measures, but not including a direct invitation, or any specified timeframe.
"We will issue an invitation for Ukraine to join NATO when allies agree and conditions are met."
US President Joe Biden has said in recent days Ukraine joining NATO while the conflict still raged, risked members being drawn into direct conflict with Russia.
"If the war is going on then we're all in a war, you know we're in a war with Russia if that were the case."
Stoltenberg said right now, winning the war was the most pressing priority.
"Because unless Ukraine prevails, there is no membership issue to be discussed at all."
Arriving ahead of Zelensky, Ukraine's Defence Minister Oleksiy Reznikov restated their position, saying he would wait until tomorrow's discussions.
"During this war, I absolutely understand that there will not be unanimous voting for full-fledged membership [for Ukraine].
"It could be done after we win this war but in this period of time we will need some kind of security."
The summit was also a chance for non member partners to mix and mingle, although Hipkins said the war dominated discussions.
"There's a lot of concern about Russia's aggression towards Ukraine and what that signals, not just for the conflict between those two countries but actually for the rules based system that the rest of the world relies on."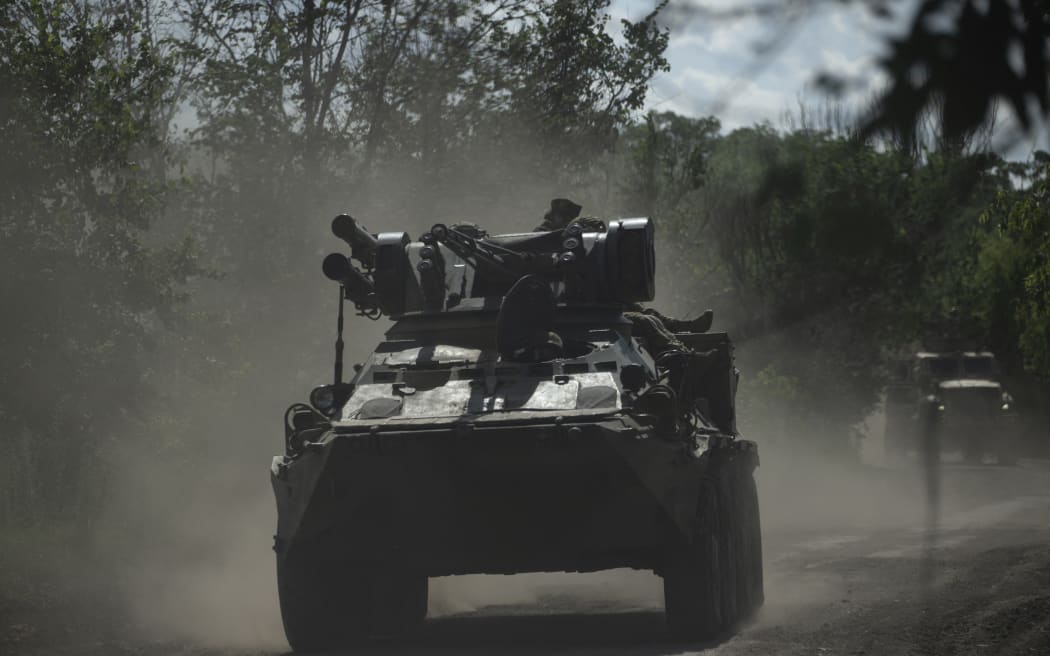 Ukrainian servicemen ride on armoured personnel carriers (APC) on a road toward Bakhmut, Donetsk region, on 1 July, 2023, amid the Russian invasion of Ukraine. Photo: AFP / Genya Savilov
In a stand-up the prime minister said despite the hold-up in membership, it was very clear that member states supported Ukraine in its battle against Russia.
"Everybody wants to see that Ukraine succeeds.
"Everybody is in agreement that the invasion of Ukraine by Russia is illegal, it is unjustified and it shouldn't be tolerated."
Hipkins said New Zealand would continue to reassess and re-evaluate how best it could support Ukraine in its fight against Russia.
He could not say whether New Zealand would ever provide lethal aid to Ukraine.
But he said every country at the meeting had a stake in the conflict and New Zealand had an important role to play in offering support to Ukraine.
"All of the conversations I've had indicate that New Zealand's support for Ukraine is warmly valued by all of the partners who are meeting here at the NATO summit."
Hipkins said his recent visit to China was canvassed in many of the bilateral meetings he has had at the summit.
"I was able to again restate the position that New Zealand encourages China to use any influence it may have over Russia to bring an end to this conflict," he said.
Tomorrow Chris Hipkins is due to meet with President Zelensky who expects to see more support offered by New Zealand.
The second day of the summit could be unpredictable however, with the president clearly not mollified by the final communique, and declaring it was something he intended to "openly discuss" with other leaders.
source: https://www.rnz.co.nz/news/political/493592/pm-and-world-leaders-support-ukraine-but-give-no-timeline-for-joining-nato