Wellington firearms incidents likely gang-related, police say
Police say the firearms incidents in central Wellington and Tawa yesterday are believed to be gang-related.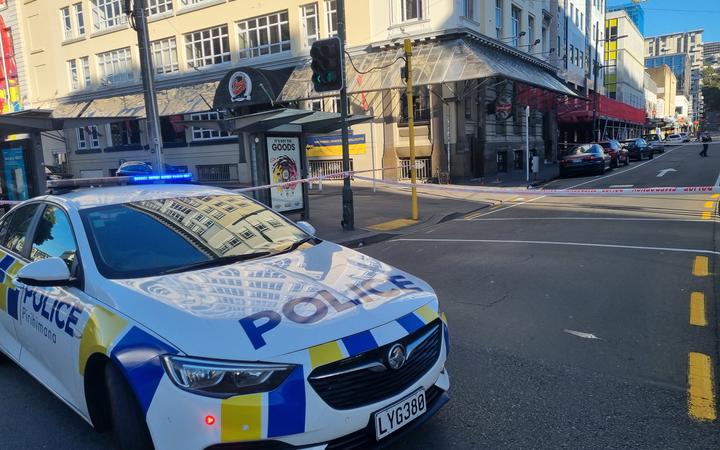 One of the incidents took place in Dixon Street in central Wellington. Photo: RNZ / Jake McKee
Seven people were arrested, a firearm was recovered and two people were critically injured in the two incidents which took place on Dixon Street in Wellington's CBD and Tremewan Street in Tawa.
Police were called to Dixon Street just after 5am yesterday following reports that two people were injured and two people were later arrested. At about 7am yesterday in Tawa multiple shots were reportedly fired from a vehicle, but no injuries were reported and five people were subsequently arrested on State Highway 59.
Police are not ruling out further arrests and say two people remain in Wellington Hospital in a critical condition.
In a statement, Inspector Warwick McKee commended the work of police in dealing with the incidents yesterday.
"Firearms incidents are relatively rare in Wellington, and distressing to our communities when they do occur.
The swift action of frontline Police to locate and arrest seven offenders underlines how seriously we take these incidents.
"Police investigations staff are now working to determine the circumstances of the incidents ahead of bringing formal charges against the people arrested, who remain in custody," McKee said.
There will be an increased police presence throughout Wellington while the investigation is underway, he said.
Anyone with information that could assist police is asked to contact them 105 and quote case number 220423/8189 or they can provide information anonymously to Crime Stoppers on 0800 555 111.
source: https://www.rnz.co.nz/news/national/465817/wellington-firearms-incidents-likely-gang-related-police-say