Sullivan: U.S. willing to talk to North Korea on nukes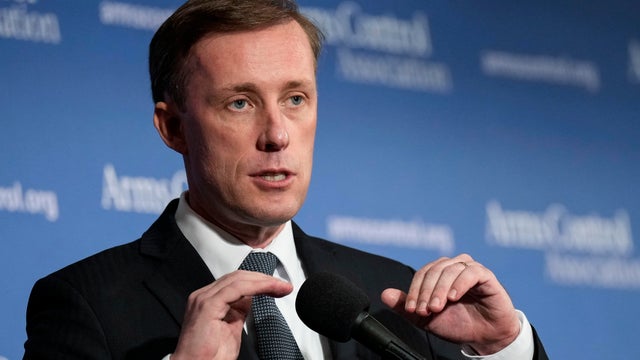 National security adviser Jake Sullivan said the Biden administration is willing to negotiate with North Korea "without preconditions" about its nuclear program. His comments come days after North Korea launched an intercontinental ballistic missile. 
"We have indicated to North Korea that we're prepared to sit down and talk without preconditions about their nuclear program," Sullivan told "Face the Nation" on Sunday. 
Sullivan said the U.S. is concerned North Korea could conduct its seventh nuclear test, but he has not seen "any immediate indications" of such a test happening. 
"But it would not come as a surprise that North Korea moved forward with another nuclear test," he said. "With respect to its intercontinental ballistic missile capability, this is a capability they began testing several years ago. They have continued to test it. We watch all of those tests very closely to see how it is developing and we could coordinate extremely closely with our allies — with Japan and Korea —  to make sure that we are responding in lockstep to this threat." 
In a joint statement last week, the U.S., Japan and South Korea condemned the July 12 launch, saying it posed "a grave threat to peace and stability on the Korean Peninsula and beyond." The countries also called on North Korea to "cease its unlawful and escalatory actions and promptly return to dialogue." 
Sullivan said China must do more to prevent the situation from escalating. 
"We've also made clear to China that it is the United States who is ready for diplomacy and North Korea who was not," Sullivan said. "So from our perspective, China has a role to play here too, given its relationship with North Korea, to indicate to the North Koreans that its continued testing is destabilizing, and, frankly, is in fact only creating circumstances in which the United States our allies and partners have to step up our activities and posture to respond to the threat." 
The U.S. has vowed to defend South Korea and Japan, including with nuclear capabilities, if North Korea were to launch an attack. 
Meanwhile, Sullivan said the U.S.-China relationship has to be "managed carefully" and that "can only really be done effectively from the very top," though he did not have specifics about when President Biden and Chinese President Xi Jinping would talk as the two countries try to ease rising tensions. 
Several Biden administration officials, including Secretary of State Antony Blinken and Treasury Secretary Janet Yellen, have recently traveled to China for high-level talks. 
Yellen told "Face the Nation" last week that China's decision to limit exports on metals used in making semiconductors was "potentially" in retaliation for the U.S. limiting Chinese access to processor chips and other technology. 
Sullivan called China's decision "a self-defeating move." 
"It will only reinforce the determination of many other countries in the world to de-risk, to find ways to reduce dependencies and increase the resilience of their own supply chains, including for the kinds of critical minerals that are at issue in this particular decision," he said. 
The U.S. is not seeking to end trade with China, he said. 
"What we're looking to do is have a small yard of restrictions on technology with national security implications," he said, "And a high fence around that yard." 
Caitlin Yilek is a politics reporter for CBS News Digital. Reach her at
[email protected]
. Follow her on Twitter: https://twitter.com/hausofcait
source: https://www.cbsnews.com/news/jake-sullivan-north-korea-nuclear-weapons-china-chips-face-the-nation/