Man killed, 4 injured in Baltimore shooting, car crash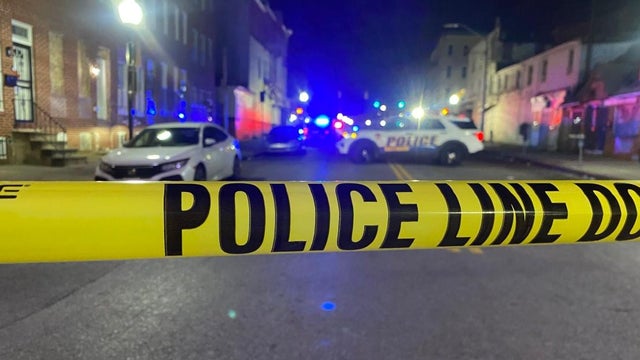 A man was killed and four others were hurt – including two young children – in a shooting and vehicle crash at a Baltimore intersection Saturday night, authorities said.
The shooting was reported in a West Baltimore neighborhood a little after 6:30 p.m. local time, Baltimore Police Commissioner Michael Harrison told reporters in a news conference.
A man who was standing on the sidewalk was killed in the shooting, Harrison said, and a second man on the sidewalk suffered a non-life-threatening gunshot wound.
A woman who was driving a vehicle carrying two young children, ages 2 and 6, was also shot, and subsequently crashed her car into a pole, Harrison told reporters. The 2-year-old also sustained a gunshot wound, the police chief said.
The woman and 2-year-old were both hospitalized in critical condition, Harrison said. The 6-year-old was critically hurt in the crash, but is not believed to have sustained any gunshot wounds, he added.  
Investigators are unsure how many suspects were involved or who was being targeted. No arrests have been made and there was no word on a possible motive.
"What we believe happened was, at some point, a gunman or multiple gunmen, opened fire," Harrison said. "We do not know if the intended target were the people in the vehicle, or the individuals who were on the sidewalk."
Harrison said that police know there were "many people in the area" at the time of the shooting, and they are asking for any witnesses to come forward with information.
"We know people heard something, we know people saw something, and we need people to come to the police, or you can do it anonymously by calling Crime Stoppers," Harrison said.
The name of the man killed was not immediately released. 
source: https://www.cbsnews.com/news/man-killed-4-injured-baltimore-shooting-car-crash/