Health warnings as "Cerberus" heat wave broils southern Europe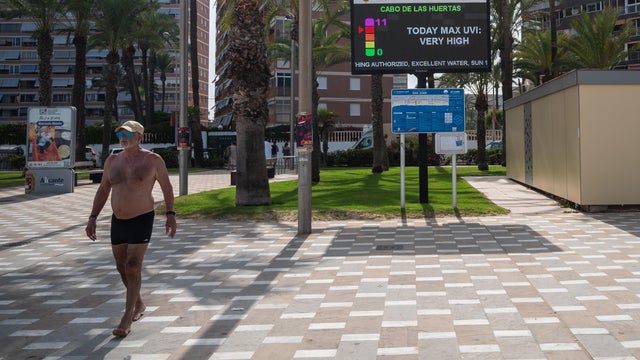 Rome — Southern Europe is grappling with scorching temperatures as a relentless heat wave threatens to break yet more records. A high-pressure system that drifted across the Mediterranean Sea from North Africa has already disrupted life for thousands of people in Spain and Italy. The heat wave — named Cerberus after the three-headed dog that guarded the underworld in Greek mythology — continues to tighten its grip, and is expected to set temperature records in the coming days.
Authorities have issued warnings about significant health risks, primarily in Spain, where temperatures may soon reach a staggering 113 degrees Fahrenheit in some regions. They had already soared as high as 95 degrees as early as 6 a.m. in some areas.
While Spain is expected to see some relief in the coming days, Cerberus is set to unleash its fury on other parts of Europe next.
Italy has already had to issue high heat alerts in 10 cities, including Bolzano, Bologna, Florence, and Rome, as the country braces for temperatures that could reach 104 degrees.
The heat wave has already been blamed for one death — a 44-year-old man who collapsed and died while painting road markings in the northern Italian town of Lodi.
The Italian Meteorological Society warns that next week could bring even higher temperatures, potentially breaking the all-time record European temperature of 120 degrees Fahrenheit, registered in Sicily in August 2021.
Greece is also feeling the heat, with temperatures set to reach up to 111 degrees in the coming days. The Greek government has taken preventive measures, banning access to nature reserves and forests to reduce the risk of wildfires and opening air-conditioned public buildings for people to take refuge.
The government also placed restrictions on the working hours for animals such as horses and donkeys that give rides in tourist areas.
More than 61,000 people died during Europe's record-setting summer heat waves last year, according to a study published this week.
The Mediterranean region is expected to see temperatures rise faster than many other areas of the globe due to climate change.
Despite a post-COVID boom in tourism, especially from the U.S., there are already signs that the heat is impacting various sectors of the European economy, from a drop in productivity in the workplace, to in the pastures.
In Italy, milk production is down by around 10% because cows eat less in the heat, drink large quantities of water, and produce less milk.
Chris Livesay is a CBS News foreign correspondent based in Rome.
source: https://www.cbsnews.com/news/cerberus-heat-wave-europe-spain-italy-death-record-temperatures-expected/