Roy Herron, longtime Tennessee lawmaker, dies after jet ski accident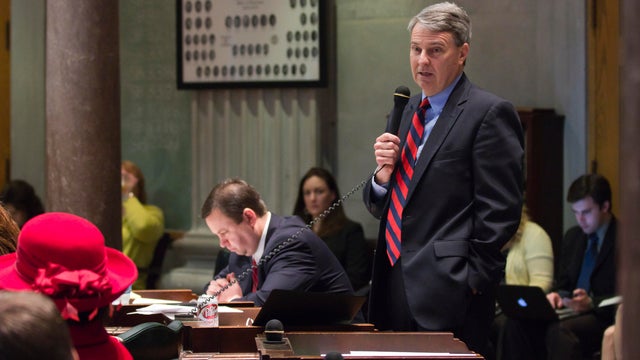 Roy Herron, a longtime Tennessee state lawmaker and former chairperson of the state Democratic Party, died Sunday from injuries sustained in a jet ski accident. He was 69.
Herron died at Vanderbilt Medical Center in Nashville, according to a statement from his family. He had been hospitalized since a July 1 collision with another jet ski on Kentucky Lake, in which he suffered internal bleeding and extensive injuries to his arm and pelvis, according to his family's Caring Bridge website.
The Tennessee Wildlife Resources Agency was investigating the collision, the details of which were not immediately available.
"Roy loved his family with all his might," Herron's wife, Rev. Nancy Carol Miller-Herron, said. "He passed doing what he loved most — spending time with our sons and their friends in the Tennessee outdoors where his spirit was always most free."
Former Vice President Al Gore, who originally hailed from Tennessee, tweeted that Herron was a "dear friend and one of Tennesse's most devoted citizens." 
"His untimely passing is a tragedy. Roy was a steadfast advocate for the working people of TN and always stood up for our most vulnerable," Gore wrote. "My heart goes out to his beloved family Nancy, John, Rick & Ben."
Herron, an attorney from Dresden, Tennessee, served a combined 26 years in the state's House and Senate, where he became floor leader and caucus chair for the Democrats. He never missed a day of session, except for when his youngest son was born, according to his website. He chaired the state Democratic Party from 2013 to 2015.
A graduate of the University of Tennessee at Martin, Herron was also one of the first students to earn joint degrees in divinity and law from Vanderbilt University. An ordained Methodist minister, Herron also authored three books, including one titled, "God and Politics: How Can a Christian Be in Politics?"
Funeral services were planned for Saturday at First United Methodist Church in Martin.
Condolences poured in on Sunday. Democratic Rep. Steve Cohen called Herron "bright, diligent, and honest. A politician destined for greatness." Republican Rep. David Kustoff said Herron "dedicated his life to serving West Tennessee, and the entire Volunteer State."
Tennessee's two Republican U.S. senators, Bob Corker and Marsha Blackburn, both tweeted tributes to Herron. "In hte mid nineties, we ran many miles together always intensely discussing our points of view on policies relating to Tennesseans, our families, and our beliefs," Corker wrote. 
Tennessee House Republican Caucus Chairman Jeremy Faison said on Twitter he was "the kind of guy that you couldn't help but like."
Joe Hill, a longtime Tennessee Democratic political operative who worked with Herron on multiple campaigns, said he "brought a zeal for making health care more accessible to disadvantaged Tennesseans" when he was elected to the state House. Hill said he also brought that commitment to "education, victims' rights, environmental quality and so many other things that affect average people."
"His legacy of advocating for 'the least among us' will represent the gold standard of service for Democrats and Republicans in Tennessee's future," Hill told The Associated Press on Sunday.
That nature applied to Herron's friendships as well, Hill said. He recalled how Herron drove 140 miles (225 kilometers) to be with him and his family in Memphis, after one of Hill's children was involved in a car crash.
"We left home in such a hurry and didn't bring extra clothes," Hill said. "My wife, Susan, was freezing in the cold hospital waiting room, and Roy gave her his shirt so she could be warm. That's the kind of genuine human being he was."
In 2010, after briefly running for governor, Herron became the Democratic nominee in Tennessee's 8th Congressional District, when then-Rep. John Tanner announced his retirement, after more than 20 years in the seat. Herron ultimately lost the general election to Republican Stephen Fincher.
"I was hoping when I retired, that he would win the seat," Tanner told the AP on Sunday.
After a tornado devastated his hometown of Dresden just before Christmas in 2021, Herron marshaled a fundraising effort, amassing more than $100,000 to aid recovery efforts.
"It's an overused term — that he was a dedicated public servant — but that really was Roy," Tanner said. "He worked tirelessly for causes that he took up, and he had a good heart."  
source: https://www.cbsnews.com/news/roy-herron-dies-jet-ski-accident-tennessee-democrat/