Secrets of Aotearoa's lakes revealed through technology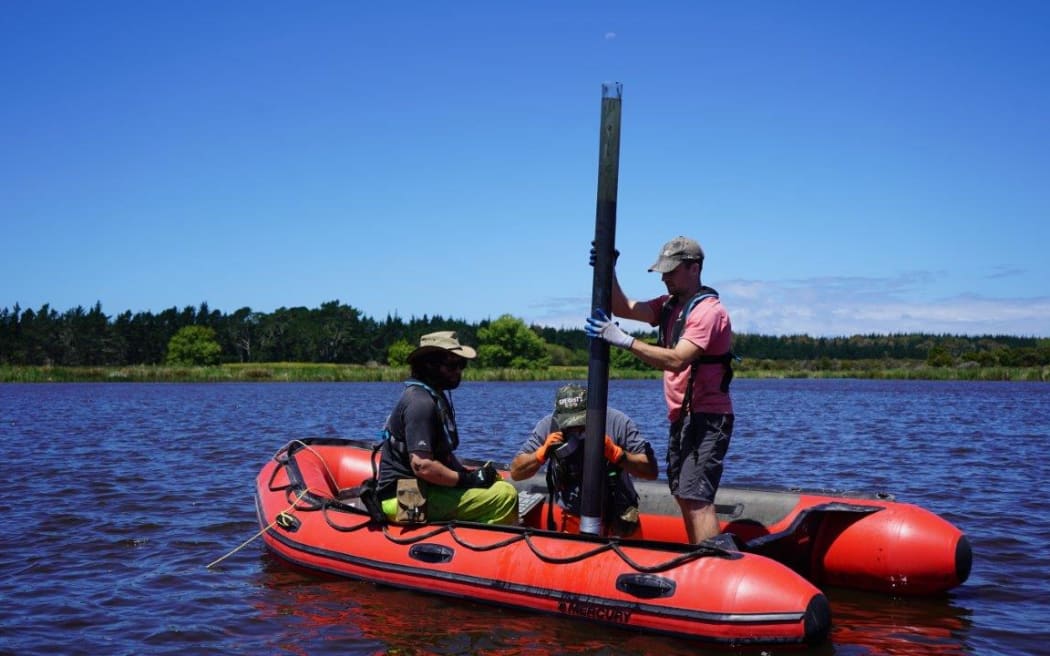 Recovering a sediment core in Lake Spectacle. Photo: Supplied /Cawthron Institute
A research project aims to get to the bottom of New Zealand's lake health and is using a Nelson-based tech company's innovations to do it.
The Cawthron Institute recently launched Lakes380, a five-year research project that involved scientists collecting and analysing lake sediments and water samples from 10 percent of New Zealand's 3800 lakes.
Senior research scientist Susie Wood said it was the largest project looking at the current and historic health of lakes in Aotearoa ever undertaken.
"It's really unique globally in New Zealand, we can go back and within 1000 years look at what our lakes were like prior to any human interaction and see how they've changed."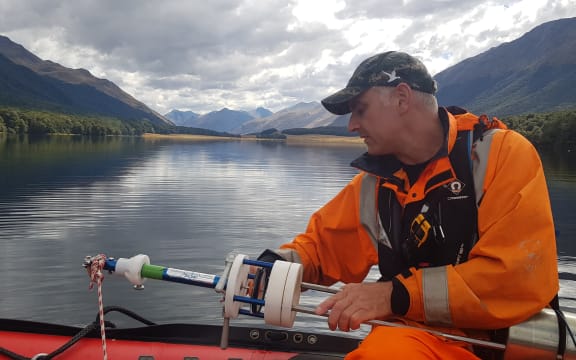 Marcus Vandergoes in South Mavora Lake - Southland. Photo: Supplied / Cawthron Institute
The Lakes380 app was built by Nelson company UpShift and Wood said having an interface that was user-friendly was a key part of raising public awareness of the freshwater issues.
"At the moment about 45 percent of our lakes are in poor condition, so that's 1700 lakes across Aotearoa, that have high levels of algae and high levels of nutrients.
"This app really allows you to visualise it - when you open it up, and you see a map with all of these red and orange dots on it, you can really quite clearly see which parts of the country have got real challenges with lake health."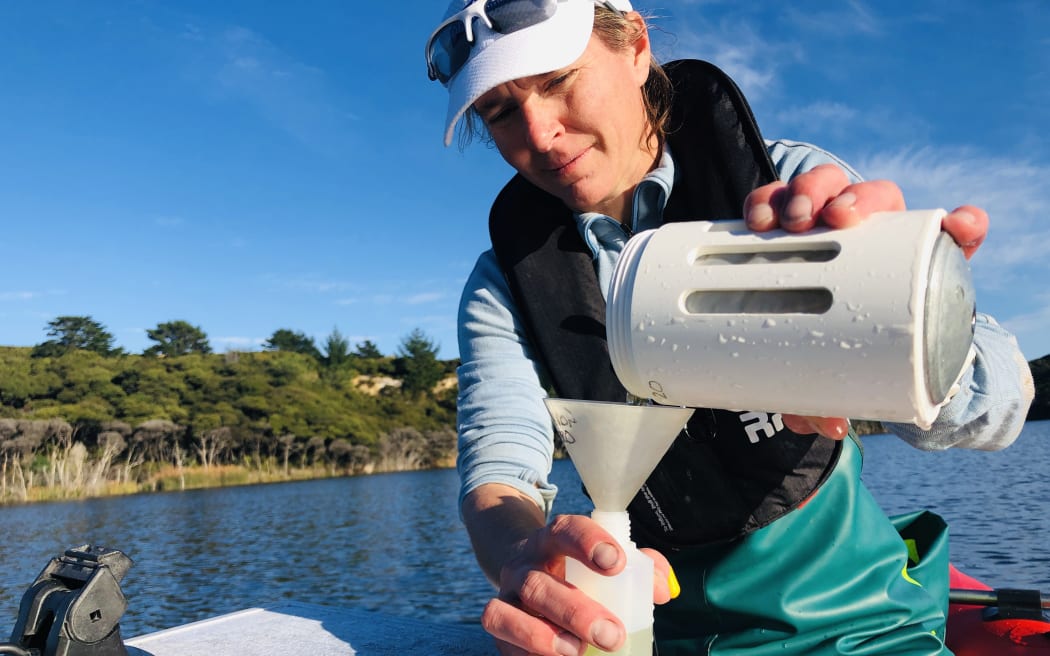 She said in the North Island alone, 80 percent of lakes were in poor condition.
"Which is just a phenomenal number when you think about it - if you go to 10 lakes, only two of them would be in condition that would be safe to harvest food from or safe to swim in."
As a result, the app was being used by regional councils to help identify and determine which lakes to work on.
"These sorts of tools allow us to help them inform which lakes they might want to monitor and work on in the future and that geospatial layering of scientific data is super powerful in helping make that happen."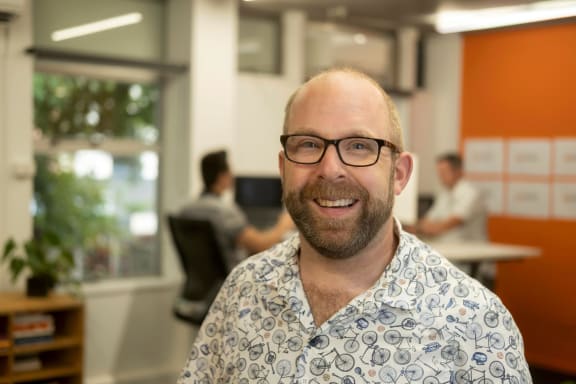 UpShift owner Tama Easton. Photo: Supplied
UpShift owner Tama Easton said the company began ten years ago as a design and web agency but had become more focused on interactive application development over time, working across the environment, medical and food and beverage sectors.
It is not a total surprise for Easton, the son of an environmental scientist and an economist.
"I've discovered that businesses can actually do good, actually making tiny positive changes in the world is possible and you can do it in a variety of ways."
He said while there were more and more ways of collecting data, sometimes it remained inaccessible to a wider audience, with the knowledge and wisdom not transferred into the public space.
Easton said humans were narrative-driven and responded well to stories.
"Often showing someone a graph or a spreadsheet doesn't really get it through, but if we can visually represent it and wrap narratives around those visualisations, it's really successful."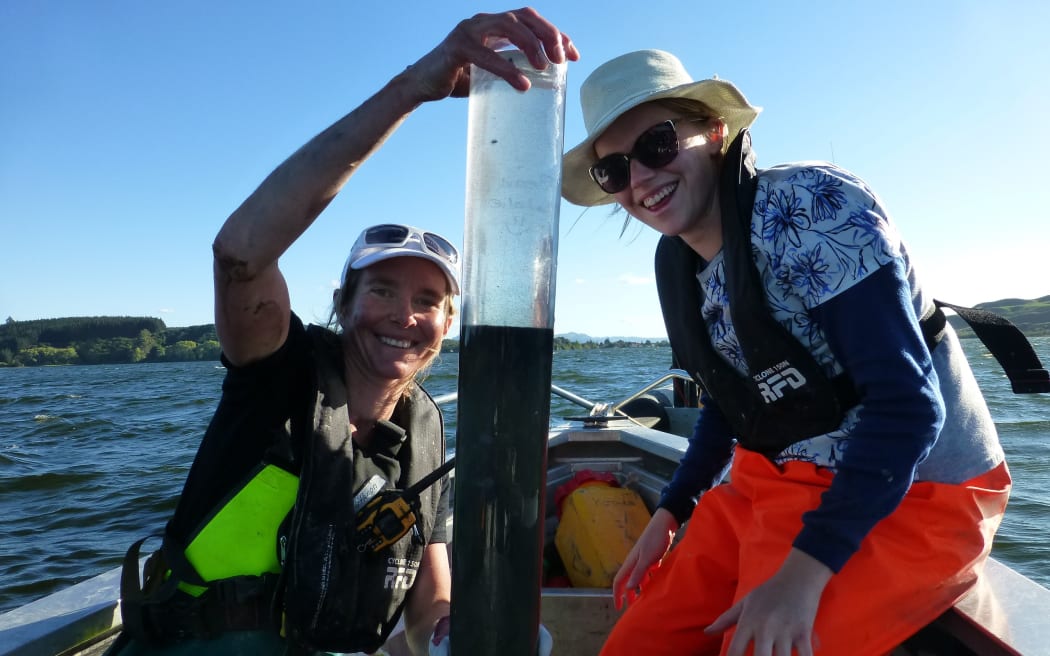 Susie Wood and Julie Short with a sediment core at Lake Rotoiti, Rotorua. Photo: Supplied / Cawthron Institute
"Obviously, the state of our fresh water is a real issue in New Zealand and it's one that's probably been ignored for a bit too long ... but to actually be able to look at it on a screen and see an area that's really bad, and for them to be able to think about that area and why."
Another project for UpShift involved building a digital carbon analysis tool that enables businesses to identify and offset their carbon emissions.
Easton can recall when he first tried to work out the company's carbon footprint.
"There's lots of online calculators out there where you can enter some vague ideas and it will give you a vague answer about your potential climate footprint or climate emissions, but to try and work it out in a way that's accurate, that you can validate and audit it was just painful."
That process has been simplified since developing the dCarbon tool for carbon management company Ekos.
Ekos founder Sean Weaver said measuring carbon use was often complex, and the new tool had streamlined the process.
"Up until relatively recently a lot of it was done on monster spreadsheets and we knew we needed better systems, so we started working with UpShift ... they created user-friendly interfaces that make big long calculations happen a lot quicker."
He said there were thousands of organisations that needed to measure and reduce their carbon footprints, but only so much capacity to cope with the demand.
The benefits of automating some of those processes made it more accessible and affordable.
Weaver said it was great to work with another New Zealand-based company with a social purpose.
"We both share a similar value set of wanting to use science and technology to look after the planet. And having business partnerships, where your values are aligned, makes a huge difference."
source: https://www.rnz.co.nz/news/national/493420/secrets-of-aotearoa-s-lakes-revealed-through-technology