Extreme weather is terrorizing the world. It's only just begun.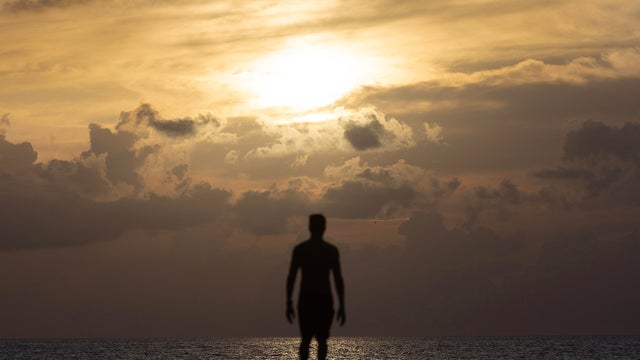 Boiling heat and raging floods have taken the world by storm this week, plummeting millions of people across the world into dangerous and deadly conditions. But it's not a temporary trip of bad luck – it is becoming the new norm. 
The heat waves causing record temperatures, storms dumping record rain on cities and wildfires raging across thousands of acres of land are all the impact of an undeniable source: climate change. 
Just last week, preliminary data showed that the world had its hottest week on record, following the hottest June on record. El Niño is believed to have spawned the latest events as it comes at the onset of warmer sea surface temperatures, but experts have warned that the current situation won't suddenly vanish when El Niño departs. 
"We are in uncharted territory and we can expect more records to fall as El Niño develops further and these impacts will extend into 2024," said Christopher Hewitt, head of international climate services for the World Meteorological Organization. "This is worrying news for the planet."
In a news release Thursday, the WMO highlighted issues that included heat waves causing sweltering conditions in areas around the U.S. to North Africa.
"The extreme weather – an increasingly frequent occurrence in our warming climate – is having a major impact on human health, ecosystems, economies, agriculture, energy and water supplies," WMO Secretary-General Petteri Taalas said in the news release. "This underlines the increasing urgency of cutting greenhouse gas emissions as quickly and as deeply as possible."
Here's what the world has faced in recent days.
Heataves are one of the deadliest hazards to emerge in extreme weather, and they're occurring on a global scale.
The Southwest U.S. has been battling extreme heat for days, and as of Friday, the National Weather Service predicts that the "dangerous heat wave" will continue. At least 93 million people in the U.S. are under excessive heat warnings and advisories Friday morning as the intense heat continues its stretch from the West Coast to the Gulf Coast, the agency said. 
The Southwest will see high temperatures surpassing 120 degrees Fahrenheit in some parts, while Texas and Louisiana could see temperatures up to 115 degrees Fahrenheit, the agency said. 
And Death Valley, which holds the world record for the highest air temperature ever measured, is expected to see temperatures near that temperature. The record occurred on July 10, 1913, hitting 134 degrees Fahrenheit. This weekend, it could hit just shy of that at 130 degrees Fahrenheit, The Weather Channel's Stephanie Abrams said on Friday, seeing a low of just around 100 degrees. 
"This type of heat is going to continue through at least next week," the meteorologist said. "Preliminary daily data shows that we passed the hottest average global temperature on July 3 and have been above that value every day since, setting a new record on July 6."
A post shared by CBS Mornings (@cbsmornings)
Flagstaff, Arizona, is also nearing a record-high, with the NWS expecting it to hit 95 degrees on Sunday – just 2 degrees less than its all-time record hit in 1973. 
But the extreme heat isn't constrained to the U.S. – Europe has been facing its own battle. 
Records were broken in France, Switzerland, Germany and Spain, the European Union's earth observation service, Copernicus, said earlier this week. On Tuesday, satellite imagery determined that some areas of Spain saw land surface temperatures, which measure the temperature of soil, exceeding 60 degrees Celsius – 140 degrees Fahrenheit.
Spain's State Meteorological Agency shared on Friday that parts of the country could reach 42 degrees Celsius (more than 107 degrees Fahrenheit). On Thursday, it was even warmer, reaching 44.9 degrees Celsius in The Village of San Nicolás.
And it's not over. Over the next two weeks, the WMO said above-normal temperatures are expected across the Mediterranean, with weekly temperatures up to 5 degrees Celsius higher than the long-term average. 
Only seven months into 2023, Canada has already been faced with more than 4,000 wildfires that have burned up 9.6 million hectares of land, more than 37,000 square miles. As of Thursday, the Canadian Interagency Forest Fire Centre reported 906 active fires across the nation, more than half of which are considered "out of control." 
On July 6, the Canadian government said this season "has already been Canada's most severe on record." 
"Current projections indicate that this may continue to be a significantly challenging summer for wildfires in parts of the country," officials said, as projections continue to show "higher-than-normal fire activity" is possible for most of the country. Warm temperatures and ongoing drought are to blame, they said.
India has been inundated with a Southwest monsoon that covered the entire country on July 2, India's Meteorological Department said. Last week, the capital of the country, New Delhi, was hit with the highest-single day of rain in 40 years, getting half a foot of rain in a single day. The flash floods and landslides caused by the rain have killed dozens across the country.
Water from the capital city's Yamuna River spilled over its river banks this week as its water level hit a 45-year high on Thursday at 684 feet. The previous record of 681 feet was hit in 1978. The record rain and water prompted officials to urge the 30 million people who live there to stay inside. 
On Friday, flash flood threats of varying degrees continued throughout many areas in the country. 
Copernicus said Friday that it's not just land and air experiencing extreme heat, but the oceans as well. The service found that the northern Atlantic Ocean and the Mediterranean Sea have both seen record temperatures in recent months. 
Citing research institute Mercator Ocean and its own observations, the service said the western Mediterranean is seeing a "moderate" sea heatwave that "appears to be intensifying." 
"The Sea Surface Temperature Anomaly along the coasts of Southern Spain and North Africa was approximately +5°C above the reference value for the period, indicative of the escalating heatwave conditions," Copernicus said Friday.
The data comes just a few months after researchers found that the oceans have been warming so rapidly, that it's an amount equal to the energy of five atomic bombs detonating underwater "every second for 24 hours a day for the entire year." It also comes just days after climate experts issued another warning that ocean temperatures have hit unprecedented levels that are "much higher than anything the models predicted." 
By September, NOAA believes that half of the world's oceans could be experiencing heat wave conditions. Normally, only about 10% of oceans experience such conditions, experts said. 
The future of extreme weather that has the potential to devastate billions of people is no longer a far-off possibility. It's happening here and now. 
A wide range of experts – from global agencies to national organizations and individual climate experts – have been warning for decades of the impact that warming global temperatures could have on the state of the planet. As temperatures continue to rise across the world – mostly from the burning of fossil fuels – extreme weather will only intensify. 
The impact of such extremes is hard to miss. 
Major cities like Chicago are seeing ground temperatures so warm due to the rising air temperatures that it's causing buildings to sink as underground materials shift. The heat also poses deadly consequences, with officials worldwide warning people to avoid extended periods of exposure. Extreme storms that swept through the Northeast last weekend have left cities totally isolated from floodwaters and businesses and homes completely destroyed. The smoke from Canada's wildfires has had harsh ramifications for air quality across the U.S., even going as far as Europe.
"It's getting worse and worse," Hannah Cloke, a climate scientist and professor at Reading University, told Reuters, saying that the way to prevent extreme weather from getting even worse is by drastically – and quickly – reducing greenhouse gases. Greenhouse gases, primarily emitted from the burning of fossil fuels, work to trap heat within the atmosphere, amplifying global temperatures.
But it's important to realize, she added, that doing so will only prevent the absolute worst outcomes. 
"We must realize we are locked into some of these changes now and we will continue to see records broken," she said. 
Li Cohen is a social media producer and trending content writer for CBS News.
source: https://www.cbsnews.com/news/record-breaking-heat-flooding-wildfires-and-monsoons-are-slamming-the-world-its-only-just-begun/