'Worst it's ever been' - KidsCan says need for families, children at all-time high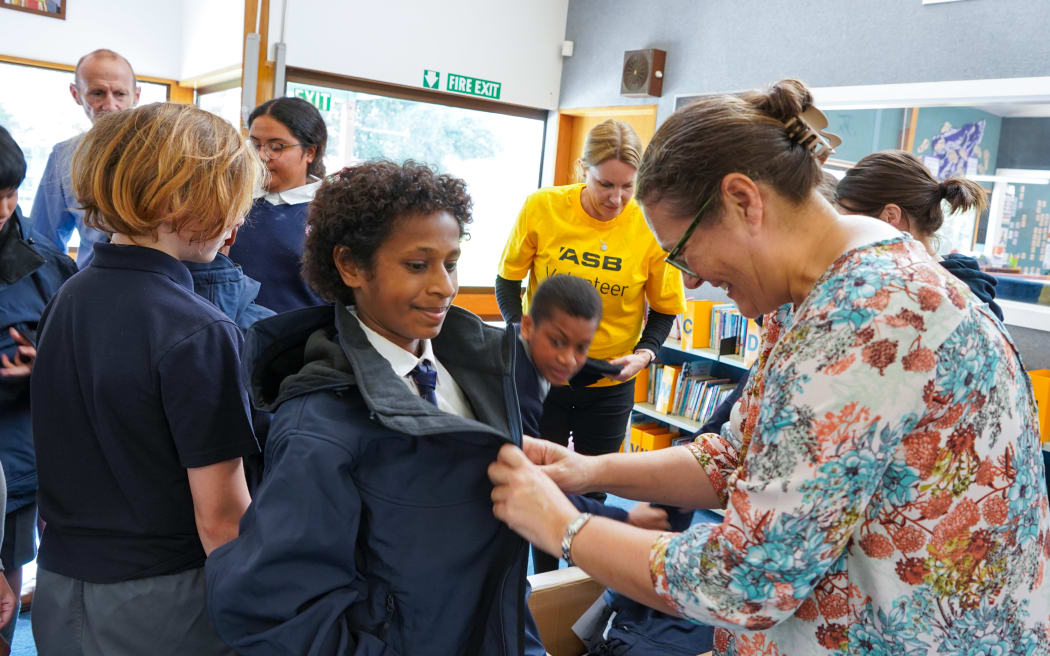 Principal of St. Marcellin School in Whanganui, Belinda Backwell said the cost of living is affecting her students. Photo: Supplied / KidsCan
An Auckland mother says the struggle to provide her kids with the most basic items such as food and clothing is taking a toll on her mental health.
As food inflation hits a 36-year high and fuel costs go back up, working families are having to juggle between bills, while kids are going to school hungry and underdressed for winter.
Charity KidsCan helps schools feed and dress their students and said this has been the worst winter ever, with 10,000 more children per day needing support and lower donations due to the high cost of living.
Thirty-six-year-old Marj lives in the Auckland suburb of Papakura with her three children and two nephews who she cares for.
She said every day she had to choose between paying the bills or stocking the pantry.
"When I need to top up on food, I'll put that ahead of bills, because I need the kids to have fruit and vegetables.
"I will end up catching up the following week, what I shouldn't be doing because I'd get bad credit, but I need to put food on the table."
She said the cost of keeping her kids at school was also a major challenge.
"My son just started intermediate [school] and I did not have the money to pay for his uniform because my rent is pretty much my wages.
"There was a time when I could only get my kids a skirt and a T-shirt and they were always cold at school, because I couldn't afford a jersey and a jacket.
"I felt very sad I couldn't provide it to them."
Marj said trying to juggle her debts could be disconcerting.
"I have to keep asking people if I can pay later. It's embarrassing, but necessary.
"I haven't been managing the bills in the past few months. I had to get Work and Income to help me pay it because I just didn't have extra money to really put on it. It's just really hard."
She said sometimes the school was the only place her children could get a proper meal.
"When the school provides food to my kids it really helps, it saves me so much money.
"When I am doing groceries, I do try to only get the things we need to. I do try to save at least $50 a week because food goes fast, veggies go fast.
"But when they go to school, they got given fruit and I can take some home too, every bit helps."
In tears, Marj said the financial battle to stay afloat had damaged her mental health.
"I've never been able to save. I can't save anything to be honest. I am always living on deficit.
"My mental health struggles, but you have to keep going for the kids, even when things are hard," she said.
The principal of St. Marcellin School in Whanganui, Belinda Backwell, said attendance was low because parents are having to choose between food and bills.
"Attendance has been down this term, looking at term 1 attendance record compared to term 2, there's a considerable drop," she said.
"The cost of living is extremely high for parents on minimum wage or lower, they are struggling to makes end meet, to put food on the table when they only have one parent working. It's not easy."
Backwell said the support received from KidsCan meant students could focus on their learning.
"Sometimes they come to school hungry, sometimes they come to school with no shoes, or only wearing wet socks and sandals in winter.
"We try to take care of that stuff so they can focus on their learning."
She said changing parents' perception of their kids' education was also paramount.
"I still see a disconnection with parents bringing their kids to school, particularly on wet days. Almost not feeling the need to take their children to school, and it's possibly an impact result from Covid days.
"It's about how do we change that, how do we change that perception and make parents not only accountable but seeing that when children are not at school, that puts them a step back?"
Backwell said education was the most effective way to avoid financial burdens.
"It's an understanding that school matters and whilst we have to mitigate the cost of cold and flu virus when children are genuinely sick, we also need to try and impact how do we get parents to bring them to school when they are just not feeling up to it."
"The way to get out of that poverty circle, the way to change the way you live, the way to have better employment and better opportunities is through education.
"We need to change the narrative, so parents and children understand it."
KidsCan has helped feed 55,000 children in 898 schools around the country - more than a third of all schools nationwide - as well as 206 early childhood centres.
CEO Julie Chapman said this was the worst winter in years, with 10,000 more children per day needing food compared to the same period last year.
She said 54 schools and 97 early childhood centres were still waiting for support.
"This is the worst it's ever been, and it is a direct result of the cost-of-living crisis that we are in right now.
"We have seen a significant increase of the need for jackets, shoes and socks ... all those really basic things that children need to come to school and be in a position to learn."
For a lot of children, school support was becoming their main source of food, Chapman said.
"We have schools and early childhood telling us they have families rationing food, rationing petrol and of course with the fuel tax coming back, that will put even more pressure on families that are already in breaking point and living in deficit every week."
She said with more and more schools needing support, the charity is struggling to keep up.
"Winter is always a miserable time of year for children in poverty, but this year is especially tough.
"We're helping to feed and clothe more children than ever before, but we can't keep up with demand, and that's devastating."
Just this year, 28 new schools have applied for support from the charity with food, clothes and shoes, Chapman said.
"Staff at waitlist schools said they were feeding children themselves. Some families had only $20 left for food a week after paying rent and bills, so they were helping them access food banks.
"One principal was bringing in her own children's shoes so students could participate in subjects like technology where footwear was required."
Chapman said the charity was under huge pressure from rising costs and lower donations.
"Monthly donors - who charities rely on for sustained support - are being forced to cancel to cope with the rising cost of living themselves.
"That means KidsCan is struggling to support as many new schools as initially planned this year."
To donate, visit the KidsCan Charitable Trust website.
source: https://www.rnz.co.nz/news/national/493454/worst-it-s-ever-been-kidscan-says-need-for-families-children-at-all-time-high