"100-year storm" could soon hit every 11 years, flood forecasters say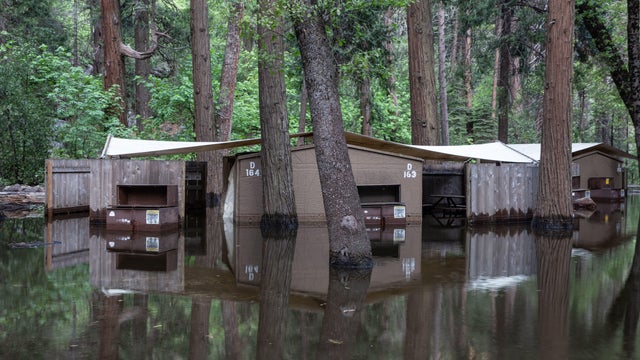 The growing threat posed by hurricanes is costing Americans money before even a single drop of rain has fallen. 
Homeowners in Florida and Louisiana have seen dizzying spikes in their insurance rates over the last two years, and those costs are likely to rise even higher, as reinsurers face growing expenses of their own.
This year, more than 7 million homes are at risk of a storm surge from a Category 5 hurricane, while more than 32 million face at least a moderate threat of wind damage, according to CoreLogic. In economic terms, $11.6 trillion of property is at risk, the property data provider calculated, a figure that has jumped 15% from last year due largely to inflation in the price of building materials. 
"The bigger risk is driven by exposure," said Jonathan Schneyer,  senior catastrophe response manager at CoreLogic. "We're still building lots of homes, sometimes very high-value homes, in areas that are still very risky from a natural hazard perspective. People like to live with a nice view — on the seashore, on a cliff, with a river view," he said. 
The state most exposed to financial losses from a hurricane is one that sees relatively few of them. New York has 790,000 properties, with a total reconstruction value of $400 billion, at risk, according to CoreLogic.
"You have a densely populated island, a couple of cities surrounding Manhattan, built up on the coastline a few feet above sea level," Schneyer said. "If a storm were to make its way up to New York, there's a lot more to lose there."
Indeed, one of the most destructive storms in U.S. history — 2012's Hurricane Sandy — caused $70 billion worth of damage as it wreaked havoc on New York and New Jersey. Last year, meanwhile, Hurricane Ian caused more than $100 billion in damage as it swept across Florida — equal to the state's entire budget that year. 
According to scientists, climate change is increasing the frequency and intensity of hurricanes because warming air and ocean temperatures make the storms wetter and slower, resulting in more water cascading into affected areas. That can increase the tide of destruction. 
When it comes to flooding, however, a storm doesn't have to get anywhere near hurricane strength to cause extensive damage. A recent analysis from the First Street Foundation found that more intense rainfall today poses growing risks of flooding to millions of homes, particularly in the Midwest and Northeast. That trend is likely worsen in the years to come, predicted the nonprofit group,  which models climate-change risk.
"Nowhere across the country has seen a bigger increase in extreme precipitation events than the Midwest and the Northeast," said Jeremy Porter, head of climate impacts at the First Street Foundation. 
These regions have some of the most densely populated cities and oldest municipal infrastructure, making it more likely that rainwater will overwhelm drainage systems.
Only weeks ago, for example, intense thunderstorms led to hundreds of flight cancellations in the Northeast and flooded city streets, washing out bridges and rushing into basements from Maine to Philadelphia. First Street's model predicts that these types of events will become much more common because of climate change.
"Half of the flood risk in the 100-year flood zone across the country isn't accounted for by FEMA," Porter said. "Of that difference, 65% of it is driven solely by precipitation flooding." 
As the label suggests, a 100-year flood event is one that is expected to occur once every century. But with climate change making regular rain far more severe, these extreme events are becoming much more frequent. 
In New York City, Porter said, this type of 100-year event is now expected to occur once every 20 years. In Houston, it's now every 23 years. But by midcentury, the frequency is expected to increase to once every 11 years.
More frequent hurricanes are already causing an exodus of insurers from some exposed regions. In Florida, home insurance rates are already triple the U.S. average. Also, multiple insurers in the state have gone belly-up in recent years, and premiums are expected to rise 40% this year, according to the Insurance Information Institute. 
In Louisiana, the state's insurer of last resort this year raised rates by an average of 63%. Across the U.S., 90% of homeowners are seeing rising insurance premiums, NPR reported last month.  
So what are homeowners to do? In the absence of a national climate adaptation plan, Americans are making their own decisions, research suggests. A recent study from the University of Vermont found that during the previous decade, Americans moved out of the regions that were hardest-hit by hurricanes and heat waves, although more people moved into wildfire-prone areas. 
"For many Americans, the risks and dangers of living in hurricane zones may be starting to outweigh the benefits of life in those areas," co-author Gillian Galford said in a statement.
source: https://www.cbsnews.com/news/hurricanes-rain-flood-risk-more-homes-insurance/