Auckland floods: Houses on the edge as 141 yellow-stickered, 30 red-stickered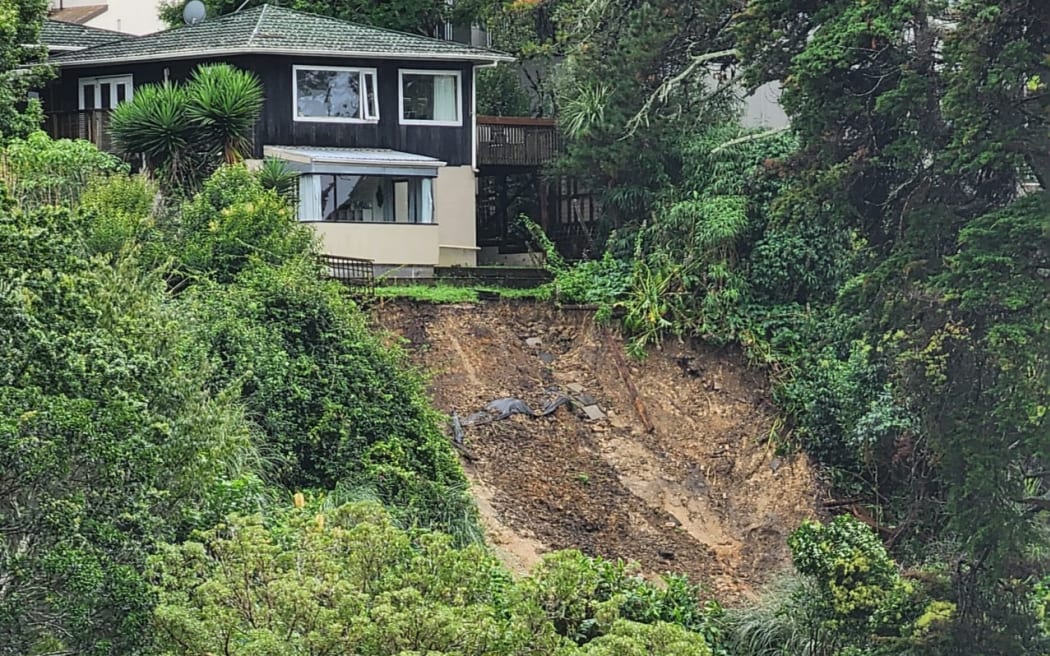 A land slip at Brighton Road, Parnell after heavy rain in Auckland. Photo: Supplied / John Stephens
Auckland residents with homes teetering on cliff edges are facing an anxious few days to see if more forecast heavy rain will cause further drama for their properties.
On Sunday evening, as another heavy storm cluster threatened the city, Auckland Council confirmed 141 properties had been yellow-stickered amid the floods and 30 red-stickered.
Red stickers mean an inspector has assessed a property as unsafe to enter. Yellow stickers can restrict access to certain parts of a building, or only to enter for a short time to remove valuables.
Coastal areas are particularly hard hit, with some houses built near cliffs losing their entire gardens and back sections.
In Parnell, a massive landslip brought tonnes of earth crashing down a hillside onto Judges Bay Rd, blocking access to the Parnell Baths.
That slip removed a slice of the back lawn of a home in Judge Street. But the home itself, understood to be built upon a foundation of solid rock, was unaffected and escaped stickering.
A slip in Remuera's Arney Road. Photo: Supplied/ John Stephens
Around the corner in the same suburb, a row of homes in Crescent Road was not so lucky.
Several massive landslips down the cliffs into Hobson Bay caused at least three properties to be yellow-stickered. The properties include small blocks of luxury units valued at several million dollars each.
None of the residents wanted to comment when the Herald knocked on doors. One woman said she was too upset to speak.
In one block, only one of the three units was yellow-stickered due to part of its back section falling down into the bay.
An Auckland Council building surveyor visited on Saturday and slapped a yellow sticker on that property, restricting access to the rear yard.
Another home similarly had access to its rear landing restricted due to the slip.
A few minutes down the hill in Shore Rd, Remuera, the home where much-loved museum volunteer Dave Lennard was killed in a landslip amid the worst of the rain on Friday, was already in the process of being torn down.
*This story was originally published on NZ Herald.
source: https://www.rnz.co.nz/news/national/483313/auckland-floods-houses-on-the-edge-as-141-yellow-stickered-30-red-stickered