Wild weather chaos: What you need to know today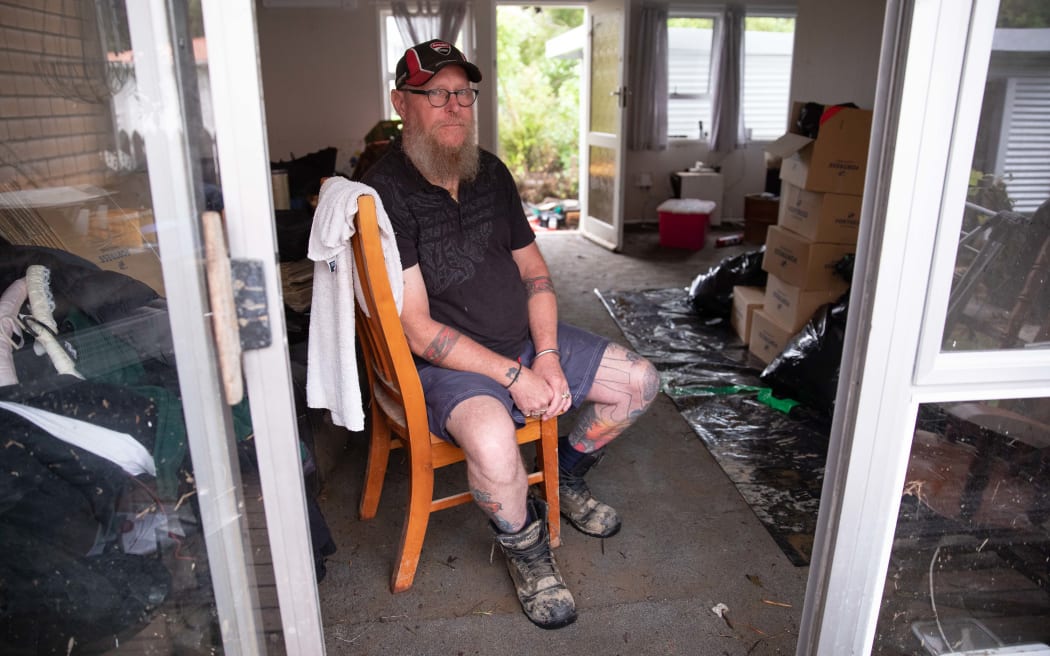 Residents on Comphora Place in West Auckland's Ranui are picking up the pieces at their homes after Momutu Stream overflowed and flooded their properties. Mark Griffin (pictured) says it's the second time it's flooded in 18 months. Photo: RNZ/Angus Dreaver
Landslips, road closures, homes and businesses flooded and more heavy rain is on the way. Here is what you need to know as the severe weather continues.
Northern suburbs of Auckland and Titirangi appear to have been some of the worst areas hit by the heavy rain overnight.
Auckland Emergency Management duty controller Rachel Kelleher said northern regions like Wellsford and Warkworth had been hit by more than 60 millimetres of rain and there was some flooding.
In West Auckland, there were landslips in Titirangi, with some houses very close to falling off a cliff.
Police said four properties there were evacuated due to the slips. The were no reports of injuries.
And clusters of houses there remain without useable water after damage from flooding.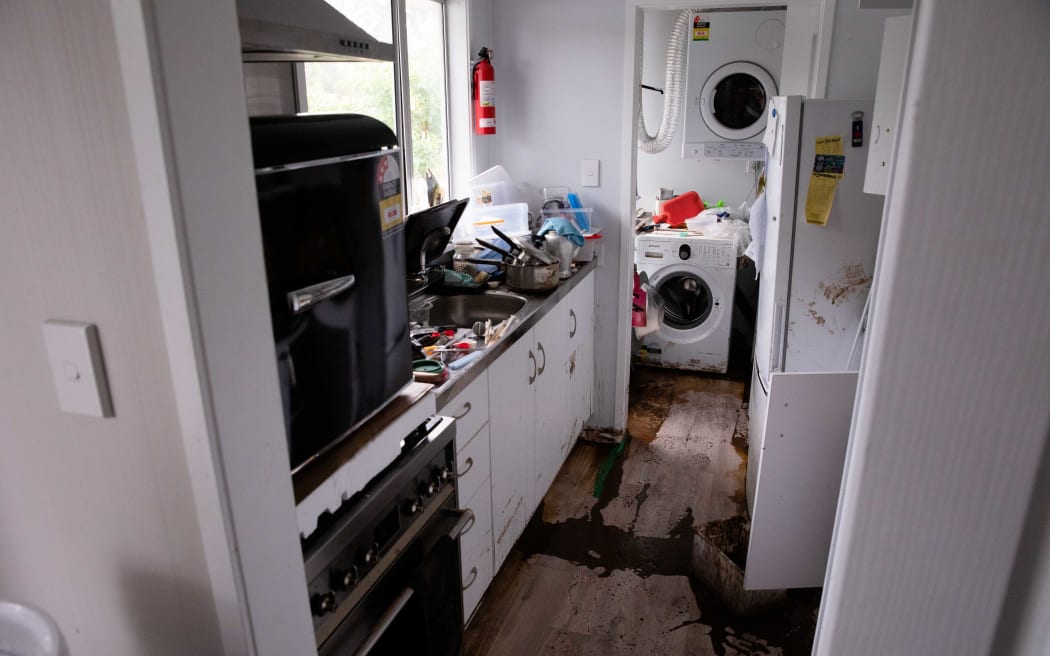 Inside a property affected by the flooding in Ranui, West Auckland. Photo: RNZ/Angus Dreaver
Watercare confirmed that some houses in South Titirangi, Green Bay and Waiatarua were reporting discoloured water, low water pressure, and others had been completely cut off.
Watercare said tankers had been deployed to those areas and the locations were available on its social media page.
It said it didn't yet know the number of households impacted, and was asking customers to report faults to its website.
Read more:
A fourth person was found dead as a result of Auckland's catastrophic floods.
In a statement yesterday, police said search and rescue who had been looking for a person swept away by floodwaters in Waikato's Onewhero had found a man's body.
Earlier on Sunday, police named 34-year-old Daniel Mark Miller as another victim of the floods.
Miller was found dead in a culvert on Target Road in Wairau Valley on Friday.
Another person was found dead after a landslide brought down a house on Remuera's Shore Rd.
RNZ understands that the man was a beloved volunteer at MOTAT museum, Dave Lennard.
A fourth person was also found dead in a flooded car park on Link Drive, Wairau Valley at 12.30am on Saturday morning.
Police said all deaths have referred to the coroner.
The Education Ministry has ordered a week-long shut down of all of Auckland's education organisations to help minimise traffic on roads while vital infrastructure is repaired. Schools were scheduled to reopen between tomorrow and 7 February.
Another state highway in Northland has been closed as rain continues to saturate the upper North Island.
Waka Kotahi said State Highway 16 near Bradley Road in Ruawai is blocked.
Slips, flooding, and cracked roads have seen multiple state highways in the upper North Island remain closed following the severe storm.
Near Auckland, State Highway 2 is closed from Pokeno to Mangatarata, and between Mangatāwhiri and Maramarua.
State Highway 1 is blocked between Brynderwyn and Waipu.
Also in Waikato, a slip has blocked State Highway 37 between Hangatiki and Waitomo Caves - there's no detour because of flooding.
And in Coromandel, State Highway 25 is closed between Waiomu and Tapu, and Coromandel and Whitianga, while State Highway 25A is blocked from Kopu to Hikuai.
People have been urged to travel only when absolutely necessary. It is recommended those who must travel use the Waka Kotahi journey planner.
Meanwhile, controller Rachel Kelleher said since Friday, 440 stranded cars had been towed and dozens more remained on the road needing to be towed.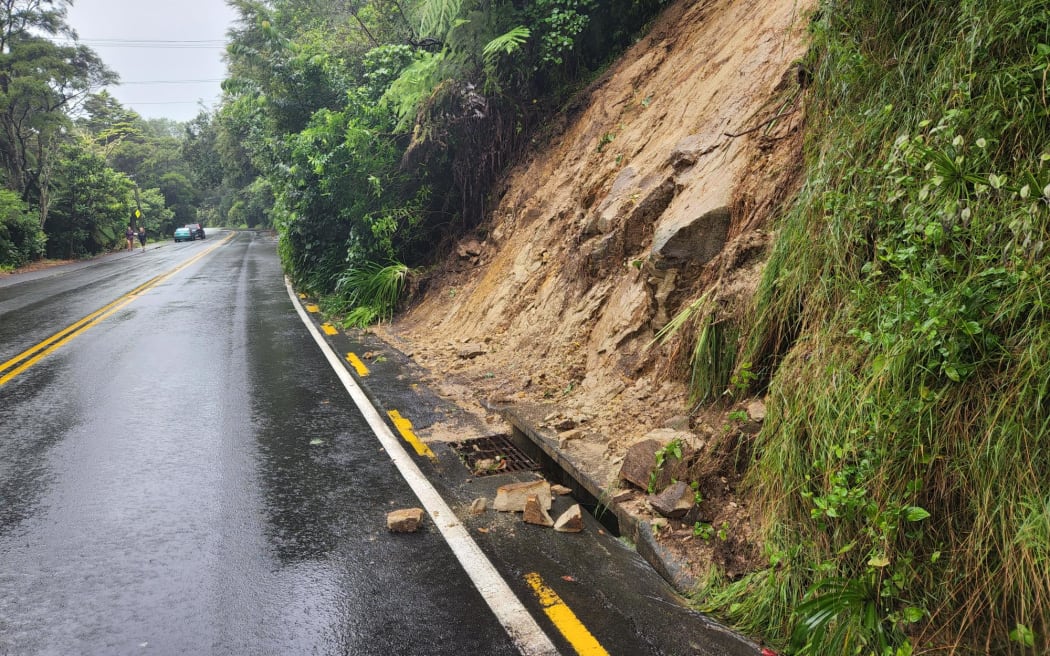 Photo: RNZ/Mohammad Alafeshat
People who were due to fly out of Auckland were being urged to check whether their flight was going ahead before making their way to the airport.
While the domestic terminal is operating as usual, IT problems at the international airport were slowing down arrivals and departures.
Kelleher said operations could take a while to return to normal.
She said those picking up passengers should arrange to do so outside the terminal if possible.
Auckland Emergency Management said several slips were affecting the rail network, but train operations should resume on Tuesday.
Kelleher said eastern, western and southern lines would resume operating but with a reduced timetable.
Auckland is expected to be soaked with further significant rainfall over the next couple of days.
MetService forecaster Jessie Owen told Morning Report the city had up to 60mm of rain overnight.
She said Northland was also in the firing line and Kaitaia had 35mm in one hour overnight as a thunderstorm hit.
Owens said while there will be fine spells on Monday afternoon there is significant rain expected from Tuesday.
She said it would be a lot of rain in normal circumstances and certainly onto the already wet ground.
Coromandel and other areas further south could also get more rain.
An insurance company said claim volumes were already high following the flooding in the upper North Island.
Tower Insurance chief claims officer Steve Wilson said while it was too early to estimate overall numbers, they were expecting the Auckland flooding to be a big event.
He said the company was experiencing high claims volumes and was increasing staff on its phone lines, its online claims team, and in its Fiji-based call centre.
Assessors had been on the ground in affected areas since early Saturday, with additional assessors being flown in from around the country to help.
Prime Minister Chris Hipkins told RNZ's Morning Report that Auckland has a big clean up job ahead of it but there is still much uncertainty given more heavy rain is forecast.
He said during his visit to Auckland on Saturday, when he surveyed the flooding damage, he saw firsthand the enormous challenge and hardship people were facing.
Hipkins would not be drawn on what he thought of Auckland mayor Wayne Brown's initial response to the emergency.
He said he wouldn't want to form a judgement on Brown's response in the first 24 hours of the emergency but that there would be an opportunity for a review.
He said the focus now had to be on the challenge Aucklanders were facing now.
If you are unsafe, call 111.
To report flooding, damage to drains, or stormwater issues, Auckland Council wants people to report online here.
A helpline has been set up by Auckland Emergency Management for anyone who needs accommodation: 0800 22 22 00.
The Ministry of Social Development is also taking calls for welfare assistance on: 0800 400 100.
source: https://www.rnz.co.nz/news/national/483333/severe-weather-continues-in-north-island-what-you-need-to-know