Council agrees to challenge changes to new Dunedin Hospital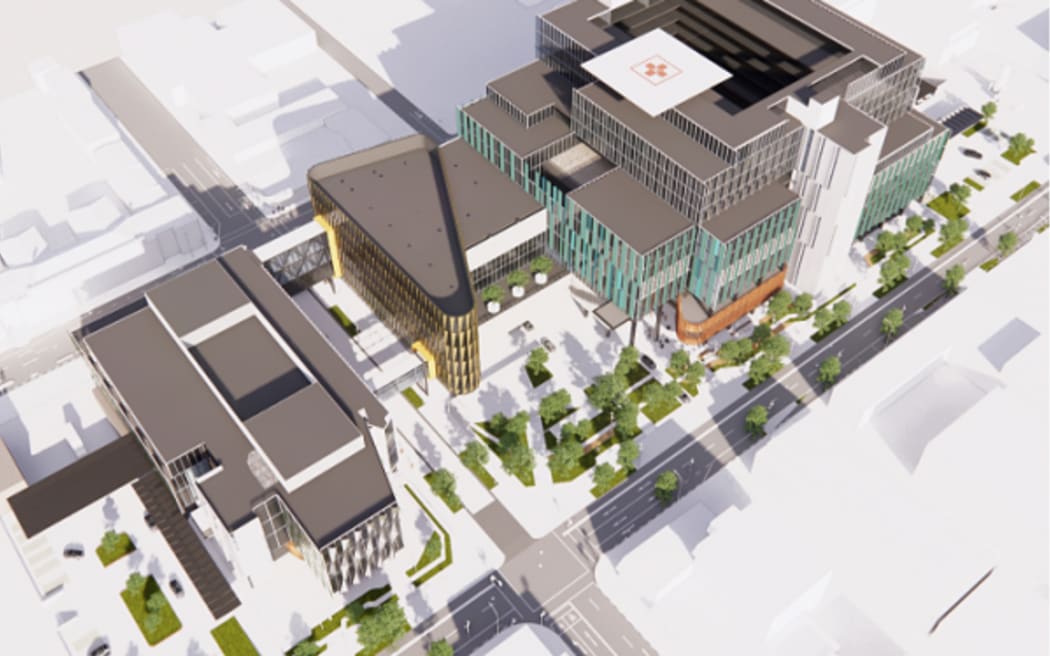 Artist impression of the new Dunedin Hospital. Photo:
Dunedin City Council has voted unanimously to fight changes to the city's new hospital, agreeing to fund up to $130,400 for a public campaign.
Last month, the government announced the cost of building the hospital had increased by $200 million, saying it would cover $110m with design changes to reduce the rest.
They include reducing the bed numbers, MRI units and operating theatres available upon opening with spaces set aside for them in the future.
A bridge between the outpatient and inpatient buildings has been cut as has the non-clinical pavilion building.
Councillor, and former Labour minister, David Benson-Pope put forward a notice of motion at a meeting on Tuesday, urging the council to stand up against changes that reduced the longevity or services of the hospital.
In the meeting, he said the whole debate was about health decisions not being driven with the best interests of the community, and they were being hampered even further by a lack of details.
"Redesign equals risk and redesign also equals risk of considerable extra money and further delay."
He referenced a September report from Te Whatu Ora Southern which said years of careful planning and discussions with the community, clinicians and stakeholders went into a detailed business care, and undoing this within months "carries significant reputational, operational and clinical risk".
He noted the report said the previous health minister had ruled out a reduction in the hospital size or scope.
"Any change in the size or scope of new Dunedin Hospital and any demand for significant redesign with accompanying consultant costs and demands on clinical staff time will have a widespread negative effect on the reputation and expectations of the new Dunedin Hospital project and facility.
"It will be perceived as a broken promise if less is delivered than was approved in the detailed business case."
He said it also did not make sense to be making changes that would impact staff, including cutting the non-clinical pavilion building.
"Why would you reduce the conditions of staff when you know you have a workforce shortage across the whole country?"
The new Health Minister, Ayesha Verrall, who took over the portfolio on Tuesday afternoon during the Cabinet reshuffle has been contacted for comment.
Deputy mayor Sophie Barker described the communication from the government as opaque.
"I marched to save neurosurgery in 2010, I'm ready to march again" she said.
"I'm getting ready to paint my placards and I think I'll start with 'health cuts don't heal'."
Councillor Jim O'Malley said it was disingenuous to say there were no cuts and that the government should have been prepared for inflation increases and costs to go up.
"I would basically say to the government 'spine up and build the facility that the business case calls for'," O'Malley said.
The hospital's business case was designed to meet the needs of the community and to change it meant deliberately deciding not to meet their needs, he said.
Councillor Christine Garey said the community deserved answers and so did the council.
Sending out news of the changes just days from Christmas was disrespectful and the council should have been given a full briefing, Garey said.
"We need to fight like hell for our community, for our people, for our city, and for the wider region. We have got a once-in-a-lifetime opportunity to have a thoroughly modern, working hospital that will deliver excellent care," she said.
"This council is unified in its concern and rightly so for our community, and if we don't understand what the changes are to the design then how can we expect our community to understand it."
source: https://www.rnz.co.nz/news/national/483410/council-agrees-to-challenge-changes-to-new-dunedin-hospital