Auckland bus drivers told not to go through floodwaters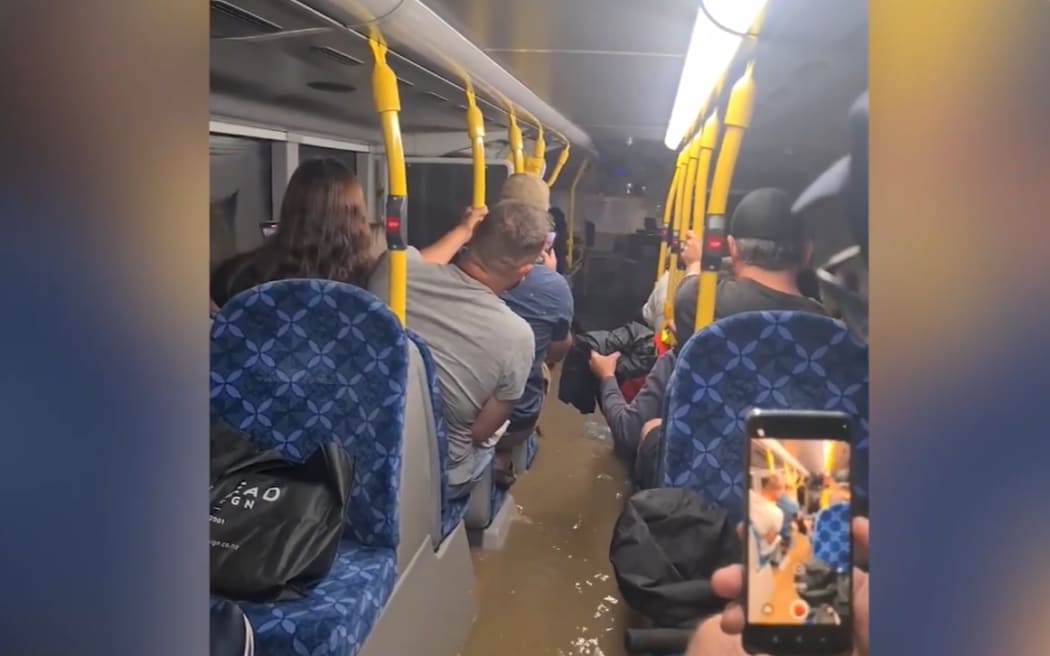 Auckland Transport has some heavy mahi ahead after the weekend's rain closed nearly 100 roads around the region.
Since Saturday, workers have restored and reopened dozens, but dozens more remain partly or fully closed.
There are also lane closures and limits to public transport across the city.
But there were few limits for some of the city's bus drivers at the weekend, with footage on social media showing buses ploughing through floodwaters undeterred, some with water literally on board.
An Elton John fan who took the bus to Mt Smart Stadium on Friday night (before the last-minute cancellation) praised the driver's decision not to stop, because the bus' forward momentum was the only thing stopping the water on board rising even higher.
"Once we started in it, there was no stopping or turning around because it was quite deep," engineer Dan Willdridge said.
Auckland Transport executive general manager for safety Stacey van der Putten told RNZ's Morning Report on Thursday no one should be driving through floodwaters - including bus drivers.
"We don't recommend bus drivers drive through floodwaters. Friday night was a different scenario in terms of, it was a changing beast and obviously in the moment."
The New Zealand Herald reported about 20 of the city's buses were damaged in the storm.
Auckland's public transport system has been plagued by cancellations and delays in recent months, with staff in short supply and work frequently needing to be carried out on train lines - sometimes planned, sometimes not.
Despite the disruption from the record-breaking rainfall and subsequent slips, subsidence, erosion, event cancellations, damaged vehicles and flooding, van der Putten said the city's public transport system can still get you "where you need to be".
"Buses are running, absolutely, and there are parts of the train network that are running. Where they're not running, there are bus replacements. Ferries are running at a reduced timetable.
"If people are taking public transport, we do recommend using the Journey Planner. There are some detours in the bus services obviously, where there have been road closures or partial closures, which may extend journey times."
And for those who need to drive, van der Putten said there are 550 road crew members out every day "doing the best they can in order to help us get people moving".
As of Thursday morning, there were still 39 roads in the Auckland region either fully or partially closed, including major thoroughfares like Tamaki Drive and West Auckland rural connections Te Henga Road and Scenic Drive.
source: https://www.rnz.co.nz/news/national/483493/auckland-bus-drivers-told-not-to-go-through-floodwaters