Promising signs Coromandel, BOP will be spared the worst
Not quite as much rain as expected fell in Coromandel overnight, while it was relatively dry in western Bay of Plenty.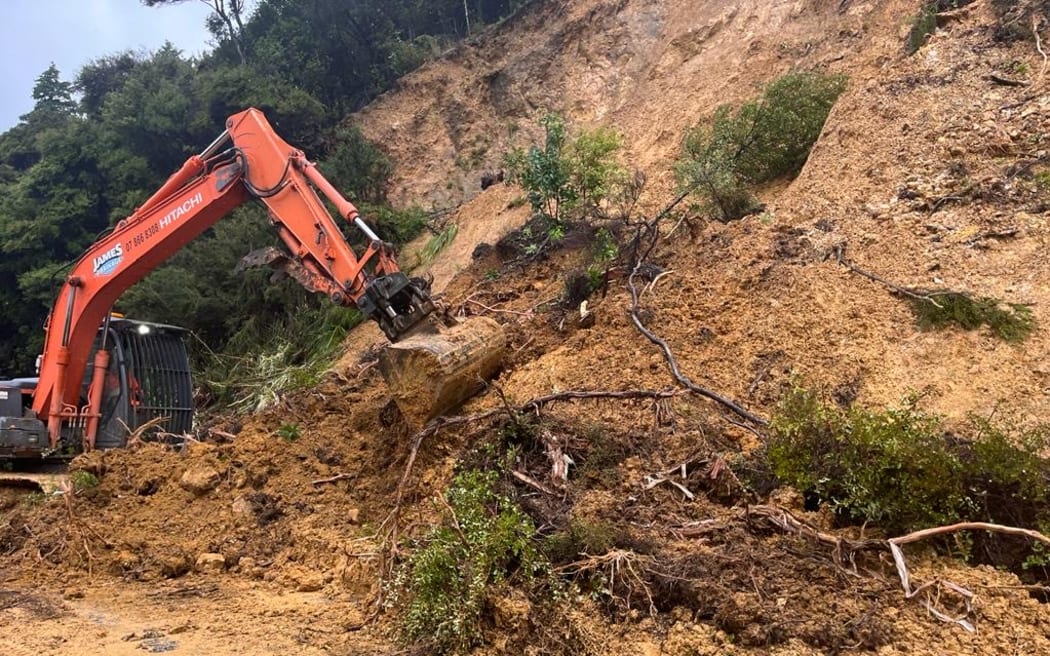 Coromandel is still trying to recover from the damage caused by other storms in January. Photo: Georgia Smyth
Coromandel had heavy rain overnight, but not quite as much as expected, while it was relatively dry overnight in western Bay of Plenty.
Both areas remain under a red heavy rain warning though, with the storm that's already battered Northland and Auckland making its way southeast.
"It wasn't as bad as we had planned for," Civil Defence controller for Coromandel Garry Towler told Morning Report.
"The rain did get very heavy - we've had 100mm again overnight, and we'll probably get another 50-70mm during the day to about 4pm," he said.
For comparison, the overnight total was about a third of that which fell in some parts of Auckland on Friday and Saturday.
Helping ease the impact was that Coromandel locals appear to have heeded advice to stay home, Towler said, with few callouts for emergency services.
"I think the message for everyone to hunker down got through and we were quite successful there… If you don't have to travel, just stay home and let us clear this up."
The red warning will stay in place for Coromandel until at least this afternoon.
"Probably around 4pm MetService may lift the red warning and we'll watch this storm event just quietly disappear."
Three houses have been evacuated after a slip came down behind them in Thornton Bay, on the western side of the peninsula north of Thames.
Local emergency management said the occupants were evacuated by police. Emergency managers say the land in the area is unstable after nearly half-a-metre of rainfall in recent days.
Further south in the Bay of Plenty, a red heavy rain warning is in place for the region west of Kawerau, including Rotorua Lakes District, Western Bay of Plenty District and Tauranga City.
"Expect a further 70 to 100mm of rain on top of what has already fallen, especially inland," MetService said on Wednesday morning.
"This rain is expected to cause dangerous river conditions and significant flooding. Slips and floodwaters are likely to disrupt travel, making some roads impassable and possibly isolating communities."
East of Kawerau the warning is orange, with potential slips, surface flooding and hazardous driving conditions.
"We've had very little rain… but it's starting to come through now," Bay of Plenty Emergency Management director Clinton Naude told Morning Report.
"We know it's not over yet. But fortunately we've woken up to no reports of any significant issues."
He said the rain isn't expected to get too heavy at any one time, but was concerned the overall amount would still be enough to cause problems in Tauranga, Maungatapu and other rural western areas, including the floodprone Ngongotaha Stream.
"Those are our hotspots we're keeping a close watch on, but we're still advising the entire region to be on alert."
That includes not travelling unless it's necessary.
"We have slips occurring on occasion, so we encourage people to visit the NZTA website for the latest updates on state highways, and local councils for local roads…
"We do encourage people if a slip is seen or a tree's fallen down, please report it to your local council immediately and we can get crews onto it."
source: https://www.rnz.co.nz/news/national/483430/promising-signs-coromandel-bay-of-plenty-will-be-spared-the-worst-of-latest-weather