Vermont police officer, 19, killed in crash with suspect she was chasing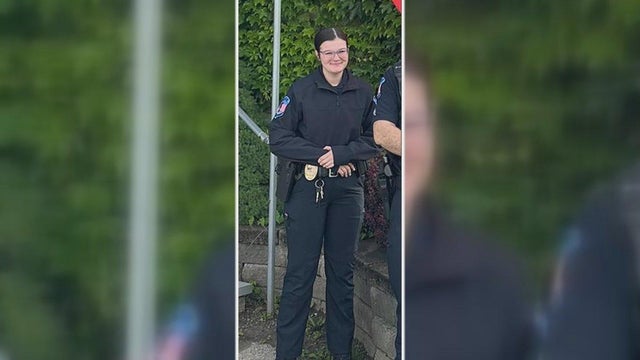 A Vermont burglary suspect who led police on a high-speed chase and crashed his truck into two police cruisers, killing a 19-year-old officer and injuring two others, will be arraigned Monday on charges related to the crash, state police said.
Tate Rheaume, 20, is facing charges of grossly negligent operation and attempting to elude, both with death resulting. Additional charges are possible, state police said. It was not immediately known if he is being represented by an attorney.
Rutland City Police Officer Jessica Ebbighausen was killed on Friday afternoon. The crash happened as police chased a vehicle driven by Rheaume, a suspect in an attempted break-in at a house, state police said.
UPDATE: 20 year-old facing multiple charges in police officer death https://t.co/zmLPo6Rzww pic.twitter.com/eixzzeuMMo
Evidence indicates that Rheaume crossed the center line and collided head-on with the Ebbighausen's cruiser, police said. The suspect's truck also hit another police cruiser. 
Ebbighausen was pronounced dead at the scene. The two other officers and Rheaume were taken to Rutland Regional Medical Center with injuries, police said. Rheaume was transferred to the University of Vermont Medical Center in Burlington, where he was listed in serious but stable condition on Saturday afternoon, police said. One officer, identified as Kelsey Parker, was released from the Rutland hospital on Friday, and the other, identified as Richard Caravaggio, was released Saturday.
A third officer, identified as Jared Dumas, was also pursuing Rheaume but was uninvolved in the crash and was not physically injured, authorities said.
An investigation by Vermont State Police determined that neither Officer Ebbighausen nor Officer Caravaggio were wearing seat belts at the time of the collision.
After an autopsy was completed on Saturday, nearly three dozen law-enforcement officers and first responders escorted Ebbighausen's body in a procession from the medical examiner's office in Burlington back to Rutland, state police said.
Ebbighausen was a part-time Rutland City officer since May and was scheduled for training in August to become a full-time officer, police said.
"I think it's more important now than ever to ask for the support of the community. We're hurting. I think with the events of this week, I think you can probably imagine that it's not an easy job," Chief Brian Kilcullen said during a press conference Friday night, according to CBS affiliate WCAX-TV. "A young woman, who for years, longed to be a police officer, since she was nine years old. It's all she wanted to be."
Ebbighausen becomes the 29th Vermont officers had died in the line of duty, including two in vehicle pursuits, according to the Officer Down Memorial Page, which tracks law enforcement deaths.
source: https://www.cbsnews.com/news/jessica-ebbighausen-killed-teen-rutland-vermont-officer-crash-suspect-tate-rheaume/