Central Christchurch occupiers taking green space from residents - councillor
A Christchurch city councillor is calling for pro-active enforcement from the council and police to end an anti-mandate occupation in the central city.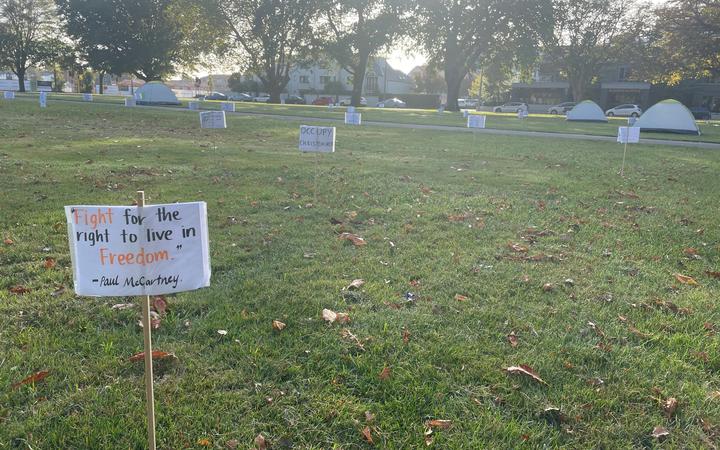 Tents and signs have gone up in Latimer Square, following an earlier protest camp in Cranmer Square.
Jake McClellan - who represents the central city - says the protesters must be treated the same as anyone else breaking bylaws and camping in a public park.
He expects the council to issue trespass notices if the protesters don't leave.
"If this was anyone else, council would knock on your tent, so to speak, and tell you to move on, so I want to make sure that that has happened here. They should be treated no different to how anyone else would be treated. At that stage it would be up to the police to enforce, and it's not for me to tell police how to do their job, but I certainly hope that they don't let this one run on as long as the residents of Cranmer Square had to put up with."
McClellan said residents were devastated by the new occupation as the Anglican cathedral is in Latimer Square.
"And to have to put up with largely unvaccinated people taking up public space will be really concerning to residents in the area. Remembering that this is the inner city as well, so lots of apartments, lots of people who don't necessarily have green space in their own property, and that's what Latimer Square is there to provide, so they'll be really disheartened."
The Christchurch City Council said it was also keeping an eye on a protest camp in the earthquake-damaged red-zone.
source: https://www.rnz.co.nz/news/national/465007/central-christchurch-occupiers-taking-green-space-from-residents-councillor