Northland declares state of emergency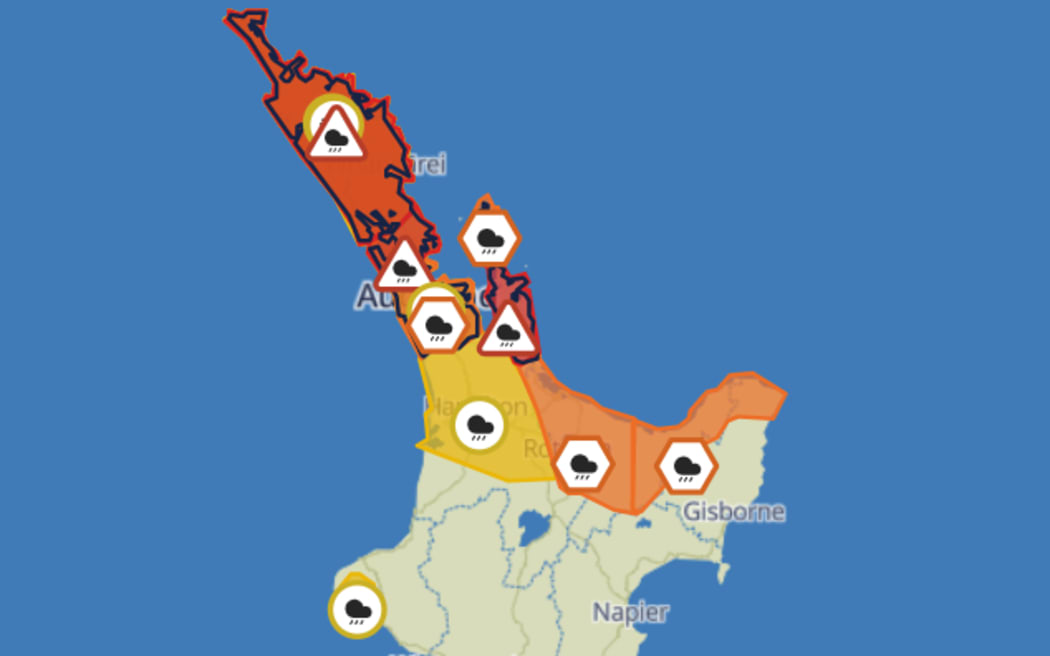 Northland is being urged to prepare for a deluge. Photo: Supplied
A state of emergency has been declared in Northland as more than 200 millimetres of rain is predicted to fall in some parts of the region.
By Tuesday evening, 900 homes were without power as the bad weather lashed the region.
A statement from the Northland Regional Council said the emergency declaration was requested by Northland Civil Defence Emergency Management (CDEM) Group Controller Graeme MacDonald and signed by CDEM Group chairperson Kelly Stratford.
"An Emergency Mobile Alert advising of the declaration is being sent to phones in Northland which are capable of receiving the alerts."
The state of emergency is effective as of 1pm Tuesday 31 January for an initial period of seven days.
The region is facing its first ever red level weather warning and Northlanders should expect up to 140mm of rain - but some northern and eastern pockets may get up to 220mm, peaking at 40mm per hour.
Electricity lines company Top Energy said the largest fault was affecting 620 homes south of Kerikeri, where power went off just before 6pm.
More than 270 homes were affected in Herekino, south of Kaitaia, and in Waimā, south west of Kaikohe.
Top Energy expected all of those outages would be restored by 10pm.
Stratford told Midday Report the heavy rain was starting to fall and she was asking people to prepare for floods.
"We could see unprecedented levels of rainfall in the next 24 hours," she said.
"We've got our first red heavy rain warning and a very strong wind watch."
Stratford said many communities and marae across the Northland district already had plans in place and volunteers poised to evacuate people should they need it.
"We are reviewing constantly whether we need to, and it is most likely, that we will declare a state of emergency."
Even if the rainfall did not reach levels predicted by MetService, Stratford said at least they would know they had all the resources they may need to help people.
MetService has issued a red heavy rain warning for the Northland region and Auckland north of Ōrewa.
For Northland, MetService said: "Expect 100 to 140mm of rain in the north and east, with lesser amounts in the west.
"However, localised areas may receive 140 to 220mm.
"Thunderstorms are also possible, and a severe thunderstorm watch is also in force."
MetService said the rain could cause "dangerous river conditions and significant flooding".
"Slips and floodwaters are likely to disrupt travel, making some roads impassable and possibly isolating communities."
Stratford said people had been deployed from all over - and her team was working in collaboration with police, Fire and Emergency and Civil Defence.
"Be prepared," she urged Northlanders.
"If people are in a low lying flood area, make sure they've got a 'go' bag."
Stratford also said residents should keep an eye on the forecast, hold off on travelling if they did not need to and watch for strong wind gusts.
"There will be trees that come down," she said.
Civil Defence briefed Northland's mayors this morning and Police, Fire and Emergency, St John and the Defence Force have organised additional personnel and equipment in preparation for evacuations.
Far North mayor Moko Tepania told Checkpoint the emergency operations centre was monitoring the situation closely as the heavy rain front arrived.
"We've had rain pretty much consistently since yesterday, through to today, and we do have some heavier showers forecast which will coincide with high tide.
"So for our coastal communities, we are on alert for that situation."
The region was resilient and quite used to storms but nevertheless, they wanted to ensure communities were prepared, he said.
They were keeping an eye on State Highway 10 in Whangaroa County, Kāeo township - which is a detour of Mangamuka State Highway 1 which closed last August after a storm.
Some kaumātua and kuia had to be evacuated last night after a large tree fell into their awa.
"The concern was that that would exacerbate flooding conditions throughout that valley," Tepania said.
Some rest care facilities in Kaitāia near a river would be evacuated too, he said.
Due to the red level warnings NEMA has issued advice on how to keep safe:
Information about where to get help can be found on the Civil Defence website.
source: https://www.rnz.co.nz/news/national/483388/northland-declares-state-of-emergency-as-it-faces-its-first-red-heavy-rain-warning