Iwi to take over ownership of land intended for Nelson housing project
Land earmarked for a housing development near central Nelson will be transferred into iwi ownership.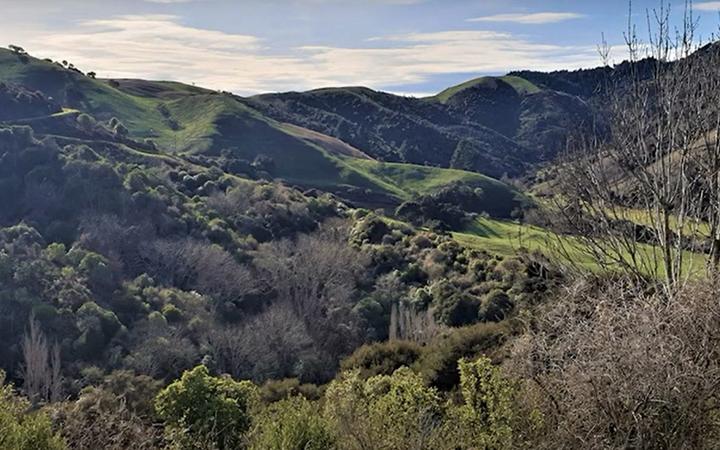 Kākā Hill in the Maitai Valley. Photo: RNZ
The proposed 350-house Maitahi Development in the Maitai Valley is being led by a syndicate of developers, CCKV Developments and Bayview Nelson Ltd.
The parcel of more than 60 hectares of land referred to as Kākā Hill, will be transferred to Ngāti Koata through an agreement with the shareholders of the development group.
Koata Ltd chief executive Hemi Toia said the parties involved wanted to ensure that Kākā Hill benefited from the kawanata (covenant) approach that Ngāti Koata will take as the iwi owner.
"CCKV Developments approached the families involved in Bayview Nelson Ltd, who currently own the majority of Kākā Hill, and they agreed to sell Kākā Hill to CCKV Developments with a view to ownership transferring to Ngāti Koata."
The site has a significant cultural history for local iwi which is believed to include a urupā (burial site) and Toia said ownership of the hill was incredibly significant for iwi.
The project has been described by the developers as an innovative housing solution for the city with the aim of providing sustainable first-home opportunities to iwi and families.
Toia said the ownership transfer was not dependent on the outcome of the private plan change request that was lodged with the Nelson City Council last April. It is still under consideration.
CCKV Developments' Andrew Spittal said keeping Kākā Hill zoned rural would not provide sufficient environmental protection or flexibility for recreational use.
"Ngāti Koata ownership and the iwi's commitment to being kaitiaki (guardians) of Kākā Hill will provide much more protection for biodiversity than keeping the land zoned as rural would afford," he said.
"In contrast, if Kākā Hill continued to be zoned rural it could conceivably be planted in pine. CCKV Developments and Ngāti Koata want to ensure that doesn't happen and the families involved in Bayview Nelson Ltd support that view."
The transfer of ownership to iwi will be officially commemorated in due course.
source: https://www.rnz.co.nz/news/business/464693/ngati-koata-to-take-over-ownership-of-kaka-hill-in-maitai-valley