Saturated Coromandel braces for more rain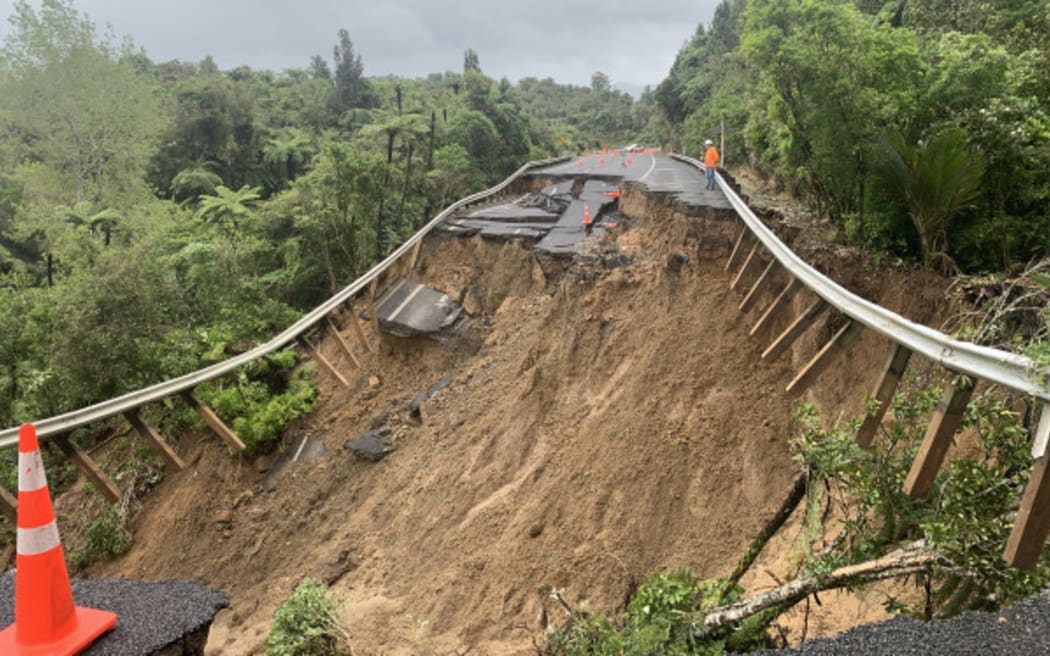 State Highway 25 on the Coromandel Peninsula has completely collapsed at the summit. Photo: Supplied / Waka Kotahi
The mayor of Thames-Coromandel says he will be having a "very serious conversation" with Minister for Emergency Management, Kieran McAnulty, when he visits the district today.
Mayor Len Salt told Morning Report the impact of the recent wet weather on the Coromandel Peninsula had been "absolutely devastating" for its isolated communities and its business people.
"They're really, really hurting and we wanna be able to say to our business people ... help is on the way, and we also want to to be able to say to people look, we're open again for business."
He said they would take McAnulty to see the slip on State Highway 25A, as well as a couple of other damaged sites, if time and weather allowed.
"But we are going to be sitting down and having a very serious conversation."
Salt said he was concerned about the latest MetService weather warning, which indicated a front moving eastwards across the Bay of Plenty was expected to "reverse direction" today and move back towards the already-saturated peninsula.
"I think I'm gonna stop listening to the news... I've had enough," he said.
"At the moment it's a bit early to say whether we're likely to get hit and how much we're likely to get hit."
While the weather was settled at present and road crews had made some progress yesterday, Salt said the area's catchment areas were "so saturated and so prone to slips" that it would not take much to "set them off again".
"It's a very, very dynamic, constantly-changing situation".
While flooding on the peninsula's eastern side had not particularly affected homes, Salt said a slip at Thornton Bay on the Thames Coast Road yesterday had damaged a house.
"There was nobody hurt, thankfully; neighbours helped a 95-year-old gentleman out of there. They were fine, but it's obviously damaged the home quite significantly."
Footage of an enormous slip at Ruamahunga was indicative of what the district had been dealing with over the past month, Salt added.
"That's a particularly vulnerable part of the coast because it's really close to the shore and there's a very steep cliff right there, it's quite unstable, so that has cut off the Thames Coast Road."
Access to the 309 and the Tapu-Coroglen roads was also blocked, he said, though some additional flooding around Hikuai, near Pauanui, yesterday had likely now receded.
A large slip in the Karangahake Gorge between Paeroa and Waihi had now been cleared, but Waka Kotahi said traffic management was in place and motorists were advised to take extra care and to expect delays.
Salt said he could not ask people to visit Thames-Coromandel over Waitangi weekend, much as he would like to.
"With this rain coming back I don't want to say to people 'look, come and visit' and then they get down and find that they can't get through."
DOC had closed all the campgrounds and huts in the area for safety reasons, he said.
"If we get a break in the weather and the sun comes out and we get everything cleared, then please come and visit, we need your help and assistance to our local businesses, but I don't wanna have people coming if we can't get them through and they get stuck."
He said those wanting to travel to the district should check the Thames-Coromandel District Council's Facebook page for the most up-to-date information on road closures.
source: https://www.rnz.co.nz/news/national/483498/saturated-coromandel-braces-for-more-rain