New ministers sworn in following Hipkins' Cabinet shuffle
New ministers are sworn in by the Governor-General in a ceremony at Government House. Photo: RNZ / Angus Dreaver
The government's new ministers have been officially sworn in at a ceremony at Government House.
Prime Minister Chris Hipkins' reshuffle brings in two new Cabinet ministers (Ginny Andersen and Barbara Edmonds), four ministers outside Cabinet (Duncan Webb, Willow-Jean Prime, Rino Tirikatene and Deborah Russell) and a parliamentary under-secretary (Jo Luxton).
On Wednesday morning they all took their oaths in front of Governor-General Dame Cindy Kiro, as well as senior ministers Megan Woods and Dr Ayesha Verrall.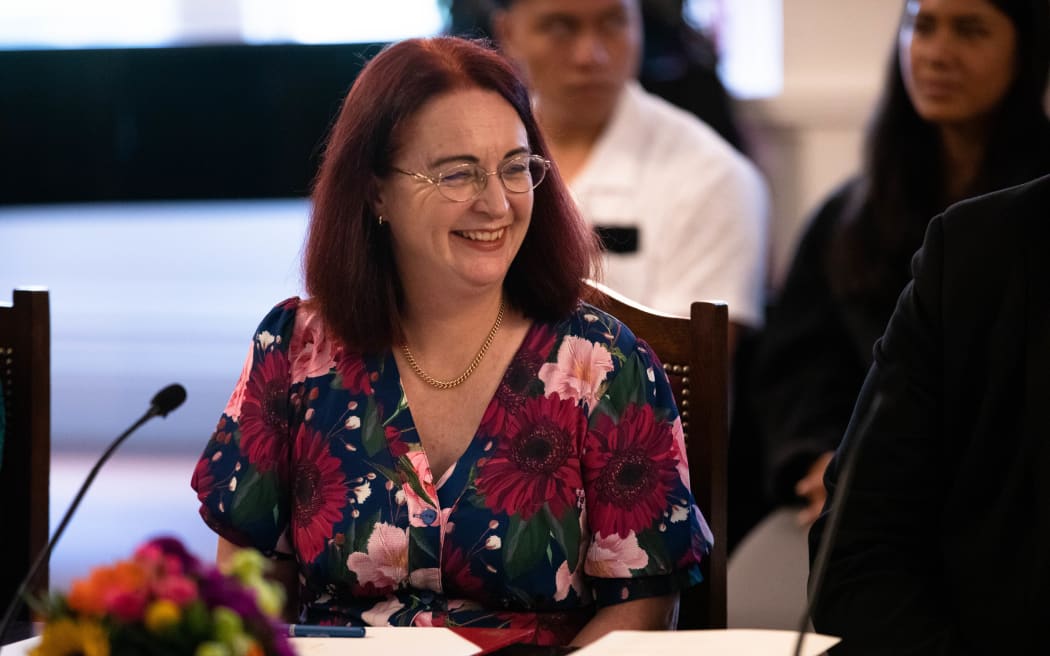 Dr Deborah Russell. Photo: RNZ / Angus Dreaver
Dame Cindy spoke of the challenges the MPs and their families would have already faced, but will now have to face as ministers.
"As we continue to navigate our times of difficulty and change, we know that we will face ongoing significant weather events, the effects of the pandemic and also economic hardship by many families," she said.
"I know that you as our newest ministers, along with our experienced ministers, will do all you can do to support your fellow New Zealanders."
Changes to other ministerial portfolios (such as Andrew Little moving to defence, or Stuart Nash taking police) were also made, but those ministers did not need to attend.
New minister of digital economy and communications Ginny Andersen started to take her oath early, before being cut off by the Governor-General, who praised her enthusiasm.
"It comes with being A-for-Andersen," she replied.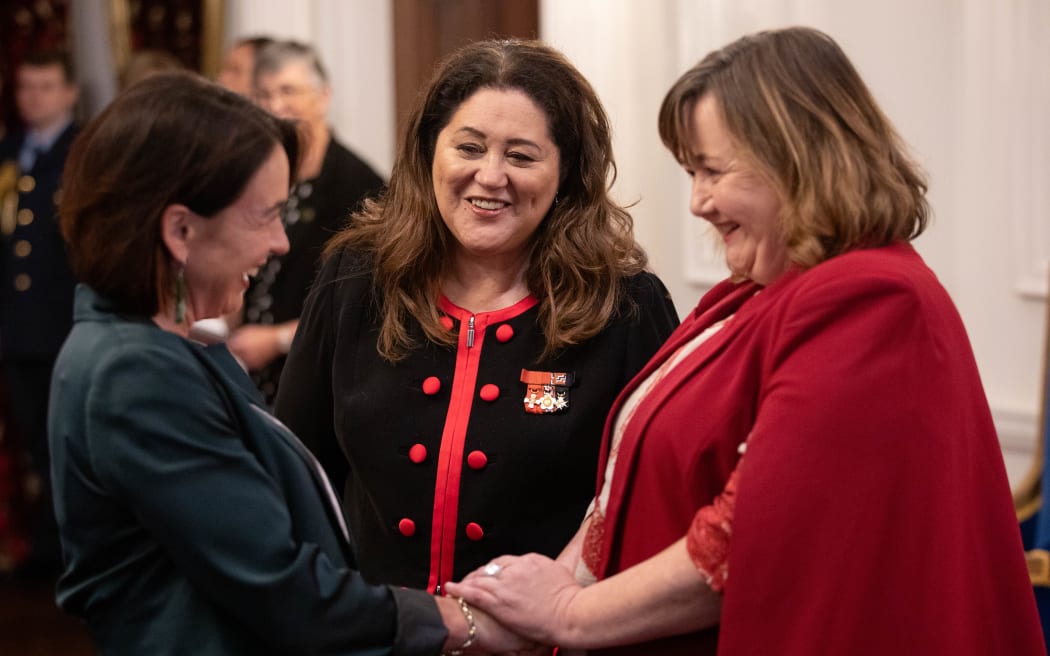 Dame Cindy Kiro, Ginny Andersen and Megan Woods. Photo: RNZ / Angus Dreaver
Andersen, Tirikatene, Prime and Luxton all took their oaths in te reo Māori .
Delivering the oath in te reo was important for new parliamentary under-secretary Luxton, who first learned she was Māori 18 years ago.
"I am on a journey tracing my whakapapa, and so it was something that I felt was really important and special for me today," she said.
Families of the new appointees were present, although conservation minister Prime said her children had stayed behind in Northland due to cancelled flights.
"It's a really happy day for me and my whanau, but also sad," she said.
"My daughters think that māmā is coming to get a tiwhikete, a certificate."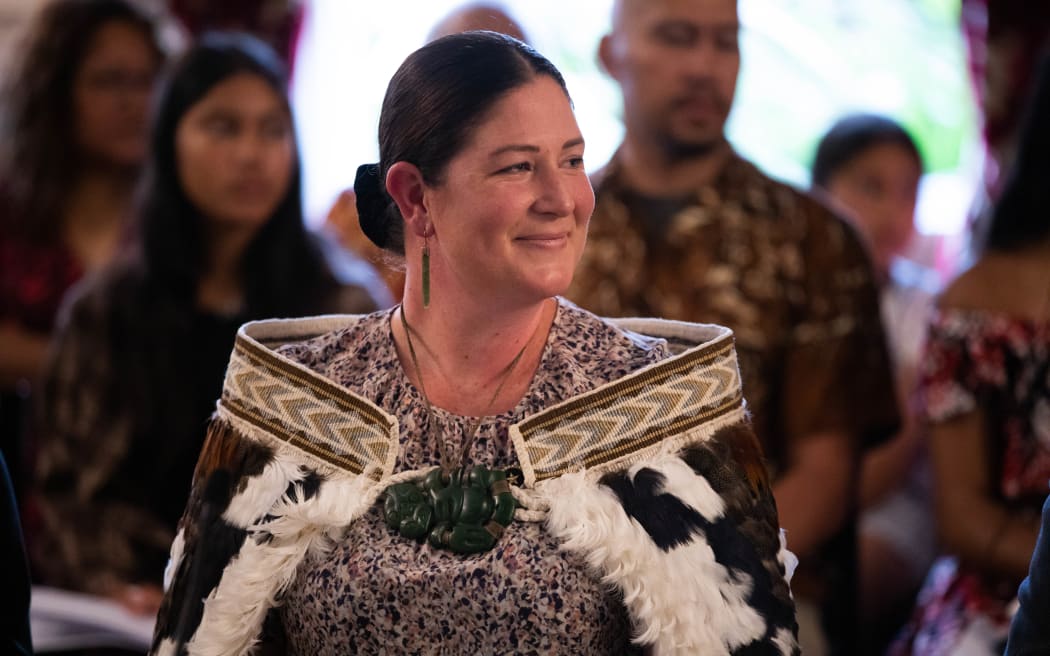 Willow-Jean Prime. Photo: RNZ / Angus Dreaver
Prime and Tirikatene, co-chairs of Labour's Māori Caucus, were made ministers outside Cabinet.
"Just a very happy day, I'm also delighted to be here as co-chairs of the Māori Caucus, that we have cracked into ministerial roles, it's a great day," said Tirikatene.
Minister for Pacific peoples Barbara Edmonds paid tribute to the work of her predecessor, Aupito William Sio, who is retiring at the election.
"Aupito has really laid solid foundations for the portfolio for our Pacific peoples. He's probably the most successful in relation to money, over $500m towards Pacific peoples initiatives, so I'm really looking forward to working on that."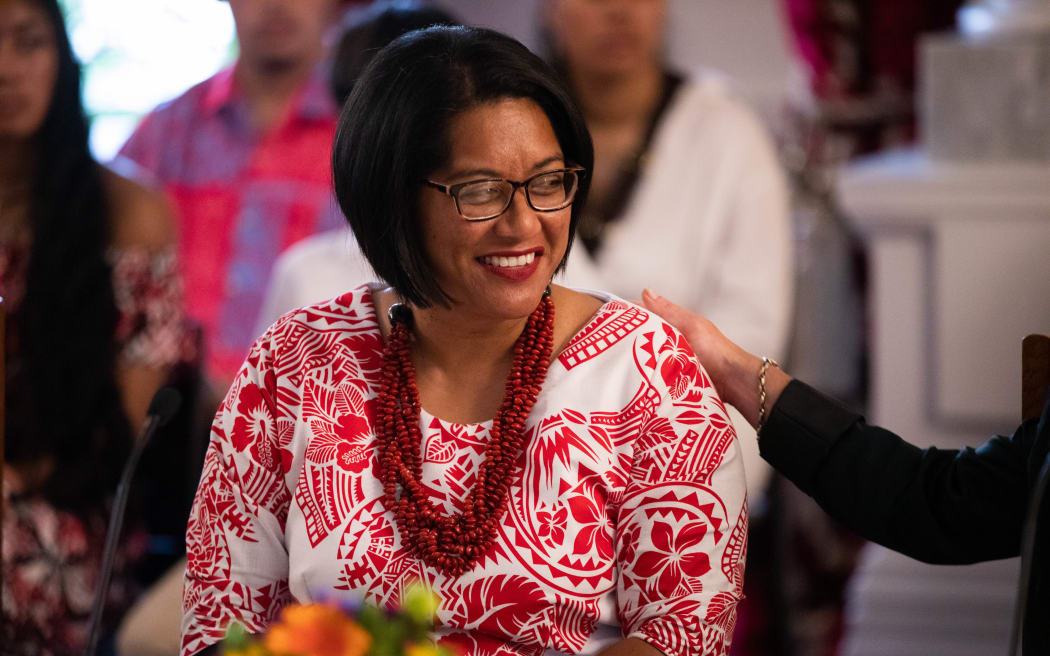 Barbara Edmonds. Photo: RNZ / Angus Dreaver
Webb takes over commerce and consumer affairs from David Clark, but the role has been moved outside Cabinet amid a cost of living crisis. Webb said just because it was no longer in Cabinet didn't mean it was less important.
"It's a really important role around cost of living, I'm dead keen to crack into it," he said.
All of the new appointees have either been party whips, parliamentary under-secretaries, or chairs of select committees. But their elevation to a higher office still wasn't a foregone conclusion.
"You never count your chickens, you always are hopeful," Andersen said. "When I received the call from the Prime Minister I was just overwhelmed to be able to serve, and I'm really pleased he backed me to take up this role."
They'll all be getting to work quickly, with the prime minister signalling a policy re-prioritisation as he turns his government's focus to the cost of living crisis and the economy.
source: https://www.rnz.co.nz/news/political/483458/new-ministers-sworn-in-following-chris-hipkins-cabinet-shuffle