Powerball jackpot grows to $725 million, seventh largest ever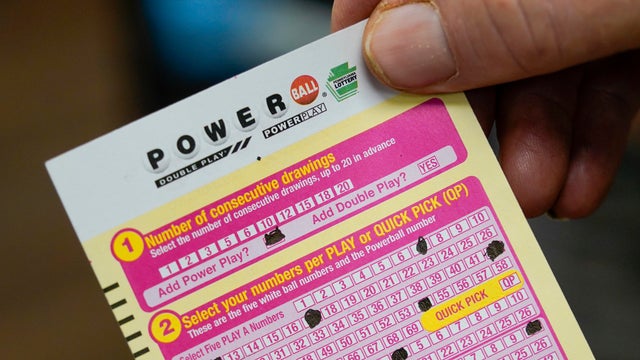 The Powerball jackpot has climbed again to an estimated $725 million ahead of Wednesday's upcoming drawing, becoming the seventh-largest prize in the game's history. According to Powerball's calculation, the current jackpot rose from $650 million during the last drawing on Monday night, which ended without a winner.
The jackpot rolled Monday after not a single ticket purchased matched all six numbers drawn in the contest. Those winning figures were 2, 24, 34, 53 and 58, and the Powerball was 13.  
Wednesday's upcoming drawing comes about eight months after a Powerball ticket sold in California won the greatest jackpot in the game's history, which stood at $2.04 billion. The second-largest jackpot, at more than $1.5 billion, went to three winners who had purchased tickets in California, Florida and Tennessee in 2016. Those are the only two Powerball jackpot prizes to ever top $1 billion.
If a player wins during the next round, that person will be given a choice to collect their money as either an annuitized prize, worth an estimated $725 million, or a lump sum payment estimated at $366.2 million, both before taxes. If the winner chooses to receive their prize in annuities, Powerball will award them an initial payment immediately, followed by 29 payments given annually that will increase by 5% every year.
There were no jackpot winners in last night's #Powerball drawing, which means Wednesday's jackpot is a HUGE $725,000,000!👉https://t.co/qjO1n13m9u pic.twitter.com/lVUCFZ8G16
Although no one received the massive prize in full on Monday, the Powerball drawing yielded more than 1.5 million tickets that won smaller prizes, collectively amounting to roughly $14 million, according to the lottery. 
Two tickets sold in California and Iowa, respectively, matched all five white balls and reaped significant earnings, lottery officials said in a news release. The California ticket-holder won a $1 million prize, while the Iowa ticket-holder won $2 million — because they had purchased the ticket with the game's Power Play feature for an extra dollar, which doubles the prize. Another 28 tickets won prizes worth $50,000 during the most recent drawing, and 12 tickets won $10,000 each.  
There have been 35 consecutive Powerball drawings without a jackpot winner, since it was last hit in the lottery's April 19 drawing earlier this year. A ticket purchased in Ohio matched all six numbers drawn that night and took home the jackpot worth $252.6 million.
Odds of winning the jackpot are 1 in approximately 292,200,000, according to Powerball. More broadly, the odds of winning any Powerball prize are slightly less than 1 in 25. A Powerball ticket costs $2 and can be purchased in 45 U.S. states, Washington, D.C., Puerto Rico and the U.S. Virgin Islands, with more than half of proceeds from each ticket sale going back to the jurisdiction where it was sold, the lottery says.
Powerball drawings are broadcast live from the Florida Lottery studio on Mondays, Wednesdays and Saturdays beginning at 10:59 p.m. ET. The drawings are available to stream live on  Powerball.com.
source: https://www.cbsnews.com/news/powerball-jackpot-725-million-7th-largest-ever/