Twitter threatens lawsuit over Meta's "copycat" Threads, report says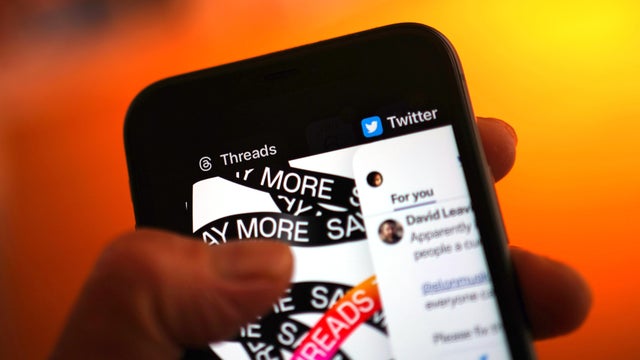 Twitter is threatening legal action over Meta's new social media service Threads, with an attorney for Twitter describing as a "copycat" app allegedly developed by hiring former employees of the microblogging platform owned by Elon Musk and using the company's trade secrets, according to a letter posted by Semafor. 
The letter's author, attorney Alex Spiro of law firm Quinn Emanuel, didn't immediately respond to a request for comment. Meta declined to comment on the letter, but communications director Andy Stone responded on Threads, writing, "No one on the Threads engineering team is a former Twitter employee — that's just not a thing."
Twitter, which laid off its communications staff after Musk completed his $44 billion purchase of the company last year, didn't respond to an email requesting comment.
The threatening letter comes after the debut of Threads on Wednesday, which within hours had signed up 30 million new users, Meta CEO Mark Zuckerberg said Thursday on the new platform.
. @semafor exclusive: Elon's lawyer Alex Spiro sent a letter to Mark Zuckerberg threatening legal action, claiming that Meta hired former Twitter employees to create a clone https://t.co/Kqq1bwWgGw
In its letter, which was addressed to Zuckerberg, Twitter alleges that Meta hired "dozens of former Twitter employees" that had access to the company's "trade secrets and other highly confidential information." Spiro also claimed that Threads was built within months by tapping the knowledge of these ex-Twitter workers. 
"Twitter has serious concerns that Meta Platforms has engaged in systemic, willful, and unlawful misappropriation of Twitter's trade secrets and other intellectual property," Spiro wrote. 
Twitter plans to "strictly enforce its intellectual property rights," he added. 
source: https://www.cbsnews.com/news/twitter-threatens-lawsuit-meta-threads-elon-musk-mark-zuckerberg/