Queenstown Lakes mayor Jim Boult not standing for re-election
Queenstown Lakes mayor Jim Boult will not stand for re-election in the forthcoming local body elections.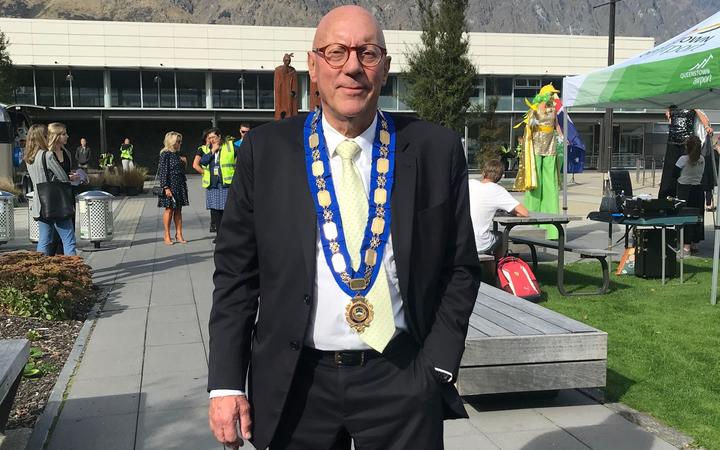 Jim Boult. Photo: RNZ / Belinda McCammon
Boult has served two terms as mayor since winning election in 2016.
The decision came after lengthy consideration and discussions with his family, he said.
"I've been thinking about it pretty much since Christmas-New Year. I had a lot of discussions with my family. I made the decision a couple of weeks ago and had planned to announce it last week but managed to get Covid ... so had to delay the announcement, but I'm a believer that folk move on after a period of time and let some fresh ideas come to the table. After six years I think it's time for me to move on."
That meant he would not be attempting to step back to the table as a councillor in the future as well.
"I'm a believer that when your time is up, it's up and I will not be a mayor who comes back and tells a new council or mayor what they should or shouldn't be doing," Boult said.
He would remain highly engaged in the community.
"I've got a long of things I'm engaged with personally in business and not-for-profits and I'll put some time and energy into those, but also looking forward to spending some quality family time with [his wife] Karen and my children.
"We had a lot of discussions over the past couple of months, in particular Karen and I, and we've reached the conclusion that it's just time to move on."
He had thoroughly enjoyed his time at the helm of Queenstown Lakes District Council and left it in good hands with "one or two quality people" willing to put their hand up as mayor.
"I think the council's in great shape particularly given what we've been through for the past couple of years and we've made some enormous progress in a number of areas, particularly housing, infrastructure, the way we've generally dealt with Covid, and the progress we've made on our spatial plan, our district plan. And the other thing I would say is that during my period in council we have put the Queenstown Lakes District on the map with both the government and the rest of New Zealand to realise how important this part of New Zealand is to the rest of the country."
His only regret was that the Covid-19 pandemic had derailed some of his goals, particularly progress on the visitor levy.
"That was obviously very important to our district and clearly the way things have panned out for the tourism industry in the past two years it's now for the longer term," he said.
Boult hoped his tenure would be remembered as one of orderly and logical progress for the Queenstown Lakes District.
"I would hope I go down as a mayor who's listened to people and been progressive."
He won 54 percent more votes than his nearest rival in the 2019 elections, and Boult's decision had thrown the mayoral contest wide open.
source: https://www.rnz.co.nz/news/national/465210/queenstown-lakes-mayor-jim-boult-not-standing-for-re-election