Italian court sparks outrage in clearing man of assault for "quick grope"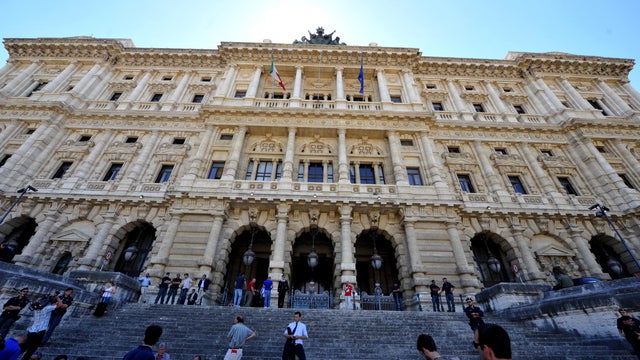 An Italian court has cleared a school aide from charges of sexually assaulting a student, determining that the aide only touched the student for "5 to 10 seconds" without "libidinous or lusty intent."
The 17-year-old Roman high school student – known only as "Laura" — was climbing school stairs with a friend when she hiked up her pants. That's when 66-year-old Antonio Avola came up behind her, slipped his hand inside her trousers and lifted her slightly in the air by her underwear.    
Avola admitted to touching the girl in the April 2022 incident, at the Roberto Rossellini high school in Rome, but insisted that he did so only as a joke. Roman prosecutors asked for a jail term of three-and-a-half years. However, the court ruled on July 6 that the contact was so brief that it left "ample margins of doubt" about Avola's intentions, and said it found the defense argument that it had been a joke "convincing." 
Laura, who is now 18, told Italian daily newspaper Corriere della Sera, "The janitor came up from behind without saying anything. Then he put his hands down my trousers and inside my panties. He groped my butt," the teen said. "Then he pulled me up so much that my private parts hurt. This, at least for me, is not a joke." 
The court ruled that because there was no intent to molest the student, no crime had been committed, and that the aide's actions had been "clumsy" but devoid of lust. "The suddenness of the action, without any insistence on the touch, to be considered 'almost a light touch" does not allow for the interpretation of the libidinous or concupiscent intent generally required by criminal law," the judge wrote in his opinion.
"I felt anger" upon learning the verdict, Laura told Corriere della Sera. "This is not justice. I'm beginning to think I've been wrong to trust the institutions because I feel twice betrayed – first at school, where the event happened, and then by the court."
Tullia Nargiso, coordinator of a regional high school students organization, told Italian media, "we are outraged by the motivation of the sentence. Once again harassment is not recognized as such for an absurd reason, this time by virtue of its duration."
The ruling has incited outrage in Italy, where both men and women have posted videos of themselves on social media under the hashtag "#10secondi" ("10 seconds") or "#palpatebreve" ("quick grope").  The videos show the men and women caressing themselves or others alongside a timer counting down for 10 seconds, underscoring just how long that is. 
The social media campaign was launched by actor Paolo Camilli, who starred in the "White Lotus" TV series. As he fondles his chest for 10 seconds, he says in Italian, "If this is not harassment, what is?" 
source: https://www.cbsnews.com/news/italy-court-grope-teen-student-10secondi-palpatebreve/