More weapons, more aggression used in thefts, crime prevention company says
Retailers report thefts are getting more aggressive, as Auckland has been hit by a series of ram raids in the last fortnight - one involving an 11-year-old driver.
In the early hours of Monday morning, Gucci and Louis Vuitton stores in Auckland's centre were also hit by ram raids.
Crime research and prevention company Auror pulls together reports of retail crime for most major retailers in NZ, and its CEO Phil Thomson said more weapons were being used.
"In New Zealand it's knives, screwdrivers. We've seen broken bottles and Tasers being used in Australia and much worse further afield, as well as just aggressive behaviour, so that's yelling, swearing at staff members as part of getting away with your shoplifting crimes."
Thomson said criminals were now gambling that most retail workers would no longer attempt to interfere with violent actions.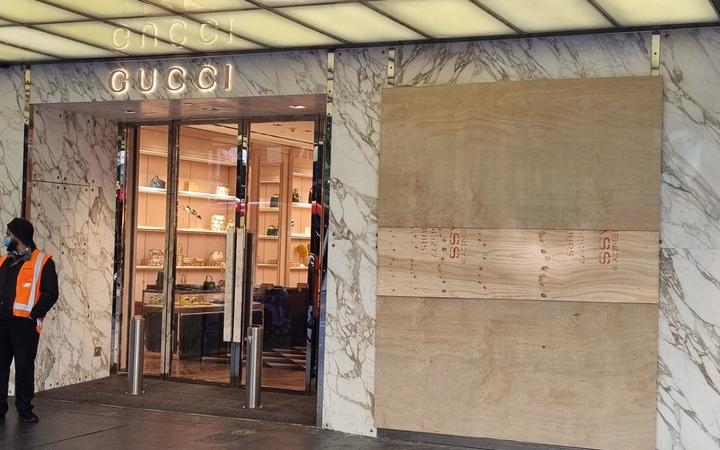 A Gucci store on Queen St, Auckland, hit by ram raiders on Monday 11 April 2022. Photo: RNZ / Jonty Dine
"We're seeing a change in health and safety laws across the world which goes in line with company policy of standing back and letting people go if they're getting too aggressive or violent, because it's, importantly, keeping people safe.
"It's now being used as a tactic to get out of the store faster with more goods."
Criminals knew what the rules were, he agreed.
"Retailers are being smart around protecting their own people but it just changes that risk/reward ratio for offenders.
"Off the back of Covid it's definitely escalated further. I think part of that is the anonymity that comes with wearing masks."
But most of the ram-raid robbers were not opportunists and instead were methodically planned attacks, Thomson said.
"The majority of what we're seeing is coming from organised and repeat offenders.
"They're actually four times more likely to use violence and aggressive behaviour versus your opportunistic shoplifters.
Organised retail crime qs "people's paid jobs, effectively," Thomson said.
"They will move from shop to shop stealing and then sell those goods online or in marketplaces. Gangs are often involved, too.
"What we're seeing is that 10 percent of offenders are actually causing about 60 percent of the loss.
"It's a small number of people causing a lot of damage to our retail communities but they're also involved in much more serious crimes around the community as well.
"I think there's an actual overall down trend in the physical harming of retail staff members which is a positive, but the use of that aggression and violence is increasing overall."
So how can it be stopped? One way is by stores sharing information with both police and other stores, and using technology in new ways to track crimes.
Another method - which may seem counterintuitive - was simply greeting customers as they entered a store. Someone either at the door or counter interacting with customers made a real difference, Thomson said.
"By saying hello to someone it actually can reduce their offending by up to 80 percent," he claimed.
"Removing their anonymity from them helps."
Thomson said retail shoplifting and its effects cost "nearly $800 per household a year".
"It is costing us as consumers and as the community a whole lot more, not only from the price of goods, but actually dealing with this right through the justice system as well."
source: https://www.rnz.co.nz/news/national/465098/more-weapons-more-aggression-used-in-thefts-crime-prevention-company-says