Amazon Prime Day 2023 golf deals: Get Under Armour golf shorts at a discount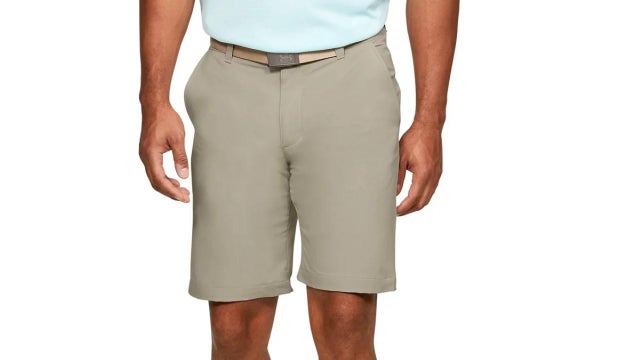 If you're looking for a new, sleek pair of shorts that are perfect for golfing, then you should know that these Under Armour shorts are on sale now during Amazon Prime Day 2023. These breathable athletic shorts are at their lowest price in weeks. Ready to be comfortable on the course? Don't miss out on this Amazon Prime Day Under Armour apparel deal. 
Get the deal:
Under Armour men's tech golf shorts, $30 (reduced from $60)
It's only the beginning of Amazon Prime Day, and we don't know how long these deals will last. It's the perfect time to pick up a new pair of men's golf shorts, and right now these are at a 50% discount.
Each pair of Under Armour men's golf shorts has four-way stretch with woven fabric that is light but durable. It will wick sweat away and dry quickly. With a flat-front, four-pocket design and a 10-inch inseam, these are the perfect men's shorts for the summer.
The shorts are available from sizes 30 to 42. Choose from 10 colors.
Under Armour men's tech golf shorts, $30 (reduced from $60)
Amazon Prime Day is an annual two-day sales event that is running now through July 12, 2023. The e-commerce giant puts tons of top-selling products on sale exclusively for Amazon Prime subscribers. Prime Day is an excellent opportunity for shoppers to score brand-name tech (including cell phones, laptops and computers, tablets and TVs) , kitchen appliances, home goods, furniture, clothing, tools, toys, beauty products, and more at Black Friday-like prices.
Other retailers are running competing Amazon Prime Day sales. Walmart, for example, has announced it will be holding its Walmart Plus Week sale that started on Monday, July 10.
Check out these Amazon Prime Day deals on top brands for you and your family. And be sure to check out even more great Prime Day deals to shop, handpicked by our friends at ETOnline, CBS Sports Essentials and ComicBook.com.
Jennifer Martin is an expert on streaming and deals for CBS Essentials. She has a soft spot for foodie culture, beauty and wellness products and all things pop culture. Jennifer lives in Richmond, VA with her family of five, plus a cat, a dog and a frog.
source: https://www.cbsnews.com/essentials/prime-day-golf-deals-get-under-armour-golf-shorts-at-a-discount/