Roads in many regions 'impassable' and damaged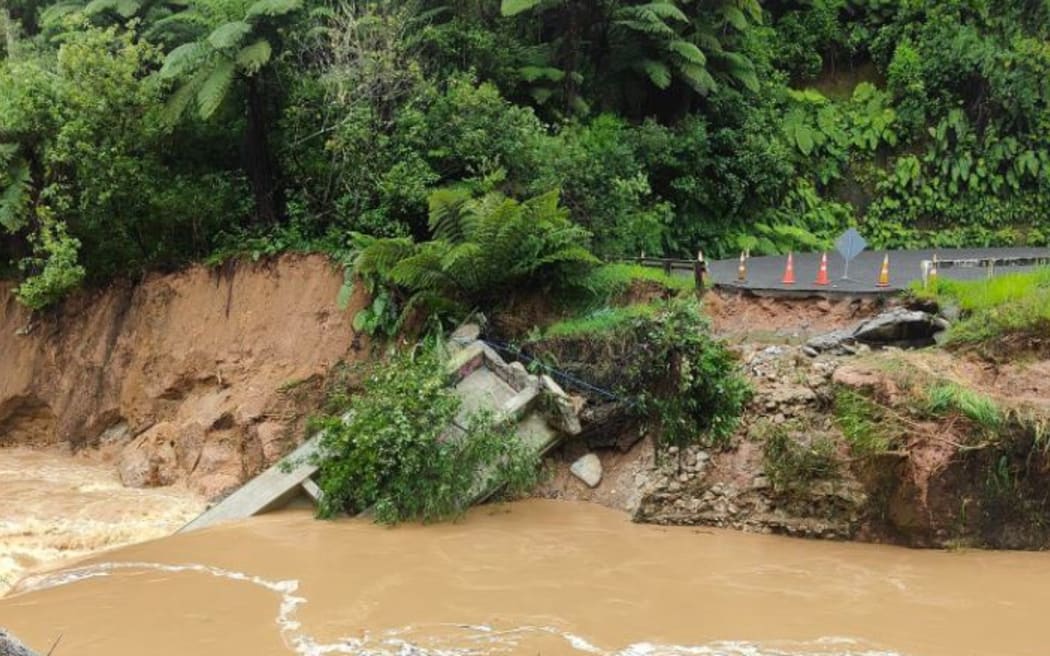 A bridge south of Te Puke collapsed in the floods, leaving local families isolated. Photo: Facebook/Te Puke Community Noticeboard
Damage to roads throughout the North Island has caused many to be closed, a train has derailed, a bridge swept away and the Coromandel Peninsula is cut off.
Authorities in many areas today reiterated yesterday's warnings to stay home if you are safe, and not to go out on the roads unless it was essential.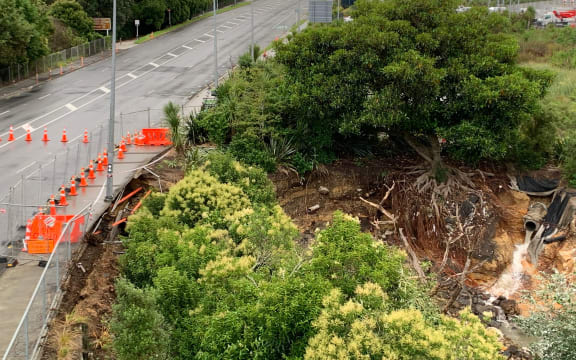 A sinkhole has opened up on Great North Road in Auckland Photo: RNZ/Richard Sutherland
Hazards include trees down, slips, electrical risks, damaged roads and sewage and wastewater contamination. Floodwaters were particularly dangerous to drive in as there could be unseen hidden dangers such as holes or logs.
If you do have to travel, check your route carefully for updates and travel with care, Waka Kotahi said. The agency was posting regular updates on highway conditions and closures, including detours where they were available. While councils provide updates about the states of local roads.
More heavy rain was expected in Auckland today, and Auckland Council called for everyone to stay off the roads.
Many vehicles had been left abandoned across Auckland city Photo: RNZ / Finn Blackwell
"Flood water can rise quickly so avoid unnecessary travel, put your safety first and stay out of flood water," they said.
Super City Towing manager Tania Aho said said there was a massive backlog of about 400 abandoned cars in the city, because of the flooding.
Vehicles had been abandoned after being caught in the deluge on Friday night, causing high demand for tow services, and it would be days before they could be cleared.
Bay of Plenty police said the roads had been heavily affected. They asked those in areas where the weather was severe "to stay put and not attempt to travel on the roads, many of which are currently undriveable."
A slip had crushed a house in Tauranga, while near Te Puke a train had derailed.
An orchardist on No. 4 Road, south of Te Puke, said he had to swim his cattle to safety as floodwaters rose, and then a bridge collapsed - isolating many families.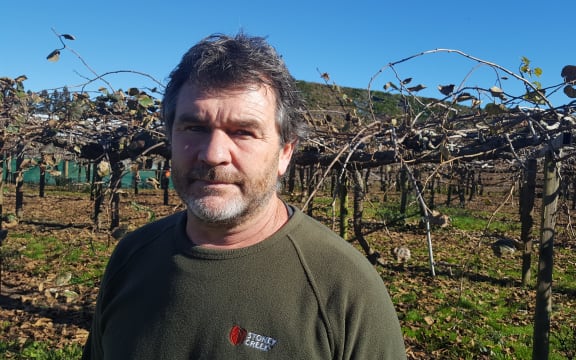 Craig Jeffries Photo: RNZ / Andrew McRae
Craig Jeffries said he had a call from authorities this morning: "[The bridge] decided to give way and we've just been left with a bloody great big cavity where the bridge is supposed to be.
"So not the most pleasant phone call from Civil Defence this morning to go and have a look, see what's going on, and go down there - and [it's] just an unbelievable sight."
Jeffries said the rain was still falling and he expected the army would be brought in to help locals and to install a temporary bridge.
SunLive news said a number of residents were affected by the loss of the bridge and authorities were looking into a potential emergency access track that could provide vehicle access to Te Puke Highway via Manoeka Road.
The Coromandel Peninsula has been completely cut off by flooding and slips from the heavy rain, authorities said.
Civil Defence urged people to stay off the roads and avoid travelling at all costs.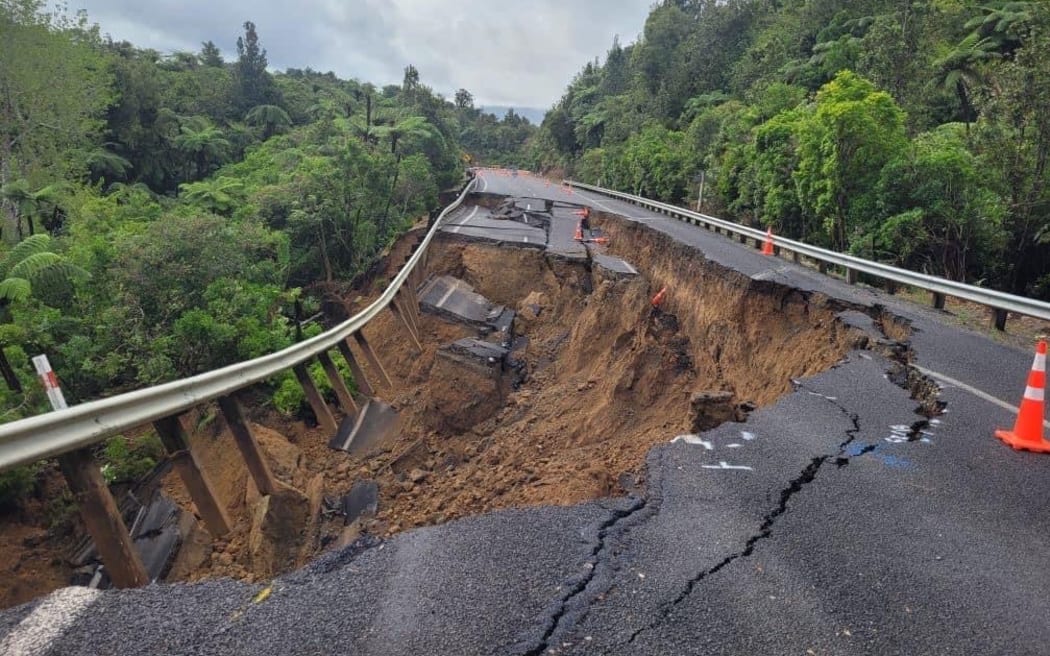 Part of State Highway 25A across the Coromandel Peninsula has collapsed Photo: Waka Kotahi
Among the closures was State Highway 25A, between Kopu and Hikuai where there had been a significant slip, and State Highway 25, between Whangamata and Waihi, and at Manaia, where there was flooding.
Mayor Len Salt said the situation was very dynamic and fast-moving.
Police in Waikato also called on people to stay home if they were in areas that were badly hit.
They were at work on traffic management and road closures throughout the Waitomo District after "numerous slips, flooding, and damage to roads" from the rain.
A local emergency was declared in Te Kuiti on Saturday night.
Early this morning one person died after a crash between a horse and vehicle on State Highway 2 at Maramarua, police said.
Two other people were injured in the collision, and were taken to hospital. Police said the horse was euthanised.
By midday Sunday, major road closures and alerts included:
More information about the floods, heavy rain, roads and the response can be found here:
MetService is providing updated weather reports here.
Auckland Emergency Management is providing regular updates on their website here.
Auckland Council is providing updates and information on their website here.
RNZ will keep updating news and information from authorities throughout the day on air and online, including in our live blog.
Waka Kotahi updates.
source: https://www.rnz.co.nz/news/national/483295/roads-in-many-regions-impassable-and-damaged