Vermont flooding leaves railroad track "dangling" in the air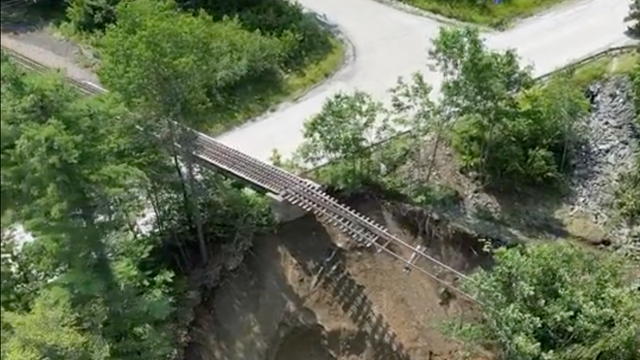 The intense flooding that has overtaken Vermont in recent days after a devastating storm swept through on Sunday has isolated towns, left behind knee-high water, and in one case, left a railroad track completely suspended mid-air.
Aerial footage of the railroad track shows it "dangling" in the sky – its only connection to the ground in an otherwise deep gorge is a fallen tree piercing through its middle. 
Dangling railroad track in Ludlow VT. Completely got washed under from @weatherchannel @ReedTimmerAccu @accuweather @TylerJankoski @WCVB @NWSBurlington @ABC @foxweather pic.twitter.com/ss0cedUw5U
The railroad is in Ludlow, Vermont, which has gotten more than 6-and-a-half inches of rain since July 5, according to totals by the National Weather Service. The town was hit with "catastrophic damage" as the storm swept through earlier this week, Municipal Manager Brendan McNamara said, leaving the roughly 1,5000 people who live there with the burden to pick up the pieces after bearing the "brunt of the storm." 
A spokesperson for the Vermont Rail System told CBS News that the video shows "a washout on the Green Mountain Railroad." That railroad, they said, is a freight line that connects Rutland and Bellows Falls. 
"Operations on this line and in much of Vermont are temporarily suspended while we conduct track inspections and focus on the repairs necessary to reestablish essential rail freight service for our customers and communities here in Vermont," the spokesperson said, adding that the rail system is continuing to assess the damage.
Ludlow is currently under a boil water notice, with officials telling residents they must boil their water before consuming. 
"I talked to people today that said my house is gone. Thankfully we got through it with no loss of life," McNamara previously said. "Ludlow will be fine. People are coming together and taking care of each other. We've been here before and we will get through it."
Videos from the storm show floodwaters raging through the area, sweeping away vehicles and flooding homes. 
And the rain may not be over yet. The National Weather Service Burlington says that while floodwaters are receding, there are "several rounds of showers and thunderstorms" expected on Thursday and Friday. Those storms could bring more than another inch of rain, the service said, which would "renew the threat for additional flooding." 
Floodwaters continue to recede today under generally dry conditions. Unfortunately, several rounds of showers and thunderstorms are expected Thursday through Friday with additional rainfall in excess of 1" possible. This will renew the threat for additional flooding. pic.twitter.com/QnBmzN706m
Li Cohen is a social media producer and trending content writer for CBS News.
source: https://www.cbsnews.com/news/vermont-flooding-railroad-track-suspended-mid-air/