Green hydrogen electricity needs 'flexible', can work in with Tiwai Point demand
An Australian mining giant says there won't be a fight over electricity to power green hydrogen in Southland, and it need not push up household power bills either.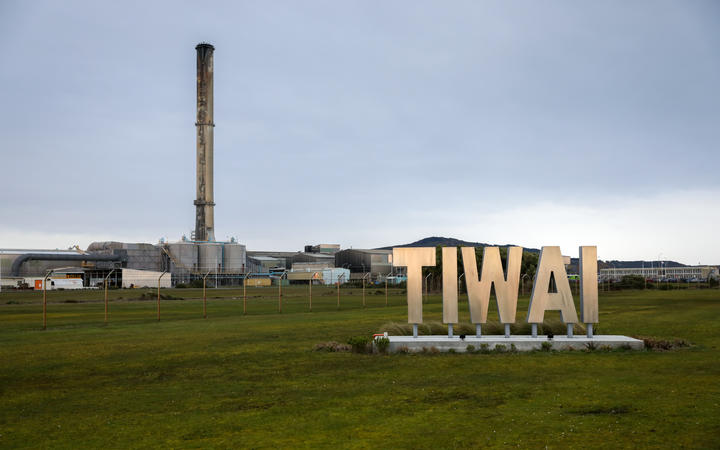 The owners of Tiwai Point aluminium smelter want to keep it operating past the previously signalled closure date of 2024. Photo: RNZ / Nate McKinnon
The increasing likelihood the Tiwai Point aluminium smelter will not close in 2024 after all means it will still need to take vast amounts of power from Manapouri.
It had been expected that the power, and the smelter site itself once remediated, would become free under a shutdown by Rio Tinto.
Fortescue Future Industries director for New Zealand Felicity Underhill said green hydrogen was flexible enough to still work.
"It's not as straightforward an opportunity as it was a year ago. But I think it's one where it may be better for the local community if we're able to support a phased transition, or coexistence with the smelter ... which is great because there are so many jobs associated with the smelter."
Parliamentary Commissioner for the Environment Simon Upton [https://www.rnz.co.nz/news/political/464004/ministers-told-to-be-cautious-about-subsidising-green-hydrogen-production
recently warned ministers] that power diverted to hydrogen production "would maintain upward pressure on consumer electricity prices over the foreseeable future" and urged caution, especially when the hydrogen was aimed at export markets.
While the smelter gets power much more cheaply than consumers, how much a green hydrogen plant would pay was up for negotiation, Underhill said.
It was "a hard place" for the consumer but green hydrogen could actually "put downward pressure" on overall prices by encouraging more renewable generation, she said.
Because it had very flexible demands, it did not require dry-year back-up in the form, say, of using Lake Onslow for water storage, an option now being looked at by the government.
"We can turn it up when there's excess energy and turn it all the way down when power is short.
"On a dry year, when there's not as much power available, we can turn our hydrogen production all the way down and keep that power released back into the community to make sure you're not putting upward pressure on prices."
Rather than "just suck up what's there", green hydrogen had to lead to more renewable power generation, such as wind generation which would be technologically viable in Foveaux Strait within a decade.
"There's some of the best offshore wind in the world".
It was a misconception the hydrogen would be exported, with the aim instead to use it onshore for the likes of heavy trucking and coastal shipping, said Underhill, who was meeting with Simon Upton on Friday.
"We don't have to be doing this to export."
Fortescue is due to submit its green hydrogen plan this week to Contact and Meridian, which have partnered to evaluate four short-listed proposals.
Channel Infrastructure which runs the former oil refinery at Marsden Point is also looking at green hydrogen, and Fortescue is involved there, too.
Underhill said Fortescue did not need to be able to use refinery plant that was now being permanently decommissioned.
source: https://www.rnz.co.nz/news/national/465161/green-hydrogen-electricity-needs-flexible-can-work-in-with-tiwai-point-demand