The Week in Politics: Parties lock horns on gangs, health staff shortages
Politicians in the news this week: from top left, Dr Ayesha Verrall, Kiri Allan, Christopher Luxon and David Seymour. Photo: RNZ
Health workforce data shows the extent of the problem that this government and the next are facing, National and ACT reject a report which says the country can't arrest its way out of the gang problem, and the Kiri Allan saga rumbles on as Labour's internal problems continue to plague the party.
The health workforce shortage is a decades-old problem but it wasn't until this week the extent of it was precisely known - more than 8000 nurses, doctors and other health professionals.
On top of that, an additional 1600 will be needed in the next year.
Health Minister Ayesha Verrall released the data, put together by Te Whatu Ora, and her plan to meet the challenge.
"Just like in medicine, you can't start the treatment until you've got the diagnosis right," Verrall said. "We need to know where the gaps are."
Her plan has six target areas and eight specific initiatives, they're clearly set out in RNZ's report.
The Herald gave it the full treatment, with graphs showing New Zealand has the highest percentage of foreign-trained nurses in the OECD and the second highest percentage of foreign-trained doctors.
The executive director of the Association of Salaried Medical Specialists, Sarah Dalton, welcomed Te Whatu Ora's new data.
"The fact they have put pen to paper, set down some numbers and established some accountabilities we can work with them against, year by year, is a positive step forward," she said.
The Nurses Union also welcomed the report.
"Had such a plan been produced 20 years ago, when this current crisis was first predicted, we wouldn't be in this mess," said NZNO's manager of nursing and professional services Mairi Lucas.
National had nothing good to say and, inevitably, blamed the government.
After six years of failure, all Labour could offer were "half-baked announcements", health spokesperson Shane Reti said.
"The government chose to focus on the bureaucracy rather than the frontline," he said.
"And with the workforce now in crisis, Labour is desperate to make it look like they're doing something about it."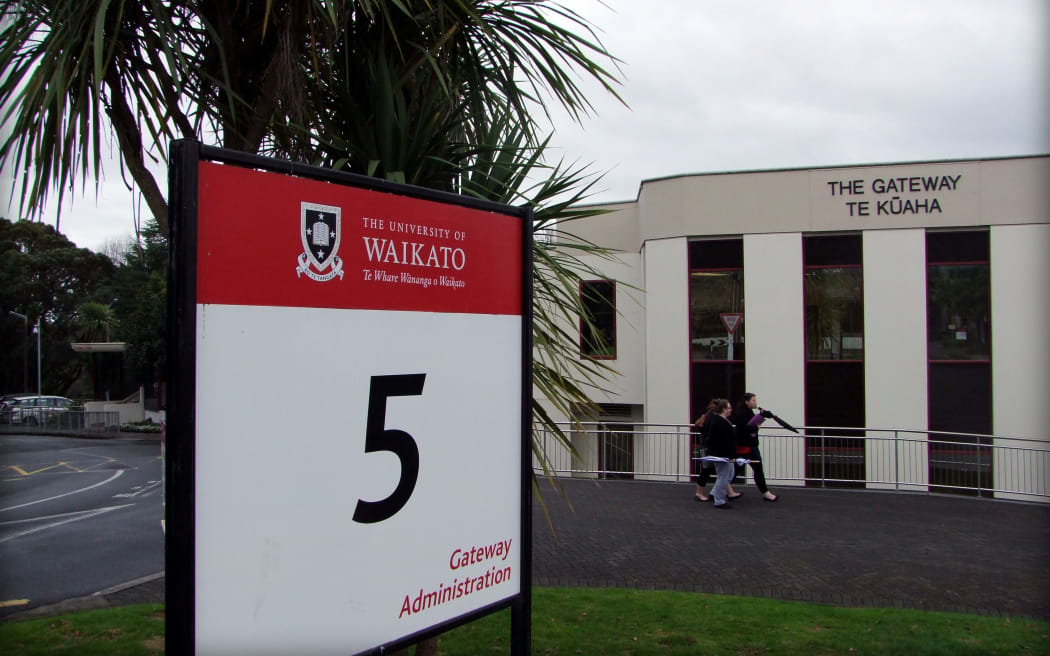 Waikato University would establish a third medical school under National's proposal this week. Photo: CC 2.0 BY-SA New Zealand Tertiary Education Union from New Zealand
National did have something to help address the shortage - it has revived its promise to set up a new medical school at Waikato University.
The previous National-led government pledged to establish the third medical school in 2017, but the Labour-led government dropped the plans in 2018.
Party leader Christopher Luxon announced the revival, saying the new school could be expected to train another 120 doctors a year.
National would also increase the number of medical school placements at Auckland and Otago, in addition to the 50 extra places already funded by Budget 2023.
"Together, this will see an additional 220 doctors graduating a year by 2030 compared to just 50 more under Labour's plan," Luxon said.
National has costed the new medical school at $380 million to set up, with the government contributing up to $280m and the remainder raised by Waikato University.
Verrall wanted to know where the money would come from.
"The biggest issue here is that the National Party is simultaneously promising tax cuts and this expensive investment - which we agree is needed - but they need to show how they're going to be able to pay for it," she said.
Despite the importance of the new data and the plan to address shortages, it didn't generate much political heat this week - both main parties know how hard it's going to be.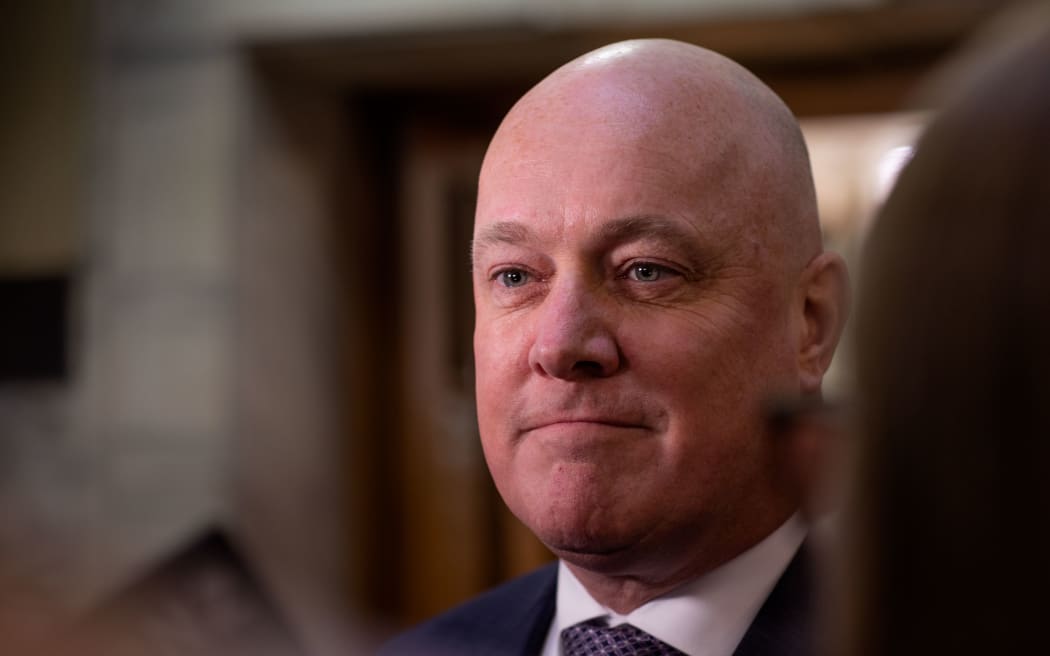 Christopher Luxon was unequivocal in his reaction to a new report on how to treat gangs. Photo: RNZ / Angus Dreaver
The gang problem was a more lively issue.
The prime minister's chief science advisor, Professor Dame Juliet Gerrard, released a report examining the context within which gangs exist in New Zealand.
It was requested last year by then prime minister Jacinda Ardern as part of her agenda to reduce gang harm.
The report said reducing harm would require tackling the underlying and unsolved societal issues such as inequity, intergenerational trauma, housing and family violence.
"We can't, and won't, arrest ourselves out of the 'gang problem'," it said.
Enforcement served a purpose but was not the only solution.
"The evidence indicates that interventions such as 'scared straight' or boot camp approaches are ineffective. And a 'zero tolerance' style of policing builds distrust in the communities that police are tasked to serve," the report said.
"It creates alienation and dislocation from communities and risks fuelling gang membership and increasing gang dislocation and isolation."
In other words, getting tough on gangs will make the problem worse.
That wasn't what National and ACT wanted to hear.
Luxon told Morning Report he totally disagreed with its statement that a 'zero tolerance' style of policing could risk fuelling gang membership.
It gave him another opportunity to push National's hardline policies.
"I make no apologies for being tough on gangs," he said.
"We're going to ban those gang patches. We're going to give police dispersal powers for criminal activity, break-up powers, warrant and search powers."
He also said it was essential to rehabilitate gang members while they were in prison, and National would work on the causes of crime.
Dealing with the causes of crime is much more difficult, and probably not what voters are particularly interested in when they're exposed to reports of violence such as Thursday's hammer-wielding Auckland dairy robbers who put the owner's wife in hospital and unable to speak.
It has not been reported as gang-related, but it's the general threat of violence crime that's getting through.
Opposition parties know this, and they're likely to be gaining support with their "get tough" policies.
David Seymour Photo: RNZ / Samuel Rillstone
Luxon denied politicising the issue, but then said: "They [Labour] are soft on crime. Crime is going up… this government's operating in a very different way, it's sent a message from the very top that they're soft on crime."
ACT leader David Seymour dismissed the report.
"They're attempting to claim that if only the authorities are nice to gangs and treat them as friends they'll start being nice back," he said.
"They don't improve their behaviour, in fact they get worse."
Police Minister Ginny Anderson welcomed the report.
"It identifies there are no quick fixes when it comes to gangs and the underlying social issues that drive gang membership and activity," she said.
Government action was focused on both stopping the harm that gangs cause as well as creating opportunities to ensure people did not join them in the first place, she said.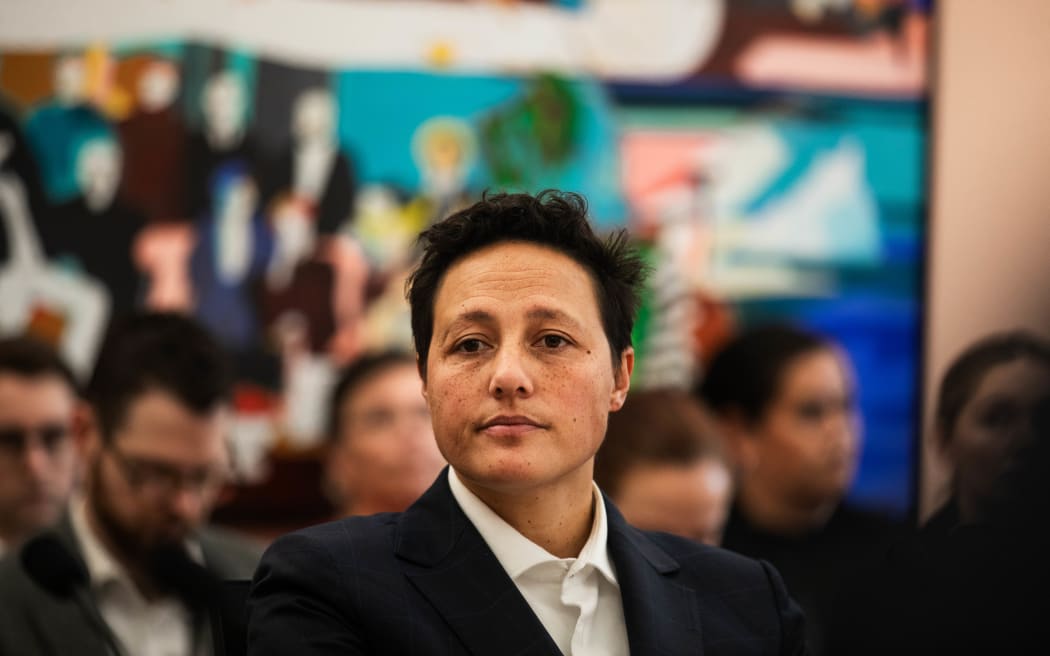 Justice Minister Kiri Allan is taking another break but that hasn't stop media comment on her uncertain future. Photo: RNZ / Samuel Rillstone
When Prime Minister Chris Hipkins said on Monday Kiri Allan was taking a couple of weeks off and they would talk face-to-face when he returned from Europe next week, he may have been hoping that would at least temporarily shut down the controversy swirling around the justice minister.
It didn't, and this week there was more attention and comment about her behaviour and what the outcome of Hipkins' face-to-face might be.
The prime minister was careful not to say anything that indicated Allan's position was under threat, but Stuff headlined a column by Vernon Small 'Kiri Allan's future in the balance'.
In the article Small, a long-time political journalist and a former ministerial advisor, said what was unusual about the case was the public acknowledgement of problems by senior public servants who reported to Allan.
"The nature of the bureaucratic mandarin is that they would normally cut off an arm with a rusty saw than make a public criticism of a minister - even an implied one," Small said.
"It does not bode well for Allan."
Another Stuff columnist, Ben Thomas, a press secretary in the previous National government, held the same view.
"Scuttlebutt about politicians is as common as wind in Wellington," he said. "But public servants making anonymous allegations in the media is highly unusual."
There's a lot more in Thomas' thoughtful article about relationships in the Beehive and how and why ministers can get offside with their departmental chief executives. In his opinion, it isn't always the politicians who are at fault.
The Weekend Herald considered the impact the government's serial ministerial scandals could have on its election chances, and said that if it lost it may in part have its own internal issues to blame for that.
"The exposed, self-inflicted wounds at cabinet level seem to betray tiredness and insufficient hunger to win," it said in an editorial.
"It doesn't come across as a motivated group that wants to push on with enough internal discipline to ensure it gets the best chance of another term."
The editorial quoted political scientist Bryce Edwards: "It does feel, for a lot of people, that the wheels are falling off this government."
The Herald reported this week on what it called National's record-breaking fundraising blitz, and revealed the party had received a single donation of $500,000.
It was one of the largest, if not the largest, in New Zealand's recent history and exceeded all the large donations Labour had received this year combined, the Herald said.
The donor was managing director of Fairview Metal Industries Warren Lewis. He didn't want to talk about it, other than saying he was a National Party supporter. Yep, got that.
The report said that overall National brought in $5.1 million in donations last year, 10 times Labour's total.
Labour's campaign manager Hayden Munroe said he was confident the party would raise enough to run "a very competitive campaign".
He said the party had never relied on mega donors but on ordinary Kiwis who donated what they could when they could.
Money doesn't win elections in New Zealand, but it helps.
*Peter Wilson is a life member of Parliament's press gallery, 22 years as NZPA's political editor and seven as parliamentary bureau chief for NZ Newswire.
source: https://www.rnz.co.nz/news/political/493349/the-week-in-politics-the-extent-of-the-health-staff-shortage-hits-home