Why you should buy gold bars and coins today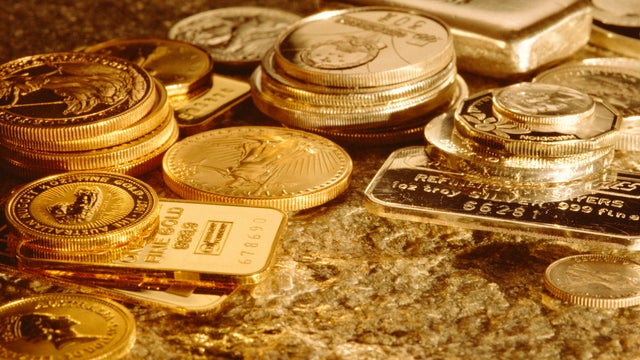 If you're thinking about investing in gold, you may already know the many different ways you can add the precious metal to your portfolio. Choosing the right type of gold investment for your goals can make a big difference in how much value you ultimately get over the long term.
For some, a physical gold investment may offer the best balance of liquidity, tangibility and direct exposure to gold as an asset, since its value moves directly alongside gold's price. Before you decide, it's helpful to know how you can maximize your potential gold investment with physical gold bars or coins.
Learn more about how you can get started investing in gold with a free information kit today.
Here are a few reasons why gold bars and coins may be a good investment option right now.
Any gold investment can make a good addition to your portfolio as a way to diversify your investments. Gold, for one, tends to move inversely to the value of the U.S. dollar — making it a good hedge against inflation. But it also remains stable through periods of uncertainty or downturn in the stock market, where the majority of your portfolio is likely invested.
"Because gold (and silver) have enduring value, no counterparty risk and are scarce relative to other stores of value and means of exchange, it is a vital component of a diversified portfolio in today's economy," says Paul Mladjenovic, author of Stock Investing For Dummies.
Investing in physical gold may actually be the best way to gain direct exposure to gold's value if you're looking to diversify with gold as a hedge against inflation and market volatility. Other options, like gold funds, futures and gold mining company stocks, can rely on a number of outside factors — but physical gold allows you to diversify directly via gold's value. 
Even for beginners, buying gold bars and coins isn't complicated. You can find high-value gold bullion from a number of online dealers or sellers in your area. Just take some time to research the weight, purity and other specifications you're looking for before you go in — and perhaps even the specific bars or coins you want.
You should also know the current spot price of gold before buying any physical gold, so you can determine whether you're being sold gold bars and coins at a fair price.
If you're investing in gold to prepare for retirement, you might also want to consider a gold IRA. You can use this type of account to store physical gold for retirement. But when you work with a gold investment company, you'll work with someone to buy eligible gold directly and set up IRS-eligible storage with a third-party custodian.
Find out if a gold IRA is the right physical gold investment for you today with a free investors kit!
For some investors, tangibility is an important aspect of their gold investment. You can hold gold bars and coins in your hands and maintain access to it at any time — an even greater benefit if you choose a collectible form of physical gold.
Gold bars and coins also have the benefit of liquidity. Gold is — and has been for centuries — recognized as a currency worldwide, and its current price value is easy to find. If you need to sell it at any point, it will likely be easy to find a buyer.
"Physical bullion coins are a great diversification and they are recognized worldwide," Mladjenovic says. "Millions are bought and sold every week."
Buying gold can be useful for any investor who wants to reap the benefits of long-term stability and diversification of the precious metal. For some investors, choosing a physical gold investment via gold bars and coins may be a way to gain direct access to the value of gold while also enjoying the liquidity and tangibility this type of investment offers. Plus, the process of buying it is simple. Find out more about how gold might fit into your portfolio today with a free investment guide. 
source: https://www.cbsnews.com/news/why-you-should-consider-gold-bars-and-coins-today/