Comment: A very Good Friday for Super Rugby Pacific
Comment - If there was ever evidence of a game living up to the hype, it was Friday night's blockbuster between the Blues and Crusaders.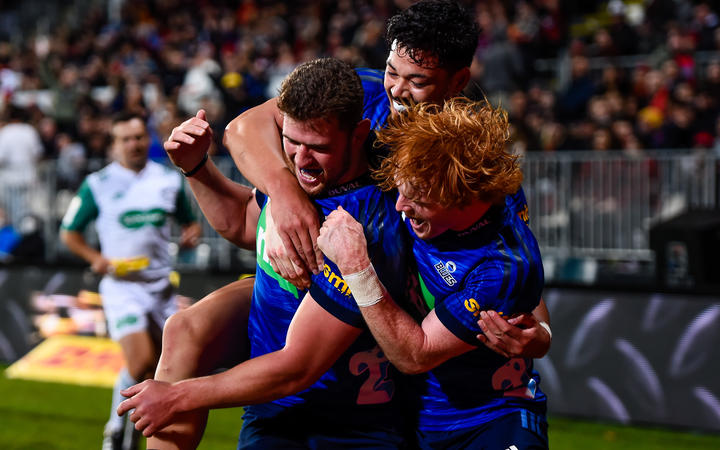 AJ Lam of the Blues and Finlay Christie of the Blues celebrates Dalton Papalii of the Blues try during the Super Rugby Pacific match, Crusaders Vs Blues, Christchurch 15 April. Photo: John Davidson / www.photosport.nz
In fact, for once it seemed like the people in charge of marketing Super Rugby Pacific actually went to the trouble of hyping it properly, stepping away from the bland and repetitive to tapping into the rich rivalry these two teams possess.
Throughout the week we saw clips of the famous moments of games gone by, most notably Carlos Spencer's outrageous try and gesture to the Lancaster Park crowd in 2004 that sealed a memorable Blues win. It was also drummed in that that was indeed the last time the Blues had won in Christchurch.
Not any more. The 27-23 win was not only exactly what the Blues were after, but the competition as well. If these two are to meet at the business end, it will likely be at Eden Park.
Take that hype from last week, times it by ten, put those teams on the park and you can almost guarantee a full house. This was the Super Rugby we have all been missing - games with plenty riding on them and the best players stepping up across the park.
Well, almost all of them. Scott Barrett did have a very good first half, but despite being captain of the Crusaders and a 48-test All Black, still found a way to get himself sent off. His expression when the card was flashed said it all - grim acceptance because he knew his shoulder into the jaw of Alex Hodgman couldn't have resulted in anything else.
Brother Beauden backed up his best performance in a Blues jersey last weekend with another one that could rival it, while Dalton Papali'i violently redirected the narrative around who should be starting at openside once the test season begins. Rieko Ioane pulled off the tackle of the season by denying Dom Gardiner what would have been the winning try, as the Blues withstood a blistering comeback to hang on and win.
Now the storyline is set. A game that needs a good sequel, so people can start looking forward to that hopefully happening. Bravo to both teams for setting up that possibility,
Meanwhile, in Hamilton, the Chiefs predictably bounced back with a 45-12 win over Moana Pasifika. This was Moana Pasifika's sixth game in two weeks, for which they deserve a great deal of credit, but they'll surely be happy to see the back of the Chiefs for this season as they've conceded 159 points to them in three games.
The final New Zealand clash of the weekend was in Dunedin, where Hurricanes fans got a bit of justice for their close call against the Crusaders last weekend and even some retribution for the 2015 Super Rugby final.
Their 22-21 win over the Highlanders was an odd game, they probably should have won by more and also benefited from a red card as well. It's worth mentioning that Josh Dickson's marching orders came off the back of an act almost identical to what Scott Barrett did, proving once again that red cards offer little deterrent to dangerous play.
It will be interesting to see what, if anything, comes out of what looked to be a swinging arm by Asafo Aumua on Gareth Evans late in the game though - it was very hurriedly cleared by the reffing crew even though Evans' eye showed clear evidence of some solid contact.
Julian Savea looked a version of himself from seven years ago, which says a great deal about his unlikely return to Super Rugby. His signing by the Hurricanes had plenty of detractors but many of them will have had their minds changed with his workrate so far.
His brother Ardie had a go at the refereeing last weekend, but this time all he could do was admit the Hurricanes were a bit lucky - but that didn't stop Aaron Smith picking up where he left off with a few choice words of his own.
It wasn't a classic game like Friday, but it was a great way to end the NZ derby section of Super Rugby Pacific. Let's just hope the Aussie teams can bring a bit of that intensity with them from across the Tasman.
source: https://www.rnz.co.nz/news/sport/465422/comment-a-very-good-friday-for-super-rugby-pacific